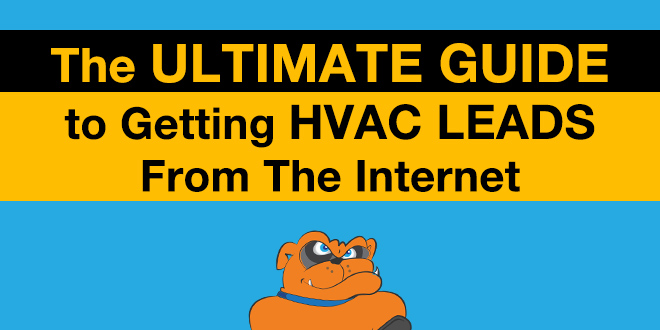 Are you struggling to get HVAC leads online?
It used to be you can have a thriving business with an ad in the yellow pages and a solid base of repeat and referral customers.
Times have changed.
Instead of looking up your services in a book, people turn to Google, which handles about 64% of all search volume.
Plus, with more competition and savvier customers, it's more challenging than ever to have a growing business.
That is unless you master internet marketing.
If you want to generate more business online, keep reading this step by step guide to getting HVAC leads from the internet.
Start with the Basics of Marketing
No matter how you market your business, have to be clear about a few things:
Who do you help?
How do you help them?
What makes you different from your competitors?
What are the goals & vision for your business?
When you answer those questions, you have to be specific.
It's not enough to say you help everyone.
For example, you can say you help residential homeowners in a 20-mile radius.
It's also important to have a deep understanding of your target market.
Think of yourself as a problem solver.
What big problem do you solve for your customers?
If you can communicate that effectively, your phone will ring.
Nailing those four questions is the core of any marketing plan, offline or online.
Once you're clear about those then, you can effectively tailor your marketing message to your target market.
Have a Great Website
Think of your website as the online hub of your business.
That is where all of your other online marketing activities will lead.
Chances are this is the first impression someone will have of your business.
How do you make a good first impression?
Make sure your website is fast to load and is easy to navigate (on mobile and desktop devices).
The faster the website loads, the better.
A slow website will result in a loss of traffic of up to 30%.
Those people will never know how you can help them because they didn't want to wait for your website to load.
You also want to make sure that potential customers can find the information they need quickly, by having a website that is easy to navigate on mobile and desktop.
With mobile usage surpassing desktop usage in 2016 and continuing to surge, having a website that is easy to navigate means requires a two-prong approach.
Mobile responsive has become a top priority for business owners looking to build a strong relationship with their prospects and customers.
Finally, your website should have a clean look that is up to date.
Having a website that looks like it hasn't been updated in 10 years can harm your credibility in the eyes of consumers, and they will shop elsewhere.
Check Your Local Listings
Customers love consistency, as do search engines.
This is a basic task, but it's an important one.
This requires you to claim your listings from places like Google, Yahoo, Bing, and there are countless other directory style websites that your business can be set up on.
Just remember, your business name, address, and phone number all need to match what's on your website.
Inaccurate listings could throw off your customers and search engines.
Online Reviews
Did you know that 85% of potential customers trust a review they saw online as much as a referral from a friend?
Not only that, but positive reviews can impact how you appear in search results.
The more positive reviews you have, the higher you may appear.
To take advantage of this fact, you have to have a plan or a system for getting reviews for your business.
The first step is to ask for reviews, just like you would ask your customers for referrals.
The second step is to respond to the reviews you receive, whether they're good or bad.
That gives the signal that you're listening and you care about your business and your customers.
Use Social Media to Generate HVAC Leads
Social media can be a fantastic tool to expand the reach of your business.
It's a great way to connect with your customers and potential customers, and you can start building relationships with them.
If you think that being on social media means having to be on every single social channel, think again.
You want to pick the main channels your target market uses and stick to those channels.
For example, if you primarily deal with commercial clients, you should be on LinkedIn.
If you tend to work with homeowners, Facebook will be a good option.
To start on social media, pick one or two channels and do them well.
Post consistently, create value and have fun.
Local SEO
The steps mentioned above are a few of the tactics used in local SEO. SEO stands for search engine optimization, and it's a great way to boost your company's search engine rankings.
Investing in local search engine optimization can bring a huge return on investment if you hire the right team of experts who can handle the work for you.
To put it another way, 75% of users on Google don't go past the first page of search results.
To be successful in generating HVAC leads from the internet, you at least have to give yourself a chance by being on the first page.
Pay-Per-Click Advertising
HVAC is a highly competitive industry and if you want aggressive growth, there may be times to invest in paid advertising, such as pay-per-click (PPC) advertising via the Google Ads platform.
With Google PPC ads, you pay every time a person sees your ad in search results and clicks on it.
This is a great way to get your business at the top of the search engine results fast.
Very often, companies will spend $5 a click, thinking it's an easy way to a profitable business.
What happens is that they spend too little on the ad, their ad isn't seen, and they wind up wasting time and money.
PPC ads can be expensive, especially in the HVAC niche, and to decide whether it's worth it or not, you must know how much you're willing to pay for a lead and for a new customer.
HVAC Leads You Can Count On
The biggest challenge for any business is to generate a predictable stream of leads, sales and income.
With a solid online presence and plan to drive traffic to your HVAC website, you can generate plenty of customers.
To get there, you need a partner who can make sure the strategies put in place will work and exceed your expectations.
Online Visibility Pros specializes in applying SEO for HVAC contractors and companies so they can dominate their local marketplace online.
Are you ready to take your business to the next level?
Schedule your no-obligation strategy call with our team here.
More Articles You May Be Interested In…
Want to embed this infographic on your website?