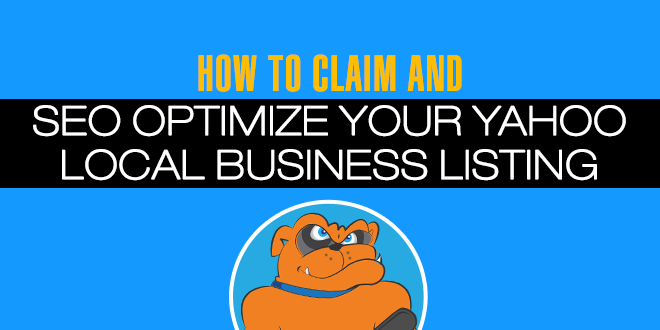 Yahoo is one of the Big 3 search engines, accounting for nearly 15 percent of all searches completed in the U.S. each day. That figure represents an enormous marketing opportunity for local businesses.
Effective Yahoo local listings help small business get found at the most critical time – when customers are searching for their contact information, or looking for a service provider. But how can businesses rank high in Yahoo local search? The solution: They must claim the listing and make it easier for customers to find.
This process is a little different on Yahoo than it is on other search networks like Google or Bing. Yahoo local listings are now managed by Yext – a web portal that enables small businesses to list their company on 50+ directories in a matter of minutes. Using Yext, companies can claim and optimize yahoo local listings for their business and useful crucial information for customers.
How to Claim a Yahoo Local Listing for Your Business
Until recently, businesses could claim their local listing on Yahoo through the company's small business website. Yahoo still offers an in-house small business services platform and listing service called Aabaco Small Business, but they've changed the local listing claims process.
To claim your Local Basic Listing – Yahoo's free option – you must sign up at Yext. Here you can search for your business. If a listing exists, you'll have the option to update it, and if not, you can create a local listing on the Yext platform. With the free option, you can add a few key pieces of information, including:
Business Name: Be sure to use consistency across your web and social platforms. For example, using M & K Plumbing and M and K Plumbing on different sites can hurt your rankings within Yahoo.
Address and Phone: Use a USPS-approved address when listing. This will ensure your company shows up on Yahoo Maps. With phone, be sure to use the same phone number you use across web properties.
Finally, you'll be asked to verify your listing. Typically, Yext offers phone verification, but there are other options as well. Verification is important and will add credibility your listing, as verified accounts are marked "Merchant Verified."
Optimizing Your Yahoo Local Listing
To optimize your Yahoo listing – you will need to upgrade to a Yext PowerListings subscription. The PowerListings option opens up additional fields including images, tags, and description, among others – all of which can help your business rank higher in search. Yet, this is just one option for optimizing your listing. Additional optimization strategies include:
Using Third-Party Listings: Yext offers options to publish your business information – name, address, and phone – across 50+ online directories. Yahoo uses this third-party information when indexing businesses in local search; the more citations for your business, the higher your business may rank. But remember: Be consistent with name, address, and phone.
Adding Metadata to Your Photos: With PowerListings, you have the option to add photos to your account. But you can take this one step further by adding metadata to each photo, which is information attached to the photo file that makes it more searchable. A variety of third-party apps make this very easy to do.
Linking Social Accounts: You'll have the option to link social accounts and your website to your Yahoo local listing, if you've upgraded to a PowerListings account. This can help add credibility to your listing, and it will enable the listing to be more searchable for customers.
Integrating Yelp Reviews: Yahoo integrates Yelp reviews in their listings. Create a Yelp page for your business and solicit web reviews from your most loyal customers. Top-rated businesses tend to rank higher in search.
Most businesses focus their local SEO and search marketing efforts on Google. Yet, Yahoo offers an incredible opportunity to market to customers at a critical time – when they're looking for your business or seeking out businesses like yours. Fortunately, claiming and optimizing your Yahoo local listing doesn't require a huge investment of time and for the most part, you can do the work once with the setup and not have to fuss with the listing much after that. With that being said, you can also get help from local listing expert services.
Want to embed this infographic on your website?