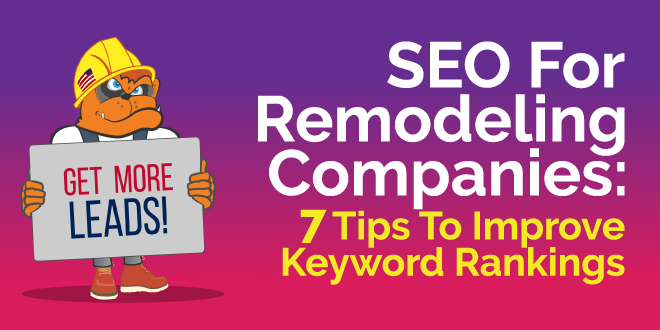 If you run a remodeling company in or around a major city, you likely have a lot of competition in your area, which can impact SEO for remodeling companies greatly. The more competition you have, the more trouble you're going to have in ranking your company for SEO.
Does that mean that pursuing SEO is futile for your remodeling company? Not at all! You just need to be sure that you implement all the right strategies.
What are these strategies? We're going to review them below. Here are 7 tips to improve SEO for remodeling companies.
1. Get on Google My Business
First and foremost, you should make sure that your company is signed up on Google My Business. This is a platform on Google that enables you to display all of your business information in a clear and concise manner. Signing up for Google My Business and optimizing your profile has the potential to put you front and center when users search for keywords relevant to your website.
In fact, when someone searches for something to the effect of "remodeling companies near me," the most prominent results that pop up will be Google My Business profiles. In particular, the top 3 ranked Google My Business profiles will show up, thus giving those 3 profiles tremendous exposure. Naturally, you want your profile to be one of these 3.
But it's not just your Google My Business profile that stands to rank high as a result of optimizing such a profile. Your business website will be connected to your Google My Business profile and will also rank better as a result of the profile's optimization.
You can sign up for Google My Business by clicking here. Once you've signed up and verified your business, optimize your profile with relevant keywords and try to keep everything as updated as possible over time.
2. Create Local Citations
Another key to ranking your remodeling company is to create local citations. Local citations are essentially just mentions of your business information. Generally speaking, they include the name of your business, your business address, and your business phone number.
The key to local citations is to make sure that they're consistent across the web. You don't want there to be any change from citation to citation. If there is, Google will become confused and will either fail to reward you for your citations or actively penalize you for their inconsistency.
So, if your business name is "Hank's Remodeling Company", every citation needs to say "Hank's Remodeling Company,", not "Hank's Remodeling" or "Hank's Remodeling Service," for example. The same goes for the address and the phone number. There should be no difference.
Where can you create citations? Online listing sites such as Yelp, YellowPages, and the like are great places to start.
Apart from that, you should look for specialized sites that are reserved for remodeling companies. For instance, Angi and Home Advisor are good places for remodeling companies to build citations.
You should also try to get listed on your local chamber of commerce site, local newspapers and magazines.
3. Pick Varied Keywords
If you want to enter the SEO competition at all, you have to use keywords that are relevant to your company. For a remodeling company, these would include keywords like "remodeling company in [your location]" or "[your location] remodeling company". These keywords should appear on the main pages of your website, as they're the primary keywords that you're trying to rank for.
Note, however, that they're not the only keywords you should try to rank for. You should be trying to rank for more niche, long-tail keywords in your website content and other documents.
So, let's say that you offer siding replacement as a service. You should have pages dedicated to siding replacement with primary keywords to the effect of "siding replacement in [your location]".
You should also answer questions using long-tail keywords in blog posts. For instance, you might try to rank for the keyword "how to maintain a wood deck" by writing a blog post about deck maintenance.
The point is to pick a wide variety of keywords. The more you rank for, the more credibility Google will give to your website. This will make it easier to rank for the more competitive keywords later down the road.
4. Build Backlinks
Another important aspect of remodeling SEO is building backlinks. Backlinks are links on other websites that lead to your website. The more high-quality backlinks you have, the better your website will rank.
Now, how do you get backlinks? There are a number of strategies to pursue. One of the most popular strategies is to write a guest post for another website and then drop a link in your content leading back to your website.
Another option is to make a deal with another business owner. In essence, you give them a backlink and they give you a backlink.
You could also publish and share blog posts and hope that people link to them organically. If the links come from other businesses in your area, or if they come from reputable remodeling sites, you will receive enormous benefits.
Note that building backlinks can be challenging. Not only does it take connections, but a lot of time and effort as well. Therefore, it's often wise for businesses to put this responsibility into the hands of a trusted digital marketing agency.
They'll not only find backlinks for your website but try to match the backlinks that other remodeling companies in your area have received. The ultimate goal is to have more high-quality backlinks than your competitors.
5. Optimize Your Website's Speed
A huge component of your SEO ranking is your website's speed. If your website takes a long time to load, say, more than 5 seconds per page, it's going to suffer in terms of Google rankings. As such, you need to do whatever is necessary to optimize your website's speed.
Now, what can you do to improve the speed of your site? For one, you can minimize the size of its images. In addition, you can minify its code and cache its data.
You might also benefit from improving your hosting provider. The larger your server, the faster your website will load.
If you need help improving the speed of your website, speak to a web design agency. They'll make all of the necessary fixes.
6. Upload Content to Your Website
If you want to rank for keywords in your area, you have to upload content to your website on a regular basis. This content can come in the form of a blog post, a white paper, a case study, or otherwise. Regardless, it needs to be original and needs to include the keywords that you're trying to rank for.
Let's say that your remodeling company provides window installation as a service. If so, you should try to fit the keyword "window installation in [your location]" into your content. For instance, you might write something to the effect of "Everything You Need to Know About Window Installation in Seattle".
Publish 2 to 4 pieces of content every month, and you should start to see your rankings rise for your chosen keywords. If you need help writing content, you should consider utilizing the services of a SEO marketing agency.
7. Improve the Technical Aspects of Your Website's SEO
We've already touched on the importance of website speed. Now, let's discuss the other components of your website that will affect SEO. These include things such as ease of navigation, security, and mobile-friendliness.
As far as navigation goes, you should ensure that your website is as user-intuitive as possible. Make sure that the primary navigation menu is easy to find. In addition, place call-to-action buttons throughout the different pages of your website.
For security purposes, make sure that your website possesses an SSL certificate. This will not only show visitors that your website is secure, but it will also alert Google, which will award your website with a higher ranking.
When it comes to mobile-friendliness, the key is to guarantee that your website is equally viewable on all types of devices, including phones, tablets, and computers. For help making your website mobile-friendly, call up a web design company.
Need Help With SEO for Remodeling Companies?
As you can see, there's a great deal involved in SEO ranking for remodeling companies. In truth, you're likely going to have trouble facilitating all of these strategies on your own. As such, you should consider outsourcing your SEO efforts.
Need help with SEO for remodeling companies? If so, we here at Online Visibility Pros have you covered. Not only do we create SEO-optimized websites, but we also create SEO content and carry out other SEO tactics as well.
Request plans & pricing today to get the process started!
Want to embed this infographic on your website?