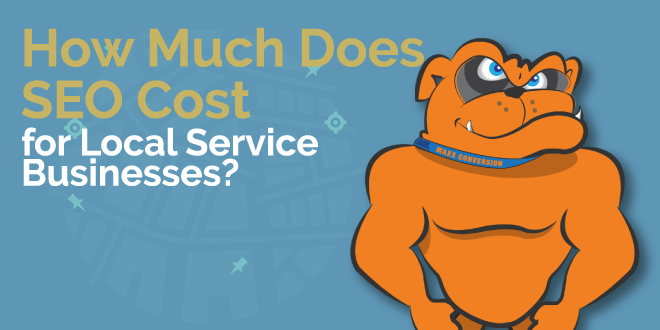 64% of consumers use Google My Business to find out details about a company. As a business owner, it's clear to see that local SEO is a must if you want to reach the right audiences. Because of this, many businesses are asking, "how much does SEO cost?"
If you are one of those business owners and want to learn more about local SEO, you're in the right place! Below, we'll discuss the average pricing of SEO and the factors that play into that. Keep reading to learn more.
What Is Local SEO?
Local SEO is the process of optimizing a website to rank higher in search engines for local search results. Local SEO is often overlooked by small business owners. This is a mistake because it can be one of the most important factors in growing your online presence and getting found by local customers.
Why Is It Important?
Local SEO is important because it helps websites rank higher in search engines for local searches. This can help them get more customers and make more money.
It can help you get your website found by local customers who are looking for products or services near them. The strategy also helps you rank higher in the search engines, which will lead to more traffic and leads.
What Matters for Local SEO?
This process is more complicated than just optimizing the site for keywords.
Local SEO should be done by considering these factors:
The geographical location of the business
The target audience
The purpose of the website (e.g. if it's an eCommerce site)
The type of business /product (e.g. if it's a clothing store)
The competitive environment
Prevalence of competitors
Value of the business/product
Potential for growth in the region
Quality of products and services
How Much Does SEO Cost?
The price of SEO services varies based on the plan you get and the goals you have. Typically, you should budget anywhere from $100 to $5,000 a month for your company's SEO services.
The main types of local SEO include:
Small-Scale Local SEO
Small-scale local SEO is the process of optimizing a website to rank better in local search engine results. There are many ways to do this. It can range from simply adding your business information to your website to creating a Google My Business page and more.
Local SEO is important because it helps bring in more customers. This is by making sure that they can find you when they search for certain keywords. It brings in customers who are looking for products or services nearby.
For example, let's say a customer searches for something like "best pizza near me" on a mobile device. With local SEO, they'll see your business at the top of the list of results!
Comprehensive Local SEO
Comprehensive local SEO optimizes your website to rank well in search engines for relevant keywords. This process takes a little more time and effort than traditional SEO, but it can be worth it. It is a way to ensure that you are targeting the right customers.
There are many benefits to this. A few include increased visibility and customer conversion rates.
Comprehensive SEO includes the following:
Optimizing your site for mobile devices
Ensuring that your site has a high-speed connection
Ensuring that your site is indexed by Google and other search engines
Ensuring that you have a high-quality website with original content
Ensuring that you have an active social media presence
What Impacts Local SEO Pricing?
The price for local SEO services is determined by:
The number of keywords
The level of competition
The number of locations
The level of optimization
Read more about each below:
Competition
Competition is a factor that impacts pricing for local SEO services. The more competitors there are in one area, the higher the prices will be.
This is because there are more people bidding on keywords and thus, more people competing for customers. The number of competitors in an area also impacts the level of competition on Google Maps. If there are many businesses vying for a spot on Google Maps, then it becomes even more difficult to rank higher and get a better ranking.
Level of Optimization
The level of optimization impacts pricing for local SEO. The most basic level of optimization is to have a website with a business name, address, and phone number. This is the most basic form of optimization and it can create an impact on the price of SEO services.
There are three levels of optimization for local SEO:
1. Basic optimization:
This is the most basic level of optimization. The goal is to get your website to rank in the top 10 results for a search query.
2. Advanced optimization:
Advanced level of optimization includes everything from basic SEO. It also includes things like using Google My Business and Google Maps. It considers other platforms that can provide you with more exposure.
3. Expert Optimization:
Expert-level optimization includes everything from advanced SEO. However, it goes even further by using techniques to manipulate the SERPs (search engine results pages).
Number of Locations
The number of locations impacts pricing in a number of ways. One way is that the more locations you have, the more expensive it becomes to manage them. The other way is that the more locations you have, the more potential customers there are for each one.
Keywords
The number of keywords that you have impacts pricing for local SEO. This is because if you only have one or two keywords, then this will be less work for the company and they will charge less as well. If you have more than three keywords, then this will require more work and they will charge more.
The average number of keywords for SEO optimization is 3-5. This number is not set in stone and can vary depending on the type of content you are optimizing. It also considers the industry you are in and the search engine you want to rank for.
Wondering if it's worth the investment? Read about the benefits of hiring an agency.
Do You Need Local SEO?
Many businesses believe they don't need local SEO because they are not brick-and-mortar stores. However, this is not the case. Local SEO is just as important for these types of businesses as it is for physical stores.
If you are an entrepreneur or small business owner, then you must be aware of local SEO. And you must understand the importance of having a website with high rankings in local search engines. The business will benefit from increased traffic.
It'll also see more conversions from local customers who are searching for products and services in their area. If you want your business to take off and grow, you should invest time and resources into Local SEO.
Local SEO Tips and Best Practices
The following are some best practices for local SEO and how you can use them to help your business grow:
Make sure your website has a local landing page setup and use it as a hub for all your local marketing efforts
Optimize your website's title tags, headings, meta descriptions, and content so that they are relevant to the location of your business
Create a Google My Business page
Claim ownership over your listings on other directories like Yelp, Foursquare, or Facebook Places
Use Schema Markup on all pages of your site so that Google can better understand what is being offered by your business
Local SEO is a complex and ever-changing field. Local SEO best practices are constantly changing and evolving.
For example, Google has been penalizing sites that were using "doorway pages" to rank higher in the SERPs. With these changes, it is important for business owners to stay up-to-date with all of the latest updates to keep their websites updated.
Get a Quote for Local SEO from the Pros
Now we have answered the question "how much does SEO cost?" We hope this article helped you understand what goes into local search engine optimization and how to create your business SEO strategy.
If you are ready to take the plunge into local SEO, we are here to help! Learn more about our Maxx Lead Gen™, our flagship SEM lead generation program for local service businesses. Request plans & pricing here.
Want to embed this infographic on your website?