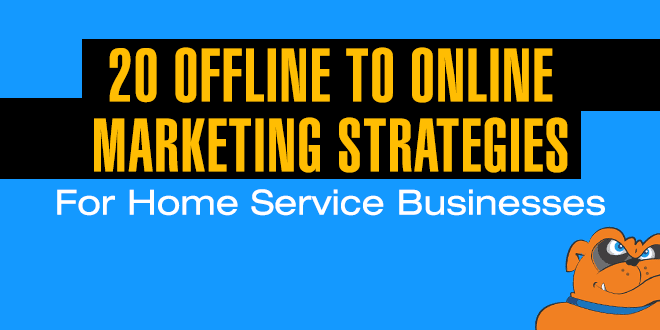 We love to talk about the numerous benefits of online marketing. Even with the explosion of digital marketing, most businesses still utilize traditional advertising to reach customers.
Too often though, they fail to integrate their offline and online advertising.
This is a problem. Without a plan for combining these efforts, businesses limit their ability to gauge campaign effectiveness. For example, if you run a radio ad that asks customers to visit your website, how can you accurately measure ROI?
Did the radio ad effectively prompt visitors? Or, was the influx a result of your SEO or social media marketing?
Integrating your offline and online marketing is the solution to this all-too-common problem.
You'll be able to properly track and measure campaign ROI. Plus, your business will be able to reach new audiences through more channels.
How is it done?
Today, a dedicated page on your website with a short, easy-to-remember URL and a new trackable phone number that is only used on that specific landing page for the radio offer will do. If your site was example.com, you might create a page like example.com/landscaping.
Then if you ran a radio ad that features a special promotion available at example.com/landscaping, you will be able to track how many phone calls were generated from that page.
The power of marketing is tracking. You must be able to identify what's working and spend more money there, and even more important is to identify what's not working and move those marketing dollars somewhere else.
Looking for some other ways to accomplish offline-to-online marketing?
20 Ways To Connect Your Offline Marketing With Online Marketing Strategies
Radio Ads
Depending on your market, local radio ads might be a cost-effective advertising option.
Outside of using a trackable phone number, it can be very difficult to know how many prospects have actually responded to your ad.
A solution: Direct customers to a landing page on your site with its own unique URL.
Signs & Banners
Many home service businesses post lawn signs at the properties where they are working. This lets the neighborhood know they're there, but it's also a great way to grab the attention of those driving through.
Send this audience to a dedicated landing page on your site that offers key benefits like a free quote or discount. QR codes are another option for helping them get there.
Print Publications & Trade Journals
Local publication articles and ads are effective for getting your name in front of highly targeted, niche audiences.
Don't make the mistake of sending them to your homepage. Send these customers to a targeted landing page so you can track the traffic. The shorter and more memorable the URL, the better.
Door Hangers
If you're working in a neighborhood, why not leave door hangers at nearby homes?
You can also hire people to do this is an area you would like to drum up business.
Engage these homeowners with specific digital promotions that cater to their needs – like a special price on an air conditioner tune-up.
Ask them to visit a specific landing page on your site so you can track results.
Trade Shows
Local home and garden shows offer a wonderful opportunity to meet homeowners in need of your services.
Be prepared to answer their questions, and make sure to say "hello" to anyone who makes eye contact.
Brochures with integrated QR codes can help you turn this offline activity into online success.
You should also use business cards that have a link to your company's website and possibly a special offer page.
Customer Referral Programs
Wouldn't it be nice if your customers marketed your company for you?
If you provide them with a great service and incentivize them to send you more customers, you'll never run out of leads. Offering a discount or a reward is a great way to encourage customer referrals.
Likewise, social media like and share contests can help you grow your social audience.
Truck and Van Wraps
Your trucks get you and your employees to the job, but work vehicles are also moving billboards.
A truck wrapped in effective branding will attract tons of attention.
Be sure you make it easy for these customers to find you – make the URL for your business prominent, as well as your phone number.
Community Event Sponsorships
Schools, Little League teams and charity groups are always looking for sponsors.
Often, for a donation of time and/or resources, these groups are happy to let you put up a banner advertising your services. Plus, sponsorships are a great opportunity to create buzz on social media.
Take pictures at the events you sponsor and encourage your audience to like and share your photos.
Direct Mail
Businesses have numerous options for setting up direct mail campaigns.
Companies like ValPak make it easy, or you can coordinate your own postcard drop in a target neighborhood.
The goal: Keep your mailers out of the trash.
Offer special promotions that encourage people to visit your website for more information.
Stickers & Magnets
Stickers and magnets are super versatile and cost effective.
You have a number of options for distribution. Have your crew put one on their own vehicle.
Leave them behind with customers or at local hangouts.
Give them away at sponsored events or trade shows. Just be sure to include your contact information, including your phone number, website, and social profiles.
Cold Calls
Cold calling isn't anyone's favorite marketing task, but when done properly, it can be a highly effective lead generation strategy.
You could go door to door yourself or hire a service to do it for you, by foot or by phone.
Be sure to offer an incentive for these potential customers to visit you online, like a limited time coupon.
Printed Newsletters
Printed newsletters can help you showcase your work and generate buzz.
They're super easy to distribute at meeting places in the community, or in target neighborhoods.
A printed newsletter offers a great opportunity to entice visitors to "learn more" at your website or blog.
For example, a painting company might feature a story and photos of a historic home painting project in their newsletter, and then encourage people to visit online to see additional photos.
Community Speaking Engagements
Community groups are always on the lookout for business owners who are willing to share their knowledge and expertise. An HOA group might be looking for a professional landscaper to talk about spring gardening with its members.
Encourage those in the audience to engage with you on a social media or to join your newsletter subscription so you can stay top of mind.
Networking & Meet-Up Events
Networking events offer a great opportunity to meet like-minded businesses – and even scope out the competition.
Often businesses that offer complementary services are asked for recommendations, so the more you network with companies in the industry, the more likely they are to recommend your services.
Be sure to network on social media as well, before and after the event.
Face-to-Face Meetings
A one-on-one meeting is one of the most effective strategies for generating leads.
Meetings offer a chance for you to advocate for your services and expertise, as well as put a face to your company.
Have business cards ready and direct these people to key information or specific pages on your website during your meeting or with a follow-up email message after the meeting.
TV Commercial & Infomercials
TV advertising can be costly, but when executed properly, commercials and infomercials are very effective.
First, try local stations, where advertising costs will likely be the most affordable (and try calling at the end of the month when they are desperate to get rid of inventory).
Then, use strong calls-to-action to drive audiences to a dedicated page on your website offering a special promotion. "Claim your offer now at example.com/landscaping!!
QR Codes
Chances are you've seen a QR code before.
They are those white-square graphics that have a pattern of smaller black squares within them.
You can generate QR codes online, which can then be printed on flyers, signage and business cards.
People can then scan the QR code using their mobile device and are instantly directed to your landing page.
There are countless ways to leverage this technology to drive traffic offline to online. Be creative!
Mobile Billboards
Traditional billboard ads are expensive, but here's a novel approach: Mobile billboards.
These are billboards that are carted around town and displayed at community events.
Be sure you're able to track the leads generated, so you will definitely want to include a dedicated trackable number and a unique landing page on your website within the ad/ promotion.
Business Cards
Business cards are one of the best and most affordable marketing tools.
You don't have to spend a lot to make a great impression, and they're cost-effective enough that you can hand them out to anyone who might be a potential customer.
One tip: On the back of the card, add a link to a dedicated page on your website that's designed to introduce this audience to your company.
Branded Swag
At sponsored events and trade shows, branded swag like pens, notepads, stress balls, mouse pads, t-shirts and handy tools will help keep your business top-of-mind with potential leads.
Make sure you're including at least one piece of your digital contact information – website, email or social media pages – to help drive these customers to your brand online.
For home services business, offline marketing remains an effective solution for reaching new customers. The key to success is integrating your online presence into your offline promotions by hiring online marketing experts. If you do this, you'll instantly be able to better track and gauge the effectiveness of your advertising.
Want to embed this infographic on your website?