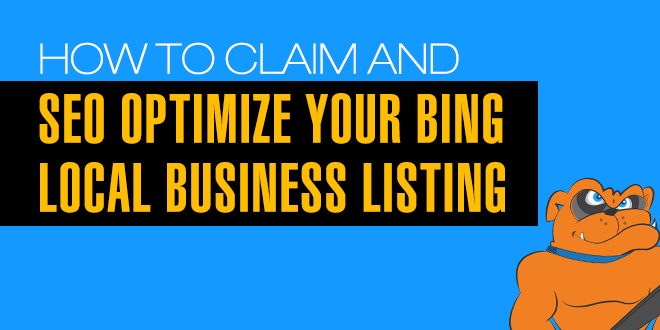 How easy is it for customers to find your company's contact info in online search? Does it jump out in listings when someone types in the name of your business or industry- and location-specific terms?
If not, you're missing out on a massive marketing opportunity. Customers find businesses that rank higher in local search easier, and because a complete local listing builds credibility, they're more likely to trust those businesses.
Here's a quick example: A homeowner's pipes freeze in Kansas City. That person needs a plumbing service ASAP. When she searches "24-hour plumber Kansas City" on Bing, the businesses near the top that provide website, contact information, and areas of specialty are mostly likely to get a call.
So what's the secret? How can do companies earn those top listing spots on Bing?
You don't need an advanced marketing degree to claim and optimize Bing local listings for your business. It's an entirely free process that you can get started on in as little as 30 minutes. Then, with a few local search tricks, you can give your business its best chance to earn those top spots.
How To Get Listed on Bing
Bing's local search listings portal is called Bing Places for Business. All you need to get started is a free Microsoft Live login. Then, you can build your listing in just three easy steps:
Claim Your Bing Listing: On the Bing Places site, you can search for your business. If you find your business, you can click "Claim Business." If Bing doesn't already list your company, you'll need to click "Create New Business."
Complete Your Listing: Whether you claim or create a business listing, Bing will ask for a variety of information. Remember: The more complete your listing is, the easier it will be for customers to find. Add your address, contact information, phone number, hours of operation, website and social media accounts, as well as any other fields that are required.
Verify Your Account: Bing requires listing creators to verify they are in fact the owners of the business, and there are a few different options. Most new businesses will be sent a postcard in the mail within 3 to 5 business days. Once they've received the card, they can take full ownership of the listing.
Tips for Optimizing Your Bing Listing
So you have a complete Bing listing. Now, you need to optimize it – or make it easier for Bing to understand your business's relevance to customers. Here are a few tips:
Use Pictures: Bing allows users to upload pictures, and all business – regardless of industry – should take advantage of this feature. A plumbing business, for instance, might not think pictures will help, but at a minimum, a thumbnail of the company's logo, a truck, and storefront helps. The reason? Bing rewards businesses for adding photos. Plus, giving your image files a title, keyword tags and location data can help your company stand out.
Utilize Multiple Search Directories: Bing uses third-party directory sites to verify its information. The more directories you are listed in, the greater your chances of a higher rank. Luckily, tools like Yext enable businesses to update their contact info on hundreds of directory sites at the same time from a single interface.
Consistency Counts: In local search, it's critical to use consistency with your NAP – Name, Address, and Phone Number. Differing names – for example, "Joe's Plumbing Service" and "Joe's Plumbing" – can diminish Bing's ability to recognize your business.
Choose Multiple Categories: When you create your listing, Bing will ask you to select the category your business is in. Multiple categories may apply to your business, and if that's the case, choose all options that apply. For example, an HVAC contractor could choose "air conditioning," "air duct cleaning" and "heating service." Then, Bing will also prompt you to choose the most relevant term as your primary category.
Use Keywords In Your Description: Bing also asks for a brief description. This is a short blurb about your business. You can adapt text from your About Us page here. Be sure to utilize 1 or 2 relevant search terms, as well as highlight your business's unique selling propositions.
Bing accounts for nearly a quarter of all U.S. search volume. If you're not listed on Bing, you're missing a massive opportunity to engage potential customers. Fortunately, claiming and optimizing your Bing local listing is straightforward and you can get up and running in no time.