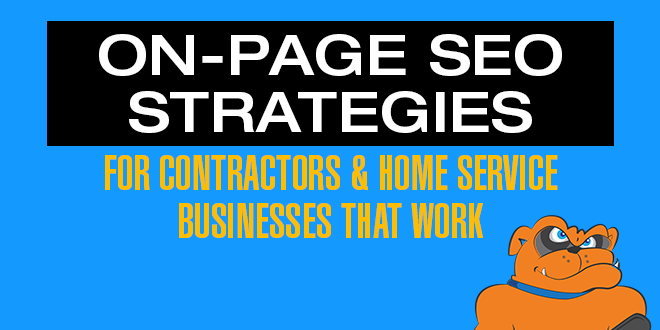 I'll be the first to tell you that on-page SEO has evolved quite a bit. The practice, in a nutshell, means using keywords in your content and HTML source code to boost rankings in search results.
In recent years, people could set up a strong on-page SEO foundation and have great rankings in the search engines with well researched and properly implemented on-page SEO. Some website owners, developers, and digital marketers are even guilty of using on-page SEO only as their only ranking strategy.
Yet, the brutal truth about on-page SEO is this: If you want to rank in Google today, on-page SEO only allows you entry into the game. To win the race, you need high-quality content and backlinks.
That's a fact. Now, there are other important SEO ranking factors outside of on page SEO, however, that doesn't mean you should ignore on-page SEO.
If you ignore or conduct poor keyword research when putting together your on-page SEO plan, it's going to be a very uphill battle to hit the first page – even if you build some incredible backlinks to your site.
When you combine air-tight on-page SEO with proven link building techniques, you're on your way to Google's first page. The question remains: How?
Fortunately, a few simple on-page SEO strategies can instantly help your site go from ranking for only a couple of keywords, to ranking for hundreds – in as little as three months.
Unlike most of our keyword-stuffing competitors, this on-page SEO approach is a little outside-the-box. We focus on making strategic keyword selections and placement, boosting time-on-site and pages per session and slashing bounce rates, which will indicate a better overall user experience to Google – that's who we have to win over!
Here are the five on-page SEO strategies that have had the biggest impact for our SEO team:
#1: Front-load your keyword in the title tag
This is simple. Google puts more weight on words that show up early in your title tag, so when you can make it make sense, put your keyword in the beginning of your title tag.
For example, if your keyword is "landscape services" you'd want your title to be something like:
"Landscape Services: Affordable and Always On Time "
According to Backlinko, an optimized title tag correlates positively with ranking.
Due to Google's move to Semantic Search, title tag optimization isn't necessarily as relevant as it once was.
Either way, it's a simple first step that can provide a slight lift in your rankings.
#2: Cut out the junk from your URLs
In the past, we used clunky, confusing URLs.
They'd include irrelevant information, excessive numbers, and the date. They used to look something like this:
"example.com /5-2-2014/category/blue-widgets-17-ways-to-profit-from-the-internet/"
Why doesn't this work? Long, jumbled URLs confuse the heck out of Google.
The search engine crawlers use a URL to help determine what the page is about. The example URL isn't descriptive at all.
The solution: Cut the junk and make your URLs either ONLY your target keyword or ONLY the title of the page. For example, if our keyword was landscape services, we'd use a URL like:
"example.com/landscape-services"
#3: Link out to authoritative resources
Most people don't link out to other sites enough.
They either don't know that this is important or they are afraid they'll lose traffic and bleed PageRank.
Here's the deal: Google wants to send their users to pages that are hubs of helpful information, and outbound links to high-ranking authoritative resources are one way to make your page more useful to users.
Plus, there is a range of compelling reasons to incorporate outbound links.
For example, for every user you lose from an outbound link, you gain two from the boost in SEO traffic.
A recent study proved that pages with outbound links ranked higher than those without them.
Make sure you include outbound links to closely-related authority sites in every post.
#4: Add modifiers to your title tags
Believe it or not, but 50-75% of your search engine traffic comes from long-tail searches.
These are long, multi-word phrases, and a good chunk of them are 6 to 8-word keywords that are NEVER going to show up in the Google Keyword Planner Tool.
So how can you possibly optimize around them? It's simple: Add "modifier" words to your title tag.
Some of our favorites include "affordable," "best," "certified," and "emergency."
So you'd make your title tag something like:
"Landscape Services: Affordable and Always On Time"
These modifiers are words that tend to show up in long-tail searches.
When you include them in your title tags, you'll gobble up more long-tail traffic.
#5: Make sure 80% of your posts are 700+ words
Historically, our top-ranking posts have been at least 700+ words of meaty, valuable content.
This goes contrary to what a lot of so-called "experts" have told me – no one online reads anything that has more than 400 words.
After a lot of testing, I've found this to be completely false.
When you create a valuable resource on a topic someone cares about, that person WANTS to read a lot about it.
When you give them a comprehensive resource, they'll thank you for it. (And it's been proven. Several industry studies like this one from Backlinko have found that longer content ranks better in Google.)
So if there's a keyword you really, really want to rank for, make sure the page you're trying to rank is 700+ words of outstanding content.
Remember: On-page SEO is just one part of the search ranking battle, but it can make or break your ranking strategy. Start with the title tag, make it descriptive, and then optimize your content, URLs and add outbound links. If you do this, your on-page SEO will instantly improve. You can also do this with the help of on-page SEO service providers.
Want to embed this infographic on your website?