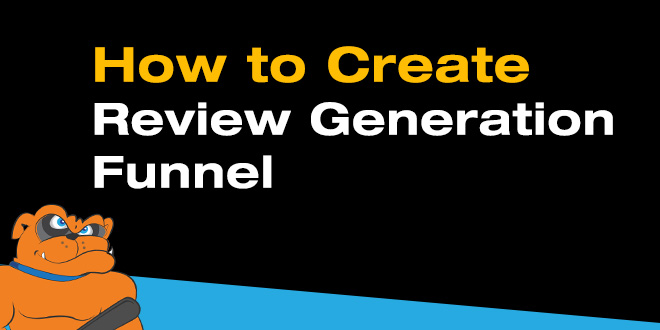 Are you interested in creating a review generation funnel for your business?
That would be a smart idea since nearly 97% of people read online reviews before they decide to do business.
This statistic clearly conveys the value of online reviews for customers and for businesses.
For customers, it provides insight into what other customers are saying about the business.
However, before you think about positive reviews, you need to provide the customer with an experience.
You need to put them through a funnel that highlights the benefits of your business.
A review generation funnel gives your customers an easy way to complete reviews about your business.
They can say what you want them to say by you guiding them with a funnel.
A review generation funnel with the help of review generation funnel experts gives you a lot more control over what the reviews say about your business versus simply "winging" your review requests.
In order to have a thriving review funnel, you first need to know how to create one.
You need to know
And how to prevent negative reviews from occurring
Here's everything you need to know about creating a reliable customer review generation funnel.
Create a Review Generation Funnel That Benefits the Customer
Put yourself in the customer's shoes before asking for a review.
A lot of people are busy and don't have time to leave reviews.
They don't want to be bothered by another business asking for another review.
They might ask, "what's in it for me?"
This is why it's important to consider giving your customers incentives.
Incentives should bring back customers after they leave an initial review.
It's a win-win for your business because you are getting a positive review and are getting a returning customer.
Some incentives that you should consider as part of your review generation funnel is adding points.
If your business already has points in place and provides bonuses when you turn in these points, adding more points to taking a review can help incentivize it.
Discounts are another incentive you can attach to an email or as part of taking a review.
Customers typically love coupons that provide them a discount of any percentage off of an item.
Free samples or products can also be an incentive for customers.
This might work particularly well since these customers already understand your business, so having them try a new product can also help spread word-of-mouth.
For more information on funnels and lead generation, you can see our case studies that highlight massive lead generation growth.
Create an Email Series
Part of creating a review generation funnel is knowing where to start.
An email series to a past customer can be the start of a funnel.
By sending out emails, you can highlight how wonderful their past experience was or ask if they experienced any problems.
It provides an opportunity for the customer to be honest and respond before they write a review that may be negative.
An email series can also include an incentive.
If you send out an email series asking for a review, offer the customer a chance to enter a contest.
The point is, give them a reason to complete a review that is worth their while.
An email series also gives you the opportunity to send out automated email sequences to a large audience.
Overall, the purpose of an email series is to make a point of contact with a customer about their experience.
An email should be the beginning of your funnel and should include an incentive.
At the very least, an email is a way to communicate with your customers about negative and positive experiences before they write a review.
It can also include specific instructions on how to take the review and give an estimate on how long the review should take.
(Get 6 Proven Templates To Get More 5-Star Reviews – 100% Free)
Have the Right Tools
An email series can be the beginning of your funnel, yet now you should be concerned with the layout of the rest of your review funnel.
This is why it's important to have specific tools to complete your funnel.
Having the right tools in your review funnel can increase the chance you get a positive review.
A very important one is a landing page creator.
You'll need a landing page tool for when users click on the link in your email that takes them to a landing page.
A landing page:
Is where they leave the actual review.
Is also a way to show other positive reviews from other customers, providing social proof.
Should also be beautiful in design and offer clear and concise questions on what the customer should do in their review. 
Another tool to consider for review generation is different templates with different questions.
Finding the right template is critical to generating the right questions for your business.
Choosing a template with specific questions and having a landing page should create a great user experience.
This is why a review generation funnel is critical to obtaining more business and creating lifelong customers.
You can also find more about the value of online reviews for your home business in our blog post that details why 88% of people trust online reviews and how your small business can achieve this success.
Be Prepared
Ultimately, preparation is the best way to get positive reviews.
Be prepared to have a landing page with specific questions.
Be prepared to give articulate instructions on the emails you're sending.
Finally, be intentional on what you want the customer to do.
The goal of any review funnel is to be a guide for the customer.
You want to guide the customer into saying specific things about your business.
You want them to say specific things that lead to more business.
As a business, a review generation funnel is the best preparation for obtaining positive reviews.
Automate your review generation funnel will our turnkey customer review management software called Maxx Reviews™.
Maxx Reviews™ does all of the heavy lifting for you and your team when it comes to requesting customer reviews for you while also helping to prevent negative reviews from hitting the web.
Get 50% off your first month when you get started with Maxx Reviews™ here.
Looking for more ways to do more business and save more time online?
Check out our most popular done-for-you services below:
Want to embed this infographic on your website?