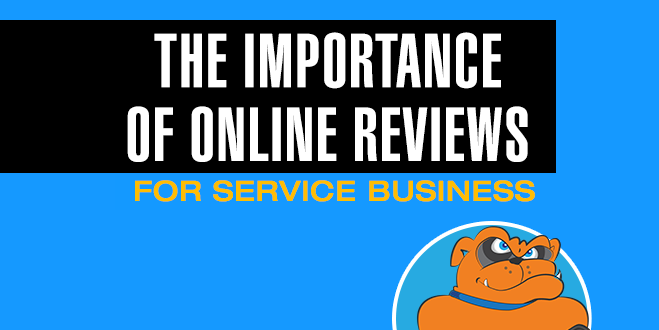 Did you know 88% of people trust online reviews as much as they would the recommendation from a friend or family member? That's pretty astonishing, given that most reviews are written by complete strangers.
This fact might also be somewhat alarming, if you're not doing anything to promote positive reviews (or counter the occasional negative one) that your service business receives.
Whether your company installs HVAC systems or AV systems, or roofing systems, you need to take control of the importance of online reviews your customers write on sites like Google, Facebook, BBB, YP.com, Homeadvisor, Angi, and the like.
Why Online Reviews Are Good for Business
Why are reviews so important to your business success?
Let's look at some statistics, compiled by Vendasta:
92% of consumers now read reviews online
88% of consumers use those reviews when making their purchasing decision
Over half of Millennials say they take more stock in reviews than in the opinions of friends or family
Nearly three-quarters (73%) of people form an opinion of a business after reading six or fewer reviews
Over 26,000 reviews are posted every minute on Yelp
86% of potential customers hesitate before patronizing a company with negative reviews
It takes 12 positive reviews to counterbalance one nasty post
Convinced yet?
Worried about the negative reviews you've already gotten, or wondering if you should get friends to stuff your ballot box with raving reviews?
Read on!
How To Get (Good) Online Reviews
Provide Excellent Service
Naturally, the first way to garner good online reviews is to keep on doing what you already do…
To provide exceptional service or an exceptional product, make sure your employees treat customers with respect and follow up if there are any problems.
Nevertheless, that may not be enough.
After all, people are more likely to post about your company when they are angry or unhappy than when they're satisfied.
Some studies suggest that we're simply hardwired to focus on the negative.
In other words, you might have to go out of your way to thrill people if you want reviews.
Or, you could use other techniques to encourage customers to leave feedback.
Establish a Presence for Reviews
No one will be able to review your services or products if they can't find you online.
Check now to see what happens when you type in your business name into Google.
Claiming or listing your business on review sites and directories will help you get more reviews AND it will also improve your local SEO efforts (BONUS!).
Remember, up to 13% of your local ranking is dependent on online reviews.
PRO TIP: double-check that your business's information —  particularly things like hours of operation, phone number, and address — are consistent across all channels.
Listings with incorrect information will confuse not only potential customers but the search engines, too.
You probably already know about Yelp, Google My Business, and Facebook.
What you may not know, is there are other, more industry-specific sites like these home service business directories where you can set up your business listing.
Not everyone uses Angi or Houzz, but those who do, use them often.
You can also use online brand management services.
Ask Your Customers for Reviews
Calls to action (CTAs) are surprisingly effective.
This is why we're inundated with so many "Call Now!" radio and TV advertisements and "Click here!" buttons on websites.
The same is true for online reviews.
You can incorporate CTAs on your website, in follow-up emails, even on the receipts or invoices you send once a project is complete.
These direct asks work even better if you provide a reason: "If you were happy with your service today…" or "Share about your experience so others know what it's like to work with us…"
On the flip side, you can also prevent negative rants by using having a way for people to share about things that may not have gone as planned if you include in the text, "Not happy with the work we've done? Please tell us so we can make it right."
This shows that you're open to feedback and willing to go the extra mile to satisfy customers.
Use Feedback to Improve
When you get feedback, "good" or "bad" use it!
Complaints about a particular product line or employee should be addressed swiftly, particularly if the same issue crops up again and again.
Surveys are another good way to solicit feedback that you can use to improve your business, thereby leading to better online reviews.
Incentives like the chance to win freebies, gifts, or even a cash prize are useful in driving customers to give feedback, whether via a survey, on your website, or elsewhere.
What About Negative Reviews?
It can be scary, claiming your business on Yelp or BBB, or setting up a Facebook page and opening yourself up to complaints.
But there are a couple of important things to know about negative reviews.
They Are Virtually Inevitable
There's always going to be a Debbie Downer who's never satisfied, or who's simply having a bad day — and takes to the internet to vent.
You'll never be able to please everyone.
They're Not Necessarily Terrible for Your Business
What?
Well, it turns out that when a company has nothing but glowing praise, it can seem shady.
A whopping 95% of people suspect either fakes or censorship by the company itself when they see only 5-star reviews.
In fact, 68% of consumers find businesses with both positive and negative online reviews more trustworthy.
So getting a clunker every now and again won't doom your business — but it is important to respond, and respond correctly.
How to Deal with Negative Reviews
Don't lash out, get defensive, or blame the customer, no matter how tempting it may be.
Remember that the people who read online reviews are also judging your company by its response.
A polite apology and an offer to fix the problem will demonstrate that you're caring and committed to customer service.
Potential buyers can generally sniff out serial complainers, and they won't give nearly as much weight to these outlier reviews as to your measured, professional response to them.
Ignoring negative feedback, or responding in kind, will only damage your reputation.
It's hurtful to see nasty, mean-spirited comments about your business online — but keep in mind that most people take extreme reviews with a grain of salt and instead form an opinion of a business based on the average reviews.
In Short, You Need Online Reviews
Does managing your business's reviews eat up too much of your time?
Check out our review management software – Maxx Reviews™ – right here to get more 5-star customer reviews for your service business – on autopilot.
Have questions? Shoot our team a message here or give us a call at (888) 593-0505.
Want to embed this infographic on your website?