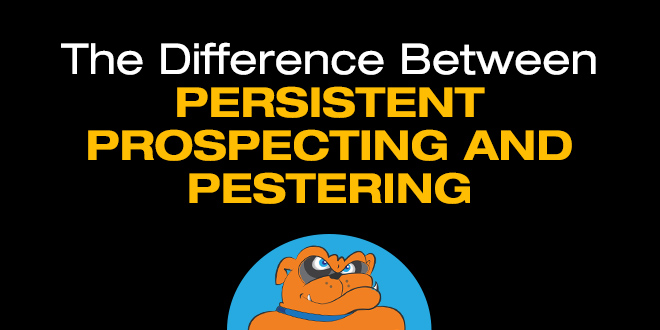 Without question inbound marketing is far more effective than outbound but traditionally it will take both to make sure there are enough sales in the pipeline. Outbound marketing starts with prospecting, a function that is the bane of many sales people.
If you think about it, the traditional sales process actually requires two skill-sets to be optimal. People who are particularly good at cold calling or persistent prospecting often have significantly different personalities than people who are good at presenting and closing. This is one reason some companies have turned to appointment setters to prospect and presenters to negotiate and close.
But in a small business it is unlikely you can afford a "specialized" sales team. One person does both functions.
Traditional Prospecting
In this spam filled world how can you prospect and stand out from the crowd without earning the reputation of a pesky sales person? The two traditional approaches are telephoning and email and they both have their challenges.
Email clients have become more and more sophisticated with their spam filters so you are faced with the need to create compelling subject lines that will still get past the filter. Even when that happens you are dumped into a mailbox that is deluged with sales and other messages. Voice mail isn't much better and it's just as easy to ignore or delete as email.
So what do you do?
How To Stay In Front Of A Prospect Without Being Classified As A Pest:
Research your prospect. Spend as much time researching your prospect as the value of the sale will allow. Obviously if you are selling $50 discount coupon books for local businesses you can't spend much time researching your prospect beyond knowing their phone number and email address. However, if you are a commercial builder and your projects average in excess of $100k you've got plenty of time to understand a prospect's organization and what they are up to today. Knowing as much as possible about the prospect puts you in a position of power.
Subject lines. Use subject lines that are about the prospect not you. They need to be timely, relevant and appeal to their "What's In It For Me" need. This is where research comes in. If your prospect was just awarded a big contract, was honored by the chamber, suffered a fire or missed their quarterly sales goals then you might use subject lines that start with "Good luck with…" "Congratulations on…" "Can we help…" and "Did you make your numbers this quarter…"
Signature block. Take advantage of this free advertising space to include a link to your site or blog, a link to your personal LinkedIn profile, possibly a link to a social proof or testimonials page.
Voice mail message. Know what you are going to say before you say it. But when you say it, make it sound like it was the first time ever and not the 20th time that morning. Nothing is worse than a perceived canned message. Also leave your number at the beginning and end of your message. If the prospect misses it at the end they don't have to go through the whole message again if you mention it at the beginning.
eNewsletter. If and when your business publishes an eNewsletter (weekly or monthly) you can leverage this as a long term follow up tool. Always invite prospects to get on your eNewsletter for a few reasons, 1) You are now visible to your prospect monthly for ever (or until they opt-out), 2) you are now viewed as an author, publisher, and a trusted resource in your niche market, 3) You can use this to automatically build a relationship for you (as long as you're not cutting corners with your eNewsletter — it must be authentic and have a personality to it).
Frequency. This is where people disagree but this schedule shouldn't get you in trouble. Every sales cycle is different and so a time table or a template for follow up must be unique to your sales process. You should have a step by step process that you take every new prospect through, that way you know each prospect is being handled with the same process. If you find you're reaching out too quickly or not quick enough is something that a business has to test. Come up with a system that works for your business and prospects. I will say that often times business owners think they're reaching out too much or "enough", but typically frequency can be increased. The key with your touches, is to provide your prospect with something of value every time you make contact. You'll stand out as being different. Trust me.
At the end of the day it's a numbers game and the more 'suspects' you can get in front of the more 'prospects' you'll have in your pipeline.
In today's saturated marketing world, you have to "be you" and use that uniqueness to your advantage. Once you have that down, you want to come from a place where you're constantly giving, serving and sharing with your soon to be prospects, current prospects, current customers, and past customers. You can be very persistent prospecting without being a pest — if you're truly focused on helping the prospect. When you're being truly authentic and doing a good job of sharing your knowledge you won't have to worry about coming off as a pest. Remember, there are a lot of phonies out there, that's why providing an authentic experience will cary you a long way.