HVAC Digital Marketing Strategies Increase Website Leads By 430%
HVAC digital marketing campaign helps an HVAC Company BOOST WEBSITE LEADS BY 430% by focusing on website optimization and a strategic HVAC SEO marketing campaign.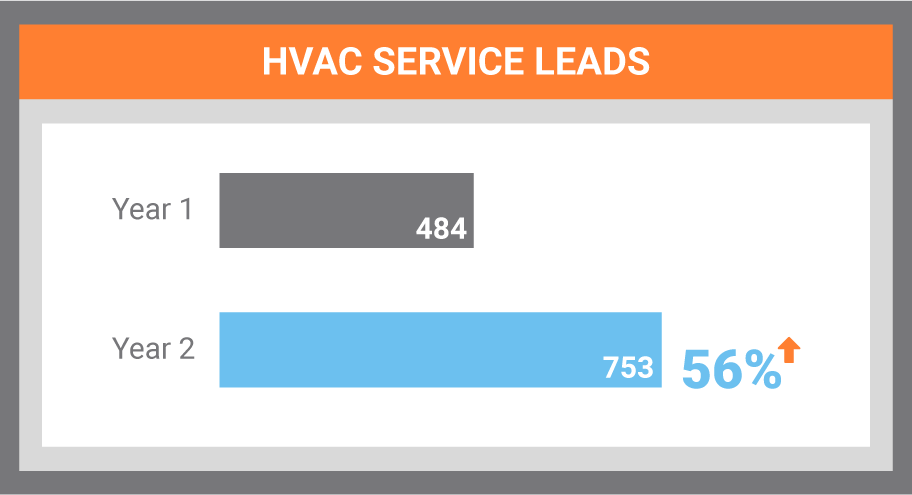 Client Backstory:
Mike, the owner of Arizona-based Scottsdale Air, approached us because he was frustrated with the results of his current lead generation efforts.
He had been investing for several years into HVAC digital marketing lead generation campaigns. These campaigns were built and being run by big box agencies.
Based on the amount of money and time he had invested in these campaigns, Mike had expected much better results.
The promises of high-quality traffic and leads never came to fruition and he felt that his questions and requests weren't being addressed in a timely manner.
So, Mike reached out to our team for help to develop a more effective lead generation campaign. He wanted to work with a company that would tailor the marketing efforts to his industry and work with his team every step of the way.
Our strategy call with Mike allowed us to:
Learn more about his online marketing experience
Conduct a thorough investigation into Scottsdale Air's online presence
Work with Mike to create a long-term plan to build an ­Unstoppable Lead Generation Machine
Our overarching goal was to consistently attract profitable customers from the Internet.
HVAC Digital Marketing Attack Plan
Website Redesign with conversion optimization and SEO in mind
Launch new Local SEO campaign
Send out company Email Newsletters once a month + promotion reminder once a month
Build out a professional Brand Presence on Social Media
Implement an Automated Customer Review system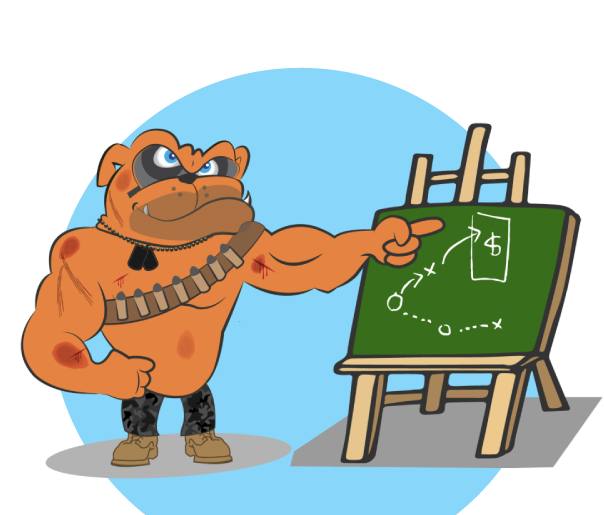 Updating the company's website, optimizing their social media pages, and launching a new local SEO campaign produced incredible results:
Website conversion rate increased by 430%
A boost from 25 leads in September to 145 leads in January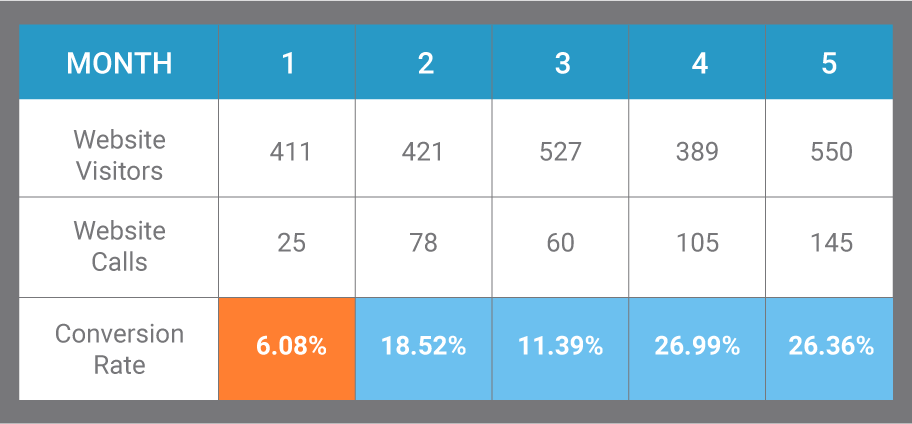 Our HVAC digital marketing team continued to focus on helping Scottsdale Air:
Fill their sales pipeline by enhancing overall lead generation efforts
Effectively stay top-of-mind with customers and prospects in order to increase average customer value
Dominate their local market online
The implementation of a strategic, industry specific internet marketing campaign has turned into a very reliable lead generation tool for Scottsdale Air.
They consistently attract 3 to 4 new exclusive customers per day from the Internet.
These are brand-new customers likely to become long-term customers because of the incredible service provided by Scottsdale Air.
Listen to what Mike has to say about the success of his digital marketing campaign, and how it's been working with the team at Online Visibility Pros:
Keep reading to learn the details of how we achieved our digital marketing goals.
#1. Website Development and SEO Optimization
First, we addressed the website layout and design. Our web design team focused on creating a website that would make it easy for site visitors to convert into actual leads.
We based our updates on proven lead conversion optimization techniques and SEO best practices.
The result was a more user-friendly, responsive design and layout specifically formulated to enhance site engagement and attract more qualified business leads.
It is very important that your marketing team pay close attention to the constantly refined SEO algorithms in order to help your website to maintain high keyword rankings.
For example, our SEO experts ensured a mobile-friendly design for Scottsdale Air's new website; if we hadn't done this, their website would have ranked far lower in Google search results because Google Algorithms put so much weight on mobile-friendly websites, especially for home service businesses.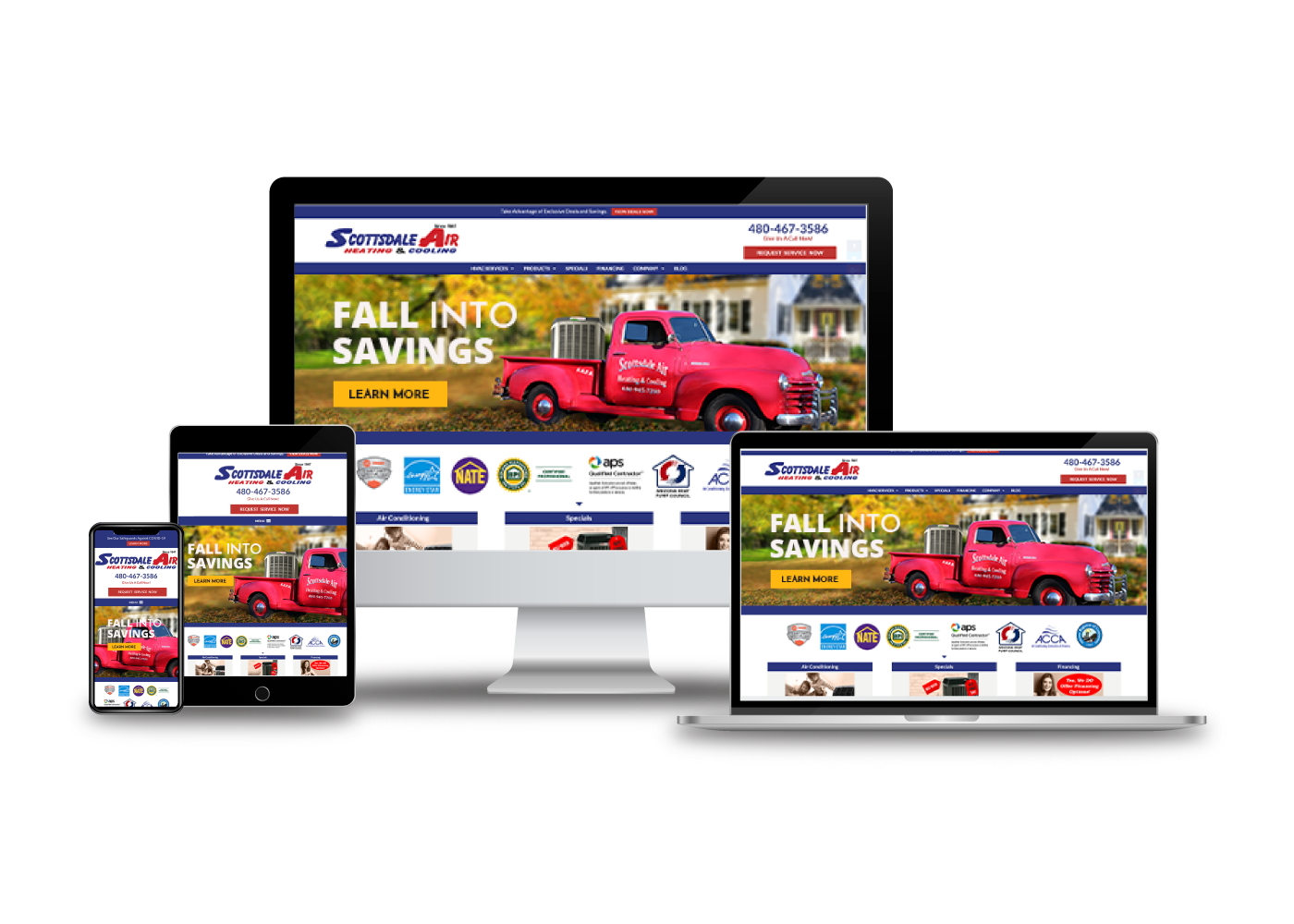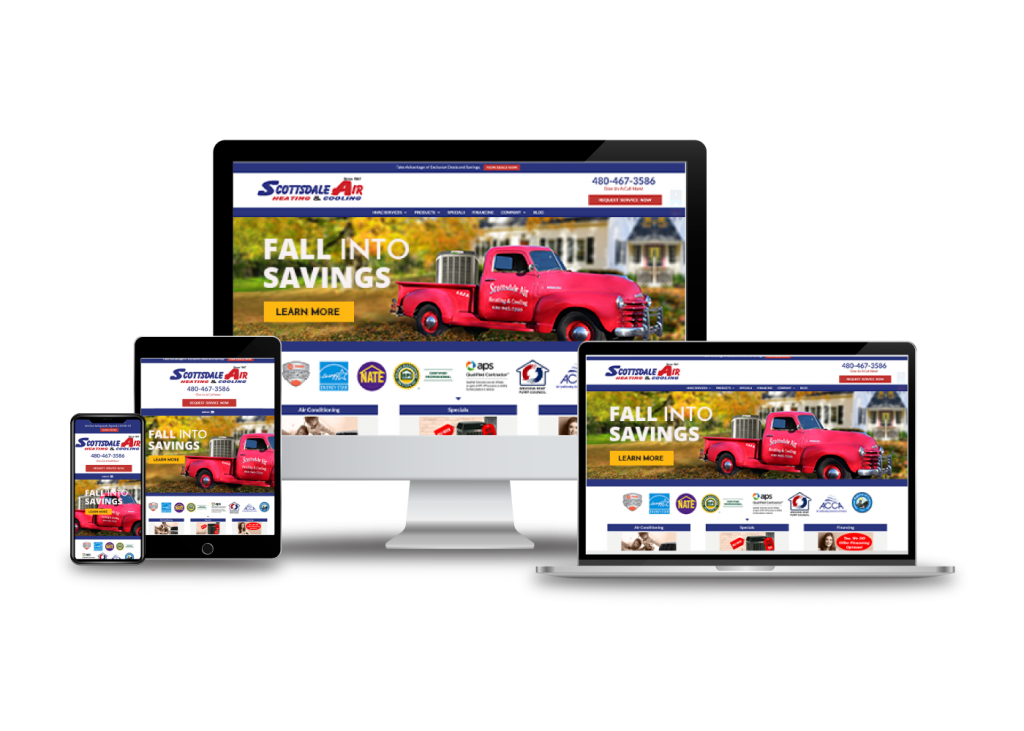 #2. SEO Optimized For Google
You'll see a significant increase in the amount of search engine traffic driven to the company website in the below graph by our proven SEO lead generation campaigns.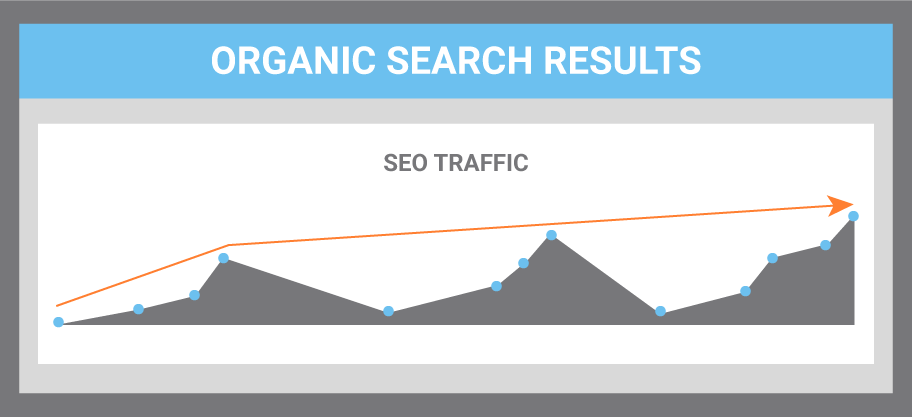 This increase in targeted traffic has played a key role in helping Scottsdale Air become an undeniable authority in their local niche market online and, more importantly, attract 3 to 4 new high-quality customers a day from the Internet.
Ranking Six Pages on the First Page of Google
Our expert SEO team was able to rank Scottsdale Air on the 1st page of Google for six of their pages.
When someone would search for a target keyword like Scottsdale air conditioning, the company occupied 6 positions on the first page of Google with the following associated business properties:
Their website homepage
Their website contact page
Their Yelp business page
Their BBB.org or Better Business Bureau page
Their Facebook business page and their business location.
Their maps listing
That's OVER 50% ownership of organic results for main keywords on Google's 1st Page.
#3. Email Marketing
Next up for our HVAC digital marketing plan, increase website visitor sign up's for the company's monthly email newsletter.
Scottsdale Air's email newsletter continues to grow the number of subscribers, and it also generates impressive engagement metrics (more on that in a second). Having a eNewsletter provides Scottsdale Air with a simple and effective means of communicating with customers and allows for more chances of turning subscribers into lifetime buyers.
The eNewsletter campaign has a lifetime open rate of 39.2%, which means that over the course of the company's 2+ year-old eNewsletter campaign, almost 40% of all recipients opened their e-mails.
Almost 10% clicked on a link inside the email—that means their email list is active and likes what we are sending their way.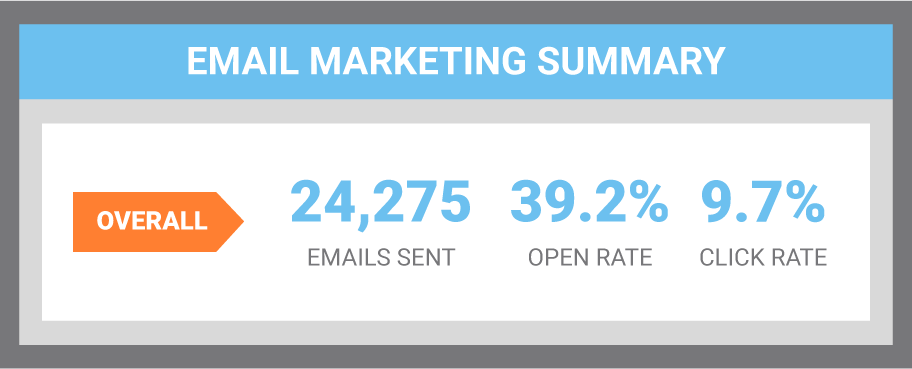 #4. Social Media
Next, we went to work optimizing Scottsdale Air's social media pages and profiles.
By establishing a consistent brand and strong message on popular social media websites like Facebook, Twitter, LinkedIn, and YouTube, Scottsdale Air gained immediate credibility and positioned themselves as a serious player in their local HVAC market.
Staying active on social media has helped the company establish more authority online and build a fence around their customers and prospects.
In addition, when interested prospects are looking for a trustworthy HVAC company on social media, Scottsdale Air makes a strong impression by remaining available to answer questions online.
#5. Integrating an Automated Customer Review System
Online reviews are a very important element to a business's overall reputation.
That's why we implemented a turn-key customer review system that automatically requests reviews from customers. This took pressure off the HVAC techs out in the field and allowed them to focus on their other responsibilities, knowing the review request was being handled.
Our customer review system consistently converted 30% of happy customers to glowing online reviews; this boost to Scottsdale Air's reputation was priceless and has directly impacted the company's online reputation, thus improving the prospect-to-customer conversion rate.
Take the Hard Work Out of HVAC Digital Marketing
When Scottsdale Air partnered up with Online Visibility Pros, they needed to build an Unstoppable Online Lead Generation Machine, capable of consistently attracting profitable customers from the Internet.
Fast-forward a few years and our HVAC lead generation team has help Scottsdale Air generate a consistent flow of new, profitable customers from the Internet every single day.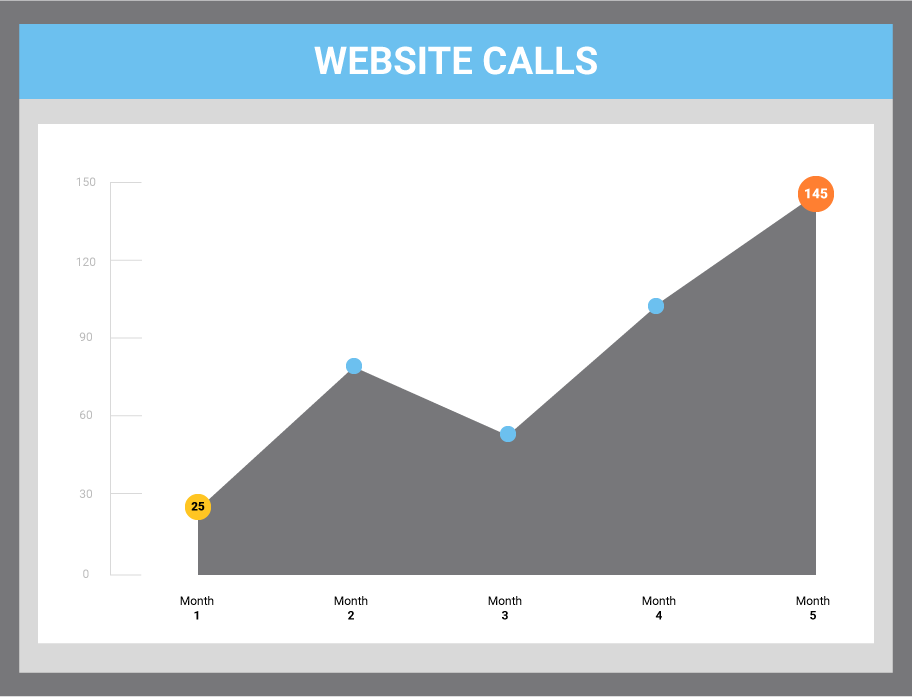 Highlights – HVAC Digital Marketing Campaign:
430% increase in online lead generation efforts in first 5 months of the marketing campaign
Integrated a turn-key online review system into the Scottsdale Air business that helped produce consistent, high-quality online reviews at a predictable 30% customer review rate.
Consistent social media posts that engaged followers through education, humor, and timely promotions that engaged audiences.
Leveraged an award-winning monthly eNewsletter service (Maxx Email™) that generated a 39.2% open rate over a 2-year period. According to Constant Contact, the average open rate in the construction industry is 22%.
Attracted on average 3 to 4 new customers every day from the Internet, far exceeding Mike's original goals.
Of equal importance, our team helped Mike do two very important things:
Save Time
Mike requested we assist with "the grunt work" and shared his vision that ultimately would help him save time, energy and a lot of brain power, that he would have had to invest in learning and implementing techniques that may not even work.
He saved time from:
Researching marketing techniques.
Spending time trying to communicate with staff to implement ideas.
Learning how to run experiments to find the best marketing strategies.
Instead, Mike and his team were free to focus on the most important part of their business — serving their customers — while our team focused on improving their digital footprint and keeping them updated with comprehensive marketing reports.
Save Money
Mike received a tremendous ROI from his investment in our digital marketing services.
He saved money by:
Outsourcing his marketing needs

. In-house marketing experts can cost anywhere from $50-100,000 per year to achieve what we achieved at a fraction of the cost.

Not hiring and training employees

, paying taxes on them, paying their benefits, and providing both office space and equipment is enormously expensive.
Mike made the smart investment by avoiding all of those extraneous costs and choosing a partnership with Online Visibility Pros that would take his HVAC company's online presence to the next level and allow his business to grow for years to come.
Want to embed this infographic on your website?