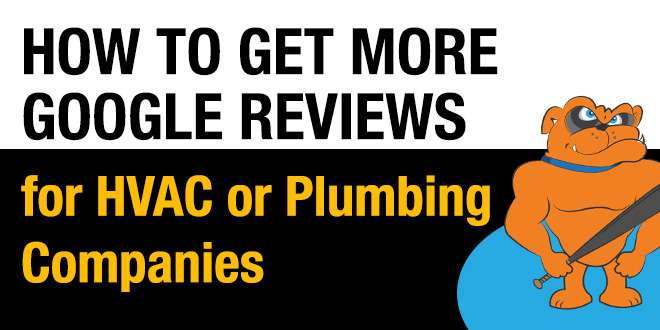 Digital marketing has many components and channels. There are websites, social media, and Google Ads to name a few. Each of these platforms requires different techniques to get your business noticed. Combined together they are beneficial in enticing users to give your business a try. So what other ways can you influence prospects online looking at doing business with your HVAC or plumbing company?
If you're serious about having an influence on your prospects online, then utilizing  Google Reviews in your overall marketing plan is a must.
Google reviews have become such an important tool for local businesses. They help to boost their rankings in the Google maps algorithm, and more importantly, reviews can help showcase to prospects that doing business with you is going to be an enjoyable experience.
Businesses in specialty fields like HVAC and plumbing have the opportunity to create a huge advantage by growing their online reviews.
Keep reading for tips on how to get more Google reviews and improve your Search Engine Results ranking.
What are Google Reviews?
Google reviews are a feature like any other social site or directory site that allows reviews. It is a space for customers to share their experiences with your company. The reviewer can:
rate the company up to five stars
leave a short or detailed written review
include photos
When someone Googles your business name they will see your Google My Business listing along with your Google reviews right on the Search Engine Results Page (SERPs).
Google reviews have become a very important aspect of the digital marketing game for HVAC and plumbing business owners that you can't afford to overlook any longer.
Your prospects are using reviews to compare you to other companies before picking up the phone to request a quote or request a service, whether you like it or now. Ignoring reviews is no longer an option for business owners.
Anyone you provide services to can go online and share about their experience, and as a business owner, you want to make sure you and your staff are going above and beyond to provide top-quality service.
This will help you avoid unwanted negative reviews. In addition, when you know top-notch customer service is being delivered, it makes asking for reviews that much easier (more on how to ask for reviews in just a minute).
Do I Need a Google My Business Page?
Yes, you will need to set up and verify a Google My Business Page if you don't already have one. Even if you're not sold on collecting reviews (yet), a key foundational piece to online marketing for service businesses is to have a Google My Business listing.
You can click here to set up your Google My Business page for free now.
A Google My Business Page or listing, helps you communicate basic, yet helpful information related to your business. This includes your business address and driving direction, hours of operation, services offered, reviews, photos, and you can also post updates about promos, new blog articles, service offering,  etc.
When someone enters your business name in the Google search engine, and you have set up your Google My Business Page, you will see your GMB listing appear on the right column of the search page.
The best part is the account is easy and free to set-up. 
How to Get More Google Reviews on Your Google My Business Page?
To get Google reviews you need to have a strategy and a way to share your GMB link.
You don't want to ask the customer to try to find your GMB page on their own. This step is critical because it doesn't take much for someone to 'give up' looking for how to leave you a review.
To make it easy on your customers to leave you a review, create a short link that is sharable and will direct people right to your Google My Business Page — Here are instructions from Google on how to create a link:
Create a link for customers to write reviews

You can share your short URL with customers from your Google My Business dashboard on your computer or the mobile app. Customers can leave reviews and view your Business Profile through your short URL.

Note: URLs previously created through the PlaceID Lookup Tool or from Google Search will continue to work, but we recommend that every business create a short name and use a short URL for customers. 

All businesses who have claimed their short name in Google My Business can have a shareable short URL directing customers to leave reviews. Learn more about how to create a short name.

Share your short URL with customers for reviews

COMPUTER

On your computer, sign in to Google My Business.
Open the location you want to create a short name for.
From the menu, click Info  Add short name.
Enter your short name. You can enter up to 32 characters.

If your name isn't available, you'll receive an error message and have to choose a different name. Try abbreviating your name or adding other descriptions, like your location. You can also pick another word that describes your business or brand.

Click Apply. Your short name will show as pending, and when it's ready, it'll show on your Business Profile.

MOBILE

On your mobile device, open the Google My Business app .
Tap Customers  Reviews.
In the top right, tap Share .
If your short name is not created, you will be prompted to create one.
Copy your short URL to share with customers.

When customers click your link, they'll be able to rate your business and leave a review.
Ask People to Leave a Review
The quickest way to get the results you desire — more Google Reviews — is to ask for what you want. Getting positive reviews for your company can be as simple as asking customers to leave a review.
There are several ways to do this:
Include a line of text on your business invoices and receipts asking customers to Google your business and leave a view there.
Post on social media that you would really love for people to go and leave a review (include the link to your GMB).
Ask vendors that you work with to leave a review.
Have employees leave reviews about working for your business.
Have an email template that staff can send to customers after service is performed.
Leverage review software that will allow you to quickly, easily and systematically request reviews.
The more positive reviews you have the more likely people will want to leave a review.
If you're feeling a little uncomfortable "asking" then a book called The Alladin Factor by Jack Canfield and Mark Victor Hansen would be a great read.
IMPORTANT TIP: Reply to your Google Reviews! Google is watching, whether they say they are or not. In addition, when prospects or other potential reviewers see that you reply, it will show that you care and pay attention to reviews. That is important and has a greater impact than you might imagine.
Here are the step by step instructions from Google on how to reply:
Reply to reviews from Google My Business

COMPUTER
1. On your computer, sign in to Google My Business.
2. Choose the listing to view:

For multiple listings: In the menu on the left, click Manage reviews. Then, use the drop-down menu to choose a location group. (This feature is not available for organization accounts.)
For a single listing: Open the one you'd like to manage. In the menu on the left, click Reviews.
3. Click Reply.

4. Write a response and click Post reply.

IPHONE/IPAD
1. On your iPhone or iPad, open the Google My Business app.
2. In the "Reviews" section, tap Manage reviews.

3. Tap the review you want to reply to.
4. Write a response and tap Send .
ANDROID
1. On your Android phone or tablet, open the Google My Business app.

2. Tap Customers  Reviews.

3. Tap the review to respond to.

4. Write a response and tap Send .
Promote Your Google My Business Reviews
Once you get your Google My Business Page up and running and you're starting to get reviews, let people know.
Encourage them to go and check it out. Include a blurb that says if you've used my product or services leave a review.
Positive reviews are an extremely powerful marketing tool. There are several ways to share and leverage your reviews:
Share them in social media posts to let people know what others are saying about your company. This may encourage someone else to leave a review.
Add reviews to your email marketing campaigns. In each email incorporate a review in a featured content box. Underneath, leave your audience know where they can leave a review also.
Pop-up message boxes on your website are another tool for displaying hvac or plumbing reviews.
Include reviews in your print marketing materials. Your business brochures should include positive reviews the showcase your business in a positive light or highlight a specific product or service you're excited to draw more attention to.
Add reviews to contact pages and request a quote page on your website to help people feel even more confident about sending a service request.
Local businesses have an average of 39 Google reviews which is a great target to start with.
The best advice is to look at your competition and see how many reviews they have and try to get more reviews than them.
Don't overlook quality reviews over quantity, however, you need to know how you measure up against your competition and it's always a good goal to have more reviews than your competitors.
Have a Page on Your Website With Links to Your Review Sites
Linking your Google My Business page and other review platforms on your website is a useful tool for your staff.
You can share the link with happy customers when you are asking for a review — just share the link to the page on your website that lists all the links to places they can leave reviews (some people want to leave a Google review, some people want to leave a Facebook review). Remember you can share links to this page on your website through emails and text messages too.
TIP: Make sure you and your staff are listening for compliments about services provided. When you hear a compliment about your services, say thank you and immediately follow up with a request to share the same compliment as a review.
You could say, "Thank you so much! If it's not too much to ask, we are trying to grow our business and help more people know what it's like to work with us. The best way to do that is through online reviews, would you be willing to share what you just told me on an online review?"
And when they say, "yes" have a link you can send them immediately that will make it simple for them to visit your Google My Business Page and other review pages and leave you a review. You want to strike while the iron is hot and the customer is feeling excited about the service you just provided.
What To Avoid When Asking For Google Reviews
There are certain practices businesses should avoid when asking customers to leave a review.
One is offering incentives to people in an effort to entice them to leave a view.
The second is to ask someone to leave you a "5-star review" which will often times turn-off the person who was excited to leave you a review.
You should not have to tell someone what kind of review, but rather you want to have them share about their experience.
Stay Committed to Gathering Reviews
Use these tips as a foundation for how to get more Google reviews.
Remember, Google is only one review platform, so consider how you'll also get reviews on places like Facebook, YP.com or more industry-specific review sites like Porch, Home Advisor, Houzz, Angi, etc.
The more proactive you are about a plan to collect reviews, reply to review and also handle negative reviews, the more confident you and your team will be to take on this very important aspect of your digital marketing plan.
If managing your HVAC or plumbing business reviews is something you know you need, but don't have time to figure it all out and you'd rather leverage a proven system so you can hit the target on your first attempt, check out our review management software right here to get more 5-star customer reviews for your business – on autopilot.
Have questions? Shoot us a message here or give us a call at (888) 593-0505.
Want to embed this infographic on your website?