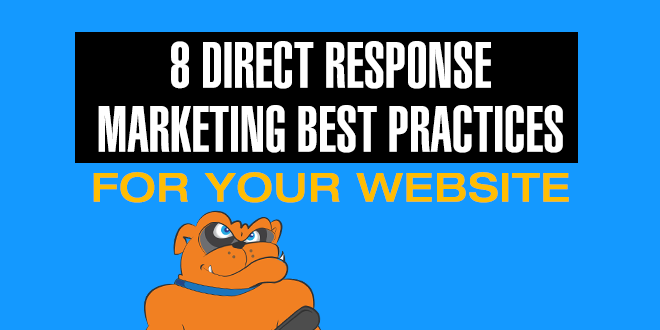 Trying to figure out how to make your website "work" can feel overwhelming and often times it can leave you frustrated with a lack of clarity about how to adjust so you can make a real impact.
For most service businesses, a website that is "working" means it's getting a good flow of quality traffic and a certain percentage of that traffic either picks up the phone or fills out a web form to contact you.
If you find you're unhappy with the performance of your website, consider implementing the following direct response marketing best practices checklist for your website if you're serious about taking business lead generation to the next level.
#1 – Have a Compelling Headline On Every Page of Your Website
The headline is critical!
You have to really work hard to catch the attention of the reader so they feel compelled to keep reading (or else they will bounce – literally and figuratively).
Try getting creative with questions, alliteration, strong/bold statements, comparisons, be direct.
#2 – Do Something to Invoke Immediate Response, Action, Click, Call, or Purchasing
You'll have to put yourself in the shoes of your target audience.
What are they going through?
Speak to their issue and support them so they feel comfortable calling.
For example, "Have an emergency? Click here for fast 24-hour service!" or you could say, "Schedule your appointment today and get 10% Off Your First Purchase".
If you don't give them a reason to take action…
They won't take action.
#3 – Have Easy Contact Information Front and Center
Do you have your phone number in the header of your website?
You should!
In addition having an easy to find contact tab in your main navigation, and in other easy to find places like your right column footer, and within the text copy on your pages.
Having clear calls to action throughout your website on every page is what you want.
Don't' skimp on this and remember, repetition is good.
#4 – Overcome Sales Objections and Questions
Present the problem first so you can start building trust.
By sharing some of the pains, fears or frustrations associated with your industry helps your audience know you understand them.
This also gives you an opportunity to share why and how your company is different.
#5 – Focus on Benefits, Not Features
Benefits sell, features don't.
They are looking to buy to accomplish a certain task or achieve a certain result.
When you connect with your target audience about real benefits they will get by calling you or using your service, you'll be on your way to the sale.
#6 – Promise Performance or Results
Paint a picture in the mind of your prospect about how it's going to feel when they achieve that result.
Will they have peace of mind, freedom, a safe family, a lower electric bill?
Whatever the result will be after using your service, share about that.
You can also let your customers share the results they've had with you and the results they experienced.
Getting lots of customer reviews work wonders!
#7 – Back Up the Promise with Risk-Free Warranty
Money-back and Satisfaction Guarantees are the most common.
You can get creative with this too.
When your prospect knows there is "insurance" there is a fear or worry immediately removed.
It's empowering for the prospect to know that they have a course of action if they are not happy.
#8 – Share with Your Audience Why They Should Take Action
You're really trying to enter the conversation that is happening inside the mind of your prospect.
Reminding them about the "issue" they are dealing with and how you're going to be the "hero" and help them resolve their issue is a start.
If you want to sweeten the pot, you can offer an incentive or try using an expiring deadline that is fast approaching… so they act fast!
Additional Direct Response Marketing Best Practices For Improved Website Performance
Acknowledge the person as being valuable
Writing style should be personalized – in that you write it to one person (your best target)
Provide important and relevant background and detail
Showcase your style or personality as a business to be more memorable
Making sure your website is set up to convert is one of the most important steps you can take in your marketing efforts.
What's great about marketing in today's digital world is that everything can be tracked.
Some may see "tracking" as added responsibility – just one more thing you have to pay attention to.
Well, it really is an awesome opportunity that anyone can take advantage of.
An opportunity to outsmart your competition and create a more enjoyable experience for prospects and customers so you can get more people calling your business and filling out forms on your website asking for your help.
By taking the time to look at what's really going on with your website is a great first step.
Now go implement these direct response marketing best practices into your website.
Reach out to our direct response marketing team here if you need assistance or contact us.
Want to embed this infographic on your website?