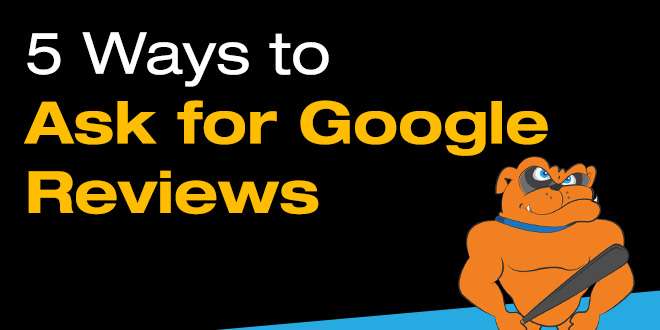 With 90% of consumers reading an online review before visiting a business, it's obvious how important reviews are.
In fact, online Google reviews are essential to the success of any business. Having no reviews is almost as bad as an abundance of negative ones. According to a BrightLocal survey, 88% of people trust an online review as much as a personal recommendation from a friend or family member.
Aside from reviews assisting in the growth of your business, they also offer an additional benefit.
Reviews can give you a peek into your business from an outside perspective and inform you of what changes need to be made. By listening to customers, you can improve upon your business to better satisfy the needs of your prospects and customers.
So how does one go about getting Google reviews, you ask? Read on to find out.
5 Ways of Getting Google Reviews
Before diving into this guide on ways to ask for Google reviews, you need to know that you can't get customer reviews and then forget about it. It's not something you can let fall to the wayside as unimportant.
In fact, 85% of people won't trust a review if it's more than three months old. An additional 40% only bother to look at recent reviews from the past two weeks.
Follow our 5 tips and you'll generate continuous new reviews that are both relevant to customers and keep your profile fresh.
1. Ask Your Valued Customers Face-to-Face for a Google Review
This is perhaps the easiest and most simple way to garner a Google review.
If you ask each customer how their experience was as their checking out, it puts the power in your hands to screen out negative reviews and gain positive ones.
2. A Follow-Up Email Is a Great Way to Touch Base
Another great way to ask for a review is to send emails to your customer base. The most ideal time to do this is right after they experience your service or purchase a product from you.
It's important to not be spammy about this, though. Instead, be sure to be personal, thank your customers for their patronage, let them know you would appreciate any feedback, inform them of how it helps your business, and finally, give a direct link to where they can leave a Google review.
3. Place a Review Link on Your Website
It sounds easy enough, but you'd be surprised at how many businesses miss this small step.
Put a custom Google review link on your website to make it easier for customers to leave feedback.
4. Never Underestimate the Power of Calls-To-Action and Popups
A properly timed popup on your website to nudge a customer to leave a review can make all the difference. Also, by sprinkling calls-to-action on your website, you're increasing your odds of a customer reading it and following through.
5. Respond to All Reviews in a Positive Fashion
Oftentimes, customers just want to be heard.
By regularly responding to both negative and positive reviews in a kind and thoughtful manner, other customers will be more inclined to share their feedback when they know you'll be reading it and actually care.
Have Your Review Gathering Managed for You
Managing online reviews can be a gargantuan task. It eats up important time you need to spend on running other aspects of your business, but you can't neglect your online reputation. The fact is, we are now living in a multi-channel marketing world and your online reviews have an impact on your overall online marketing campaigns. Your reviews impact how well you're able to move a person from just 'looking' at your business to picking up the phone to call you.
If you want to increase your online reputation and conversion rates and you need help getting Google reviews, you're not alone! Imagine plugging your business into a review gathering system, a review publishing system and a review sharing system all at the same time?
That's exactly what we do… Learn more about how we've been able to help business owners master the art of review gathering. In addition to gathering reviews, you will be properly sharing all of your positive reviews in places where it will benefit your business.
Learn more about Maxx Reviews now, or you can schedule a time to talk with our team of exceptional digital marketing professionals to discuss how we do the groundwork for you so you don't have to do all the heavy lifting by yourself!
Want to embed this infographic on your website?