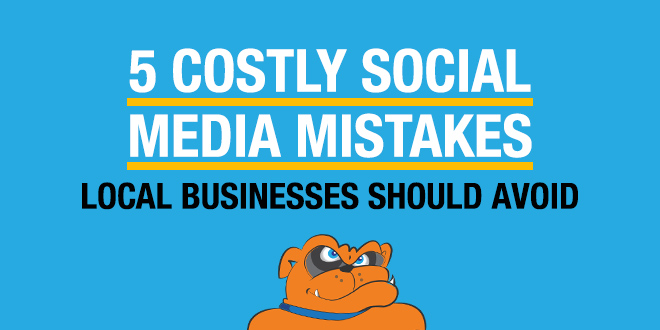 After reading that title you might be asking yourself how can social media be costly given that all of the basic platforms are free. Good question but don't think in terms of conventional marketing expenses, think in terms of risk to brand and reputation. If your approach is done poorly, common social media mistakes, a local business can risk their good brick and mortar reputation by creating profiles on social media networks that don't reflect their business mission, level of service, value or personality. Protect yourself and develop a plan that will allow your local business to ride the social media wave rather than get pounded by it.
Avoid These 5 Common Social Media Mistakes That Can Cost You New Business & Customer Loyalty
1) Deciding to go "social" without knowing why. There isn't a day that goes by without references to social media. Hashtag this, hashtag that, like us on Facebook, share with a friend and all the other catch phrases convince business owners that they have to be on a social media network because everybody else is. That's partly true. The key is to create a plan and map out what exactly you hope to accomplish and how you are going to do it and how to measure performance. Without a roadmap, without identifying how much time you have to devote to this campaign, you'll find yourself in a huge time sucking project that could do more harm than good.
2) Joining every Social Media platform. There are hundreds of social networks with new "niche oriented" networks popping up every day. Randomly joining networks is about as effective as sending out a spam email blast. You want to identify which platform is most popular with your customers and you can do that by asking them. It's likely that the platform that your customer prefers will also be the platform that ideal prospects hang out at. Limiting your involvement to the most targeted and beneficial social platforms lets you focus your efforts and doesn't stretch you out to thin.
3) Signing up and sitting back. Just because you have created an account on a social media platform does not mean you are engaged in social media marketing. These platforms offer remarkable branding opportunities that often go ignored by businesses typically through ignorance or indifference. Complete, detailed profiles, logos, graphics and links not only reflect well on you and your company but help you get found in search results as well. Signing up and sitting back is not an option.
4) Neglecting the network. It's called social media because people interact. They are not passive visitors, they are there because they have an interest and if you are successful they will interact with your page. If you don't respond to those interactions, if you don't show an interest in your own profile…you are toast. You need to schedule the time to participate and you have to be passionate about your participation.
5) Claiming what's already out there. If you have a business phone and address (and who doesn't) there is already info on your company online. Organizations like Google, Yelp and a variety of directories already have posted what little they know about you. You can claim those listings, optimize them, and present your business the way you want it presented instead of a simple 4 line entry.
Social media can be a powerful business driver if done correctly. Like any other marketing tool, it's important to take the time to learn the basics, plan a strategy and allocate time and resources for your plan. If you wing it, you're likely to fall into the typical social media mistakes we talked about above. Use Social Media to build your reputation with your network and you will build your business. Collaborate with social media experts to give you the best social media expert services!
Want to embed this infographic on your website?