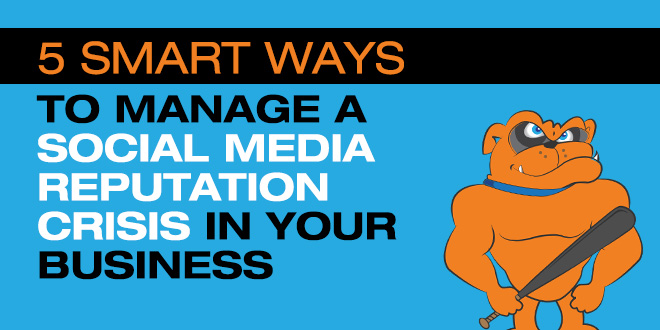 Bad things can happen to anyone at any time and they don't have to be big time media events to have a negative effect on your business. Something as simple as a bad customer service experience to more serious events like defective merchandise or services can quickly reshape what people think of you thanks to the networking that social media encourages.
In today's world, we've come to understand that bad news can travel at the speed of light, and bad news can have a serious influence on the way people perceive you and your brand. In fact a study by Deloitte identified reputation as a top strategic risk for companies and individuals alike. So you want to make sure you have a plan or protocol within your business that outlines how you're going to manage a social media reputation crisis.
Plan For The Worst Social Media Crisis
Every company knows what to do when they get good news. They brag about it. They post it on Facebook, tweet it, put it on Pineterest and maybe even send out a press release. But do you have a plan for bad news? Not having a plan typically results in a knee jerk response that you later regret or silence which is even worse.
We're not suggesting that you have contingency plans for every possible situation, but rather policies to follow when responding to negative news. Here are a few smart ways to deal with the issue:
Get in front of the curve. It's always tempting to wait until you have all the facts before you respond but that simply doesn't work online. When people are uninformed they think the worse. Respond quickly even if it's just to acknowledge the issue. Don't wait it out until it blows over because it won't.
Take control. Actively manage the crisis. Don't be reactive. Don't let the event control the company. Make sure your staff understands this approach both to give them confidence that the company can handle it and to prevent off the cuff responses to the public.
Deal with reality. If your company messed up own up to it. Using smoke and mirrors to try to deflect blame does nothing but further ruin your credibility. Man up (or whatever the female equivalent is) and tell your audience just what you're going to do to make the situation right and prevent further occurrences. Integrity is unfortunately a rare business trait but much admired.
Engage the audience. Anyone can cause a dust up for a company. Just look at the Yelp reviews, Amazon reviews and of course the social media networks. Where possible communicate directly with those folks. If they have a legitimate concern…make it right. If they are unrealistic explain why in a professional way.
Use your influencers. Every company has loyal customers. If you don't have a list of yours from your Email list, Facebook likes and customer service feedback you need to build one fast. These are your cheerleaders and they all have networks of their own. Send them a message and explain what you are doing to address the issue. They in turn will pass that on with their endorsement to their networks.
The takeaway from this advice is "be proactive." Sitting on a problem will simply make it worse. Deal with it honestly and provide a fair solution and you may turn this negative into a very large positive. And remember, you're not the only business that has to deal with these social media reputation challenges — its part of doing business in the 21st century.