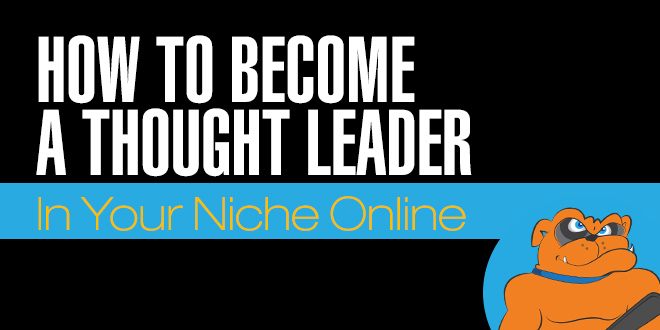 So what is a "thought leader" anyhow? That term is just another way of saying you are viewed as the "go to" person or resource in your particular niche. Becoming a thought leader can be very beneficial for any business as it typically drives new business but just as importantly it allows you to network with other "leaders" that improves your knowledge as well as your status as an authority source.
Let's say you are a CPA that specializes in tax strategies for gas and oil companies. You may be the most brilliant tax analyst in a five state area but if nobody knows it you are just another CPA listed in the directories.
To change that perception you have to engage with your audience and promote your value. We're not talking about sales promotion; we're talking about providing content that is truly useful and demonstrates your knowledge. You have to give to get.
There are three basic methods to accomplish this task.
Consistent & High Quality Blogging
Blog posts are the perfect vehicle to give visitors inside looks at you and your organization. They aren't sales oriented they are focused on providing information that will be useful to your targeted audience. Write these as if you were writing to a client…because you might be. According to Technorati blogs are more likely to influence a purchase than any other social media platform. In fact they come in third overall with only retail sites and brand sites (essentially e-commerce sites) having greater influence.
Crafting content that has real value can sometimes be a challenge but you don't have to do it all yourself. If we go back to the CPA example you might have a tax attorney that you have a good relationship and you can ask him or her to author a post in return for a short bio and link as payment or you can find a marketing company that provides a done-for-you blogging solution.
Distribution
Now that you have these beautifully crafted blog posts, you have to get them out to your audience. This is where social media platforms shine. Obviously you will want to send the post to everyone on your mailing list but that's just the start. Post it to your LinkedIn profile and LinkedIn groups, your personal and company Google+ accounts, tweet an announcement and post it on your Facebook business page. The more people that consume your content the greater the chances of influencing their perception of you and of them sharing the content with colleagues. Once you have a solid system in place for the distribution of your blog posts, you can expand your efforts into various media formats (ie. don't just do a blog post, but share that same information in through a youtube video too).
Networking With Leaders
You are known by the people you associate with. Fortunately, LinkedIn gives you a great opportunity to "know" other thought leaders in your niche and in your clients' field as well. Search for others in your field and "measure" them by the number of connections they have. Follow them and join LinkedIn groups they belong to. If you are active in the groups you have an opportunity to shine and you will undoubtedly receive requests to connect from other leaders in your field.
Remember, it's not about ego it's about perception and reputation. Becoming a thought leader that is viewed as a reliable, credible source of information will translate into acquisition of new business opportunities. Partner with reputable digital marketing specialists for online lead generation now!

Want to embed this infographic on your website?