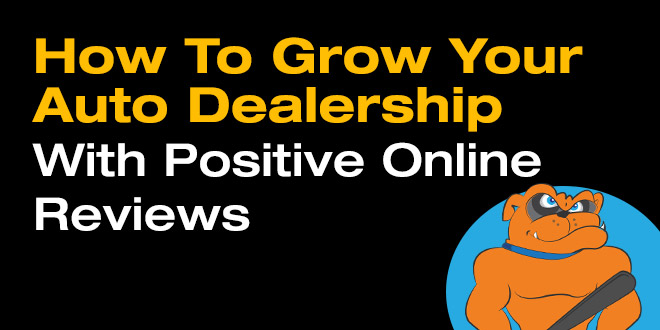 Are you interested in growing your dealership by simply getting more positive online reviews?
If so, then you should consider your system for helping your customers feel excited about leaving online reviews of your company or dealership.
Positive reviews tell an important story from someone other than you… which is far more powerful than you trying to explain your value, let your customers share why you're so great to work with, and why someone can trust your dealership with their vehicular needs.
Now that you're getting excited about the power of reviews, the next step is to make sure it's easy-peasy for customers to review your services and dealership.
You'll need digital tools and friendly invitations to get your customers to leave feedback.
Here is a 7 step guide on how to grow your auto dealership through positive online reviews.
1. Create Accurate Business Listings
One way that you can get better reviews for your dealership is by making sure that you have your business listings set up with accurate information about your company and make sure you're set up on the big review sites like Google along with the more niche-specific review sites.
Check out your business listing online to see if you're set up on Edmunds, Cars.com, DealerRater.com, and similar websites so you can collect reviews on these ultra-relevant niche-specific reviews sites.
Customers are not going to leave reviews on pages that don't exist or if the account has been claimed but not optimized with all of your business information and necessary profile images, etc.
Accurate business information and consistent branding will help increase your positive reviews through digital reputation management services.
2. Request Reviews on Google My Business
If you are looking for a tool that brings a consistent number of visitors to your website, then Google is the way to go.
The search engine is used every single day by millions of people looking to find products and services they need.
You know people are going to be on Google, so it's important to keep an eye on your Google My Business reviews.
There are 2 key factors to pay attention to (we'll even throw in a bonus tip too): 
What is your overall star rating on Google My Business? The difference between a 3.2 aggregate score and a 4.0 has been proven to be a bigger deal than one might think. So, pay close attention to your aggregate score on Google.
How many total reviews do you have on your Google My Business compared to your competition? If you're not in the lead… then its time to get to work!
BONUS TIP: Respond to all reviews that are written. This is SO easy, and SO often overlooked.
Take the time to say thank you and reply to your reviews (good and bad reviews).
This has an impact on your Local Maps ranking and also makes you look great in the eyes of your prospect because they can see you care enough to say, respond and are courteous enough to say thank you!
When people are evaluating your dealership, they will be comparing you to your competition, so you want to keep a close eye on how your online reputation compares.
This has a bigger impact on phone leads and sales than most people realize.
3. Request Reviews after Interactions
Even though we are using the term"Request Reviews," that is not necessarily the way you want to frame it to your customer.
By asking a new customer to "share about their experience," it allows you to collect feedback in the form of reviews and continuously improve your business.
If you're too afraid to ask customers to share their experience, then you may want to consider why that is and make the necessary adjustments so you can feel comfortable.
No business is perfect, and there will be some negative reviews that come through, that is what makes a business "real".
Having 200 positive online reviews with a 5 out of 5 star rating is NOT trustworthy.
Don't let the fear of a negative review prevent you from implementing a review system.
The best approach is to have a protocol for when a negative review comes in.
When you have a system for asking for reviews you can feel confident that you're growing your online reputation, and you can use the feedback about issues that come up as opportunities to improve your business.
It can be used as a tool to help your business when used properly.
By asking customers for feedback after their purchase, you show them you care about their opinions.
Make sure to thank them for their purchase and let them know that their opinion matters.
Try creating different templates for different purchases so that you don't sound repetitive and the request is more personalized.
4. Incentives Can Be Tricky
Rewarding customers with money, discounts, and gifts can give them the idea that you don't depend enough on the quality of your services to get positive online reviews.
Paying people to give you positive reviews will prevent you from learning how to make your services better, even if the feedback is harsh.
Rely on honest reviews so that you can find the solutions to their problems and figure out how to make all of your customers happy.
Truth is, 70% of consumers will leave a review when asked. Just ASK!
5. Don't Delete Negative Reviews
Censorship is an aspect of customer service that can have a long-term negative impact on your sales.
When people enter "car dealer reviews near me" in their online searches, they want to find a company that is honest.
As much as no one wants a negative review, having a protocol or system for responding can turn a negative into a positive.
Your response to the negative review will be seen alongside that review.
You have an opportunity to show how empathetic your business is and if handled strategically, can work in your favor.
Keep negative reviews posted, they will add credibility to your positive reviews and attract potential customers looking for an honest dealer.
6. Use Social Media To Share Positive Online Reviews
Social Media can be leveraged in more ways than one when it comes to reviews.
Some websites offer the opportunity to have clients and customers leave reviews and some do not.
For example, Facebook allows you to collect customer feedback, but Twitter does not.
Having reviews on the social sites that allow for it is important.
You'll also want to share your positive online reviews on your social media platforms as well.
This is such a simple and effective way to leverage the reviews you have received.
Posting about your positive reviews on social media can also help create links back to your company website.
Your dealership can then leverage positive reviews on multiple sites.
7. Respond to Reviews
Keeping in contact with your customers will let them know that their voices matter.
This will contribute to long-term success for your dealership.
This is why we recommend responding to all reviews and to let them know that you are grateful for their feedback.
Respond to both positive and negative reviews so that all customers know that you are making the necessary improvements for a better service.
This can turn that negative feedback into positive PR, which will improve your reputation for people who are new to your brand.
Using Reviews to Boost your Business
Online reviews allow potential customers to save time and money learning about your auto services.
You can build a reputation that allows you to attract people who are unfamiliar with your dealership without even being with them in person.
Developing a reliable system that allows you to consistently request reviews will be the key to your success in this department.
The next question you want to ask is, do I want a system that is manually run or something that I can automate?
If you're looking to automate the process, and you want something your staff can easily plug into, you'll want to check this out.
Keep working hard to provide the best service experience at your dealership, and make sure you're helping yourself build a strong brand online so you can continue on the path of increased financial success.
Want to embed this infographic on your website?