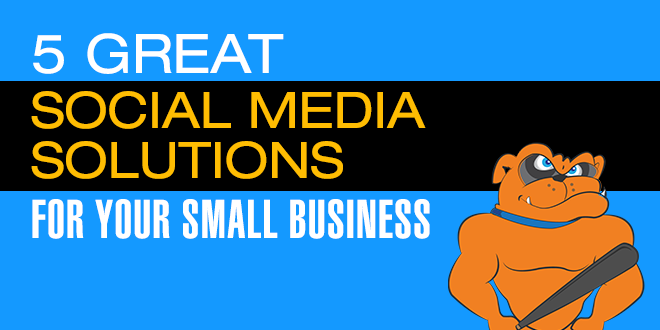 Social media is easily one of the most effective marketing strategies available to businesses today.
In 2016 the demographics proved almost everyone was on social media with the reported social media presence of:
86% of people between the ages of 18-29
80% of people between the ages 30-49
64% of people between the ages 50-64
If you're not utilizing your business' social media to its full potential you're missing out on a huge opportunity to engage with your client base.
If you're not sure how to make the most out of your social media presence, then check out these 5 social media solutions:
When and Where You're Posting
The best way to get started on social media as a small business is to go where your clients already are. Figure out who your target market is and where their social media presence is most concentrated and go there.
This isn't to say that you should focus all of your efforts into one platform, having a good balance of posting across a few different platforms is going to serve you well in the long-run.
Once you've established profiles on the platforms that are going to do the most work for you, you should begin to create a schedule of sorts and post regularly.
Taking advantage of times that are proven to produce higher rates of interaction with your posts will also give you an advantage.
Ideal Times To Post:
Facebook:

Thursday, Friday, Saturday, and Sunday
9:00 am, 1:00 pm, and 3:00 pm

Instagram

Monday and Thursday
8:00-9:00 am, 5:00 pm

Twitter

Wednesdays
12:00 pm, 3:00 pm, 5:00-6:00 pm

Pinterest

Saturday and Sunday
2:00 pm and 9:00 pm
Using the time frames above as a rough guide to estimate when to begin posting is a good place to start, but still play around with your schedule until you learn what works best for your business and followers.
One way to cut down on the stress and time posting to a schedule can create is to create content for your posts in batches.
By batching out your posts weeks or even a month in advance you can have content ready to go that can be uploaded when it's optimal.
By utilizing the social media solutions involving the when and the where you're setting up any additional work you do for success.
Quality Content is Key
Before the days of paid advertisement and pushed posts on social media, businesses were forced to focus on quality.
However, the trends seem to be moving away from this as businesses don't have to rely on potential customers organically discovering their content.
You can post all day long, but if the content you're sharing isn't high quality it isn't going to see the interaction you'd hope for.
Unfortunately, there is no one answer as to what good content actually is or how to create it.
Luckily though, there are a few tips you can follow that will guide you to creating better content:
Don't Over-Process Your Posts
If you've been running your posts through a dozen different people before it makes it onto the intended platform, then stop doing that.
It's okay to create and post content that is real and human, people like that! Your followers would rather see organic and raw content that is fun and promotes a genuine message of who your business is.
Utilize Hashtags
By doing some simple research and finding which hashtags are both relevant to your business and actively posted on and searched you can begin to expand the audience that will see your posts.
Posting on hashtags is one of the best and easiest social media solutions you can take advantage of.
Hire a Professional
If you have it in your budget to hire a social media manager this can prove to be one of the best tactics to seeing aggressive growth and results from your social media presence.
There may not be a way to teach someone how to create good content, but you can certainly find someone who has the knack for it and let them work their social media solutions magic for you.
Promote Review Sites
The importance of positive reviews online for your business is another key piece of marketing you shouldn't be overlooking.
Almost all of your clients and potential clients are going to be reading online reviews to decide between one business and another.
If you're not making sure that there are reviews available, and good reviews at that, then you could be missing out on the conversion you want to see.
While you're posting, use a call to action such as "if you enjoy our services, post a review on Yelp/Google/Facebook!" to encourage your followers to share what they love about your business for others to see.
Be Interactive
It's best to avoid just pushing out content and not taking the time to listen to your customers.
One of the most valuable places to gather information on what your customers already love and what they want to be seeing more of is within the comment section of your profiles.
Ask questions, run polls, and respond to commenters to grow trust and glean more information from your client-base.
Another useful strategy is to run giveaways that encourage customers to follow you and then like and share or tag a friend on a post to win a product or service from your business.
This is one of the social marketing strategies that will help make sure your post is being shared and bring in more followers at the same time.
Partner with a Micro-Influencer
A micro-influencer is going to be someone with between 1,000 and 100,000 followers. Ideally,
Ideally, the micro-influencers you want to be targeting for potential partnerships are going to be those who already follow you.
A quick scan of your following should produce a few of these people who are already interested in your brand and are more likely to be enthusiastic about helping you promote it.
Pairing together a giveaway and help from a micro-influencer is an option that is bound to create more social media traffic for your business.
Social Media Solutions Don't Have to Be Hard
In fact, the steps you should be taking to increase your social media presence should be fairly simple and easy.
If you still need a little help getting started or continuing growth, contact us and we'd be happy to help!
Read more articles on social media marketing: