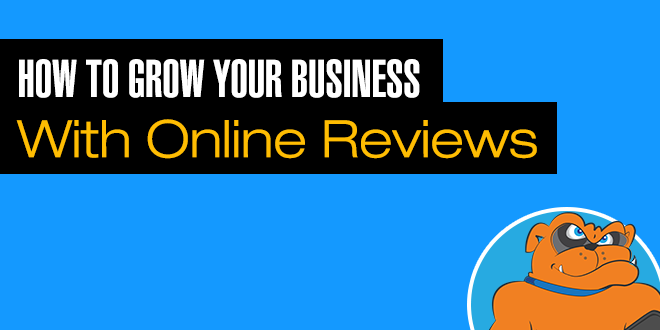 Do you know just how powerful online reviews can be? 88% of consumers trust online reviews as much as they would a recommendation from a friend.
If you're familiar with the power of word-of-mouth recommendations, you'll immediately realize that you can massively grow your business using online reviews.
After all, 92% of us believe recommendations from friends and family above all over forms of advertising. So online reviews are a really important tool to consider when thinking about how to increase sales and revenue.
Here's how to grow your business using online reviews.
Google My Business Reviews
Google is the most commonly used search engine, taking roughly 81% of the global market share. It's absolutely vital that you register your business with Google for a number of reasons.
Registering your business with the search giant can boost your website's local SEO potential and it can make you more visible to customers who are using Google Maps.
But it also allows you to let customers leave reviews of your business, which will be visible to the next person who comes searching.
The next step involves encouraging people to leave you a review.
If people are saying nice things on social media, or face-to-face, ask them nicely if they'd mind leaving a review.
Most of them won't find the time – but the few who do will be extremely valuable to your business.
Using Google My Business is one of the easiest ways to grow your business using online reviews, and it slots nicely into place alongside your SEO marketing strategy.
Add Review Links to Your Website
Getting reviews can be difficult, particularly if you're small. You need to prompt customers regularly – but without hassling them.
Leave visible links around your site (images are better than words)
You might want to follow up after a purchase with an email – with an eye-catching subject line – to make sure everything is OK. This can be automated, don't worry about having to send each individually!
The email can ask if they'd like to rate their experience, and link them to the reviews system.
However, it should also ask them to bring any negative feedback directly to you to sort out.
Give them a phone number where they'll get right through to a person, if possible.
This is a form of 'damage control'. It gives them the opportunity to speak directly with someone about their issue.
And that will hopefully mean it is solved before they decide to leave a negative public review!
Also keep an eye on your Facebook reviews, as people may decide to leave their comments over there.
You need to deal with the negative ones quickly – 42% of people expect a response on social media in under an hour.
Join Other Reviewing Systems
There are many reviewing systems that you might like to join. Reevoo and TrustPilot are two of these, but there are lots of others – or you might consider building your own (think about Amazon reviews for a comparison).
Giving customers the opportunity to directly feed back about the products and services they've purchased makes you appear open.
It's a cycle of trust. New customers come to you, are delighted with what you do, and leave a nice review. Other customers see the online review and make a purchase. Rinse and repeat.
As a tool to grow your business using online reviews, these review systems can be even more powerful if you actively respond to negative reviews and resolve customer complaints.
It's a public forum, so you have to be careful. But there's evidence to suggest that handling a complaint well can actually increase loyalty in a customer who was previously unhappy with your business.
You might also want to gather information directly from customers who leave lukewarm or poor reviews – if they click on less than 4 stars, have a form pop up to gather more information about their problem, and get directly in touch with them.
Other Types of Online Reviews
So far, we've looked at fairly traditional consumer reviewing systems.
Customers buy a product, then rate it on what their experience was like.
However, there are other types of online review you should consider.
A good digital PR strategy can help you to secure coverage and reviews in the press and digital media, which can expose your brand to a huge audience.
Nothing says brand authority like being referred to in a national newspaper's website!
Bloggers, meanwhile, may review a product simply in exchange for keeping it.
This can be a low-cost way to get reviews for your business, and if they're a well-known blogger it can result in a lot of attention from new customers.
Review blogs can also be a valuable source of inbound links to your website, which will help you to meet your SEO objectives.
Think About Mobile Users When Looking to Grow Your Business Using Online Reviews
Most people aren't going to dedicate a specific time in their day to fill out a review for your business.
You need to think about grabbing their attention on the go.
Smartphone users need to be able to fill in all your forms and rate you properly without struggling.
Otherwise, the frustration of dealing with your review system might cause them to give you a low rating by itself!
Make sure your pages adapt well to cell phone screens and are touch-friendly. Essentially, make it as easy as possible for customers to leave reviews – or they may not bother at all.
Create a Custom Marketing Plan Today
Online Visibility Pros are experts at getting your business seen online.
We will work to help you set up customer reviewing systems as just one part of a fully integrated marketing plan. And from there, to help you grow your business using online reviews.
We will implement integrated digital strategies which include SEO, PPC, direct email marketing, content marketing and much more. All we need to know to start with is what your business does and who you're planning to target.
Get plans and find out about our pricing, or book a strategy call with us service-based business marketers. We'll make sure you get seen online.
Don't miss out on opportunities to grow your business and gain new customers.
Master the game of online reviews with the Maxx Reviews tool and get more 5-star reviews for your growing business.
Want to embed this infographic on your website?