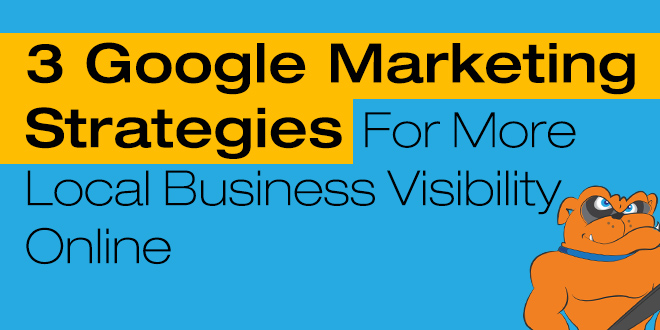 Is there any doubt in your mind that getting targeted traffic to visit your business website from Google will result in more qualified leads than say running an ad in your local paper or Yellow Page listing?
Being visible to your target market on Google search is a great source for new business.
But how do you get there? What are the best Google marketing strategies for Local Businesses?
First let's set realistic expectations and make sure you realize there are no magic bullets, no sustainable tricks and no shortcuts that guarantee you page one placement. It requires a consistent effort, quality content and attention to detail. If you can handle that, here are the three best strategies to get your business more visible within the Google search engine.
Organic Search (Search Engine Optimization aka SEO)
Let's say you own a plumbing company and one of the ways you separate yourself is to provide 24/7 service. Because of this,  you want your business to compete on the keyword "emergency plumber Tempe." A great strategy is to have a page on your website that specifically talks about your emergency plumbing service so tempe website visitors know what to expect from you and can pick up the phone to call to get your service.
If you want to be competitive in this search arena you have to start with quality, relevant content that has real value for the reader. Content that is so valuable that your website visitors want to share it. The trick here is to always be thinking about what problems, challenges or issues your target market has that you can help them solve. When you do this, your information become "share-worthy" and has a better chance of reaching social media platforms. The combined activity of providing good quality content and the social interaction your content produces are signals that Google is looking for that impact the visibility of your website pages.
The key is to provide quality, useful content and you need that content to be fresh. Search engines eat up fresh content. The easiest way to provide that fresh content is to regularly schedule new posts to a company blog. We suggest weekly, but at the very least be sure you're updating a company blog 1x per month.
Google AdWords Pay Per Click (PPC)
The fastest way to get on page one of Google is to run a Google AdWords campaign. AdWords ads appear on the top and right hand side of the page. If you're not familiar with this platform, AdWords is an auction based advertising plan with a twist. Outbidding the competition for placement is part of it but so is the "quality" of the landing page you use. If Google believes that your landing page for an ad is not relevant your costs can go up significantly. This is just the tip of the iceburg with Adwords, there are many moving parts to manage.
It can be tricky, and you have to stay on top of the campaigns but here's the payoff if you do:
The average click through rate (CTR) for an AdWords ad is 2.0%. Compare that to Facebook ads at 0.5%.
According to the Google Economic Impact report, $1 invested in advertising yields $2 in revenue.
The caveat is you really do need someone with experience to get you started with this program. Yes you can double your money but you could also blow your entire budget quickly if you make a mistake.
YouTube Marketing 
What started out as a collection of goofy videos targeted at teens and young adults has morphed into the second largest search engine in the world (owned by the largest search engine on the planet Google). YouTube has become a great tool for getting your business visibility in front of your target market using a very popular form of media. The other great bonus, is that you can rank YouTube videos on Google and they stand out with the video thumbnail image, helping you generate more clicks.
If you have never made a video for your business does not mean you can't. The technology involved is available to everyone. The real trick in succeeding in YouTube search is making sure the information is useful to your target market. Think about what How-To videos you may be able to do. YouTube is known as the "How-To" search engine. The other keys to success on YouTube are to upload a properly researched and optimized video. Lastly, you'll want to share and promote that video through social channels and also on your website.
Video is incredibly popular, drives traffic, gets shared and does wonders for a business's reputation. Add to that the opportunity to be picked up on Google search and you have a platform that demands your attention.
So here is our suggestion. Don't put all of your marketing eggs in one basket. To get the most out of Google you will want to balance your efforts between all three Google marketing strategies. AdWords is the fastest way to get results but organic search is a critical long term approach to any business that wants to be around for the long haul. Toss in YouTube and you have another channel to Google's page one and you have a unique opportunity to "show" people what you do. Get help and leverage the expertise of Google marketing experts for your marketing strategies.
Want to embed this infographic on your website?