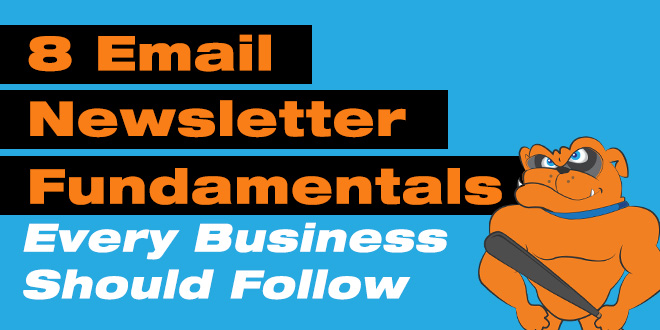 Done well, sending a professional email newsletter can return $40 for every $1 you spend.
Amounting to an ROI of 3900%, it almost goes without saying how important email marketing could be for business!
But the 'done well' bit is vital.
As you know, not all email newsletters are equal.
It's all too easy to squander a marketing budget on ineffective email strategies that bring minimal open rates and returns.
Email newsletters can fall flat…
If you fail to abide by certain email newsletter best practices and marketing fundamentals then attaining any semblance of success can feel like an uphill battle.
The potential rewards of email marketing get lost in the process.
Thankfully the opposite is true too!
Following particular steps and strategies with your email newsletters can (and will) deliver the results you're after.
Want some support with the process?
Here are 8 email newsletter fundamentals to implement to maximize your email newsletter ROI.
1. Start With a Goal
The key first step in this process is figuring out what you want to achieve.
Are you trying to generate leads?
Want more traffic to the site?
How about sign-ups to a new service or reviews for your business?
Having goals like these in place gives the entire process a sense of direction.
They inform everything from the email copy to the images and the links/offers/insights you include.
The goals might impact who you send the emails to as well.
Imagine an audience with a wide array of different interests/demographics.
It'd be almost impossible to send one mass email that appeals to everyone.
A goal narrows your attention and highlights the people to whom an email makes most sense.
Of course, it also helps you track campaign performance.
You know what you're trying to achieve, which is conducive to gathering relevant data.
From there, you can assess the results and see if there's room for improvement.
2. Focus on the Subject Line
Think about the personal emails you receive each day.
Which ones do you click on and why?
Like most people, there's a good chance you read the emails with an eye-catching subject line.
They pique your interest and draw you into the content.
You want to know what's on the other side based only on the few words in the header.
That's the power of an effective email subject line!
If you nail the subject of your email newsletter, then your open rates will increase exponentially.
It pays to A/B test your subject lines to find ones that work (more on testing later).
You can also experiment with different copy and formats.
Try questions, facts, statements, and tempting snippets of information.
You'll soon realize what draws the most clicks, which is gold dust in terms of maximizing ROI!
3. Leverage Legibility
Our attention spans are dropping at a frightening rate.
Humans are now worse than a goldfish at focusing on things.
As you can imagine, this has major implications on many aspects of marketing.
Including your email newsletters.
Fail to keep your readers' attention and they'll never absorb your insights or see your CTAs.
They'll get bored, click away, and look elsewhere for something more entertaining.
Thankfully, easy-to-read emails that can be scanned quickly for relevant information should prevent that eventuality.
Here are a few pointers on how to write them:
Avoid long and rambling paragraphs of text in favor of short, snappy sentences.
Include quality images that break up the text and complement the message.
Leverage white space around text and images to create a cleaner aesthetic.
Following those three rules should keep recipients happy, boosting levels of interest and engagement in the process.
4. Optimize Emails for Mobile Devices
People now read emails on their mobile devices as much as their desktops.
That's why it's crucial that your email newsletters look and operate perfectly on smartphones too.
Never make assumptions.
Everything from the length of subject lines to the aesthetic appeal of content can vary.
Test your emails on mobile (and tablets) before sending them out.
You'll know in advance that they're formatted correctly and good to go.
The result?
Better open-rates and ROI.
5. Include Calls-to-Action
You've now got optimized subject lines and easy-to-read content.
That should mean that people will click on your emails and read what's inside.
This all great news, but, alas, it's only one half of the battle.
The primary purpose of these newsletters is to encourage your audience to click on what's inside them, right?
You want them to read your latest blog post, check out a new product, or sign up for a service.
If they fail to click on your link(s), then you'll forever struggle with a substandard email marketing ROI.
Including CTAs can rectify that problem.
As you probably know from your website, users need to be told what to do in order to do it!
A simple instruction can be the difference between converting a lead and not.
The same is true in your emails.
Include buttons and links with brief instructions that are powerful CTAs, such as 'learn more', 'click here', 'request service' or 'shop now'.
6. Check Everything!
Be sure to check over everything in your emails before you hit send!
You'll want to send yourself the newsletter first, so you can review it on multiple screens, read all the copy for accuracy and click on all the links to ensure they are working.
There's nothing worse than sending newsletters that are full of faults.
It can lead to all sorts of issues.
For one thing, it doesn't reflect well on your company.
A few simple typos or broken links can be enough to alter someone's perception of your entire brand!
For another, those faults might hinder the effectiveness of your email campaign.
Any text that's too small to read, videos that don't play, or links that don't work can dramatically reduce your ROI.
7. Strike a Balance with Email Frequency
Knowing how many emails to send your audience isn't easy.
Too many can be annoying, which usually leads to high rates of unsubscribes.
Yet too few can lead your audience to pay them little attention (especially when they arrive on an irregular schedule).
Both the time of day and the day of the week can play a role too.
It's up to you to figure out the best email schedule for your audience.
The trick?
Testing.
More on this next.
8. Test!
Testing is the real secret to seeing positive results.
The process is about honing your efforts to ensure you're getting the best bang for your buck.
You need to know what is and isn't working in your emails.
Otherwise, you're forever shooting from the hip – never sure if you're leaving money on the table or not.
The only way to find out is to experiment with different approaches and track the results.
You can then use that data to create future emails that deliver better returns.
Test everything and anything!
Send the emails at different times of the day and to different segments of your audience.
Send long and short emails with minimal text or masses of it.
Experiment with different colored text, different CTAs, different images, and so on.
In time, you'll discover which emails are best for achieving your goals.
Time To Implement These Email Newsletter Fundamentals
Email newsletters are used by many businesses to great effect.
There aren't many better ways to get a product/service in front of a target audience, especially your customers.
Having direct access to their inbox can be a mighty advantage.
However, there's more to email marketing for service businesses than meets the eye.
Only by following email newsletter fundamentals can you expect to achieve the ROI on your efforts.
Hopefully, the advice in this post will help you do it, or at least point you in the right direction.
If you're feeling overwhelmed when it comes to managing your company's email marketing efforts or just don't feel like you have the time to do it, my award-winning team can help…
Click here to learn more about Maxx Email™, our done-for-you email newsletter service where our email newsletter marketing experts do all of the heavy lifting for you.
Want to embed this infographic on your website?