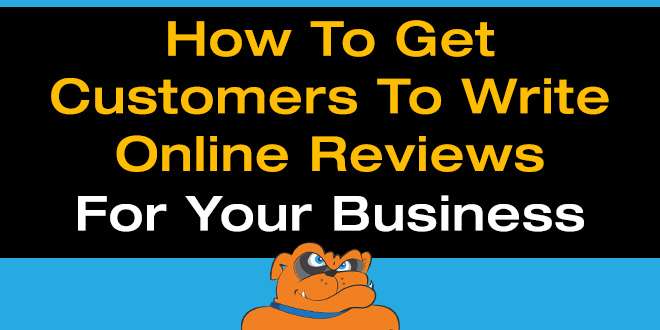 Did you know that over 90% of business owners believe that online reputation is extremely important?
And while you may be part of this large percentage, it's important to analyze the steps you have to take in order to build your reputation and how you plan to manage it into the future.
Let's take customer reviews for example.
Before visiting a business, new customers always read online reviews to make sure they are going to spend their dollars with a company known for providing a great product or service.
We know as consumers we have a choice and resources like the internet allow consumers to have information at their fingertips, literally, that will influence most buying decisions.
If we know reviews have such an influence on the buying process, how are you encouraging your current customers to write a review?
Do you have a reliable system on how to get customers to write online reviews for your business?
There's a thin line between encouraging customers to write online reviews and begging.
Here is how to walk that line and what strategies to use.
Before You Begin Down the Path of More Reviews
As tempting as it may be to immediately ask your previous customers to write online reviews for your business, you want to make sure all of your platforms are up to date.
Sites like Google My Business, BBB.org and Facebook allow you to create a personalized business listing where customers are able to read about your business, know about upcoming sales and leave reviews.
You will want to get your business set up on the most important and relevant review sites to your style of business.
For example, if you are a home service provider, you'll likely want to get your business set up on industry-specific review sites such as Houzz, Build Zoom, Guild Quality, Angies List, etc.
If you're in the legal profession you'll likely want to get set up on Find Law, Lawyer Ratingz, Martindale.com and Lawyers.com.
Here are some review sites broken down by niche: 
[ngg src="galleries" ids="6″ display="basic_imagebrowser" thumbnail_width="583″ thumbnail_height="434″]
1. Asking for Reviews
Satisfied customers are willing to write online reviews if you just ask.
If you focus on giving them excellent customer service they won't be annoyed when you ask them to write a review.
In addition, if you take the time to explain how important your online reputation is for business, they will be compelled to write a review.
Get 6 proven review request templates (free) — click here. 
2. Make it Easy
Let's face it… not all of your customers are savvy when it comes to leaving reviews.
So why not make it easier for them?
Instead of having to search for your business listing on different platforms, send your customers a link that leads directly to your review page.
At the very least, you can create a page on your website that houses all of your review links.
For example, if you have a page on your website, mywebsite.com/review-us/ you now have a "tool" you can share with your team including the front office staff, the technicians in the field, the sales team, and any other staff that may hear a customer verbalizing their happiness and joy about your product or service.
When anyone on your team hears a compliment, that should be a trigger to ask for a review.
When you ask for a review and get a positive response, it's critical to follow up with the instruction on how they can leave you a review.
A few possible options might be:
May I email/text you the link now — it has all of our review sites on the page, and you can choose the review site that you use most often.
Our staff always includes a link to our review sites in our paid invoice — please click on that link to leave us a review.
Our team will send you an email and text message with the review link to make it really simple for you. Just click the star rating and choose the review site you'd like to share your review on.
3. Incentivize 
Why not give out an incentive in exchange for a review (if allowed in your industry)?
While you want to ensure that all of your reviews are legitimate, it doesn't hurt to offer an incentive to customers that say great things about your company.
Consider having a monthly giveaway where you give a raffle prize to a random reviewer.
In addition, it's always a great idea to get your employees involved in the incentive program.
Offer prizes to the top 3 employees who got their customers to leave a great review so that they will begin to make review requests part of the workflow.
Get Customers to Write Online Reviews and More!
Whether you're trying to get customers to write online reviews or are generally trying to improve your online presence, we're here to help as your online reviews service provider.
We know how important it is to have a great online reputation, and most business owners lack the time and know-how to execute a well-rounded reputation management plan for today's tech-centric world.
This is why our customer review management system, Maxx Reviews™, is perfect for higher-volume businesses looking to improve business reviews within just a couple of months with a proven system.
Try Maxx Reviews™ for 50% off your first month right here (up to 4 business locations).
If your business is not a "high-volume" business, then using an automated system to help you manage your customer reviews may not be appropriate for you.
Instead, use these free proven email and text message templates to request reviews from your customers.
Want to embed this infographic on your website?