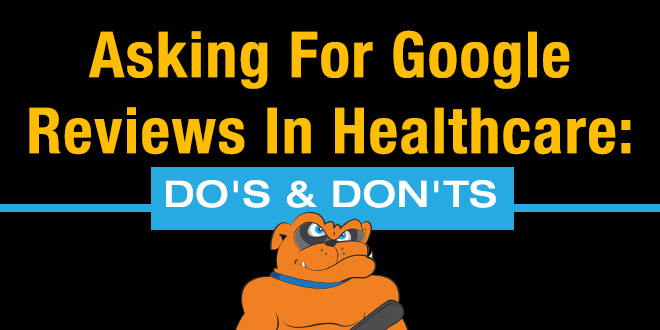 84% of people believe online reviews are as important as personal recommendations.
With the power to access knowledge with a mini-computer in our hands, it's no surprise people jump on the internet for guidance.
People don't typically take the time to seek out information about businesses unless it's already being discussed at the brunch table.
Because people rely so heavily on online reviews, it's crucial your healthcare business receives reviews from visitors.
It can be awkward at times to ask for reviews, but we have you covered.
Keep reading below to discover the do's and don'ts for reviews in healthcare.
It can make all the difference for your healthcare business.
Why Should You Bother?
There's most likely been a moment you've been unsure about purchasing a product or seeing a movie because you weren't sure it was worth the money.
After bringing it up at lunch one day, a coworker convinced you it was worth it so you caved, and you ended up loving it!
We don't realize how much our decisions rely on the previous experiences of others.
This is why it's important for patients to leave reviews, especially patients who have been loyal and can speak well about the business.
Things can become complicated because if someone does have a negative experience, they will take any measure to tell the public about it.
On the other side, happy patients may not think to go leave a quick, positive review.
Encouraging your happy patients to leave great reviews can overpower any negativity and draw people in your doors.
The Do's of Asking for Reviews
Growing your business with online reviews doesn't have to be an awkward, dreadful experience for you or your patients.
When asking for reviews in healthcare, do make it casual and friendly.
This can be done in a handful of ways without pressuring the patient.
Many times in a clinic, a patient returns upfront to receive any paperwork or prescriptions before heading out the door.
As your desk staff says their goodbye to the patients, they can simply say something like,
"Have a great day, and don't forget to leave an online review about your experience."
To go along with this, place a small sign at the checkout counter containing a positive goodbye message and a link to where they can leave the online review.
Most people scan over items on a counter as they wait.
Instead of waiting until the end, present an incentive at the beginning.
As the patient checks in, tell them they can leave a review on the company's Facebook page.
If they prove they left a review the next time they come in, they receive a free branded gift.
Pushing your social media, in general, is always a good idea.
Social media is an absolute wonder of a marketing tool.
What If They Aren't on Social Media?
For some of your older patients who may not be as connected on social media, take the time to send out cards after their visit.
The card should contain a simple thank you and a way for them to leave a review.
You can offer them a link to a website they can visit to leave great reviews, or you can provide a survey card for them to send back once completed.
This way, they have a couple of options.
Even if they don't actively use Instagram or Facebook, they most likely use email.
Send a thank-you email with a hyperlink they can click on to leave a review.
The Don'ts of Asking for Reviews
With all of the easy ways to ask someone for a review, it can be simple to avoid the don'ts of asking for a review.
To not take any chances, review the don'ts below.
In order to get online reviews, you can't pressure or guilt someone into leaving a review.
Casually mention it a couple of times during their visit, but don't push the subject too much.
Don't complain about not receiving online reviews in front of a patient in hopes they will feel bad and leave one.
Leaving a review should ultimately be their decision.
If you feel as if someone will leave a negative review, don't smother them with positive attention during their visit in hopes they will change their minds.
Remain professional and focus more on fixing the issue than their bad review.
How Do You Respond?
If people are leaving reviews, you can't forget to respond to the reviews.
It may not be possible to respond to all of them, but take the time to view the reviews.
When it comes to negative reviews, respond by thanking them for taking the time to leave a review.
Once you thank them, leave an email or phone number they can contact to discuss their issue.
It's best to respond to all negative reviews if possible.
As you respond to positive comments, it can be hard to not show obvious favoritism.
Don't lead people to believe you value positive comments over negative ones.
Keep responses to positive comments short and sweet.
No matter what you respond to, keep HIPAA guidelines in mind.
Never reveal any specific details about a patient or their visit.
Don't even mention anything about age, past appointment times, or diagnoses.
If guidelines are violated, you'll not only have to pay a huge fine, you could lose any positive reputation with the public.
Create a response template to help avoid any mistakes.
Getting Online Reviews in Healthcare
It can be nerve-wracking to ask for reviews in healthcare, especially online for everyone to see.
Even though there's the possibility for a negative review, a handful of positive reviews can go a long way when promoting online.
Create simple, casual systems for asking patients for reviews.
Whether it's mentioning it at the front counter, throwing it in with your goodbye, or sending out an email, it can be easy and rewarding.
For more tips on how to grow your business, make sure you check out subscribe to the Maxx Conversion™ Newsletter right here or check out some of our services here.
Want to embed this infographic on your website?