Most business owners are familiar with Google Analytics and you understand that the information collected through this tool can be used to enhance the performance of your website. But what about those videos you have on YouTube? Have you checked out how well they are doing?
Unlike your website you can't go in and edit the actual video content, but wouldn't it be helpful to know the real performance of each video so future efforts can be fine-tuned? You can also make tweaks to optimization of the video to improve performance if you see your video isn't gaining much traffic. In order to see the 'numbers' or metrics related to your YouTube video marketing plan, look in the upper right corner of your channel, and follow steps 1, 2 & 3 listed below to gain access to your channels YouTube Analytics: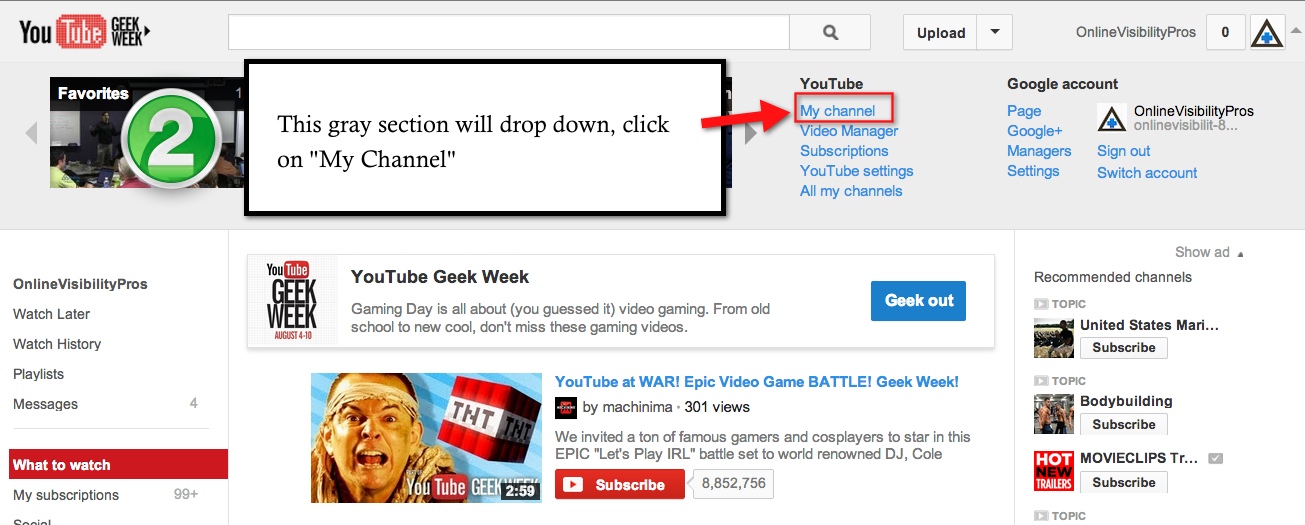 Here Is A Quick List Of YouTube Metrics Within Your Analytics Tab Worth Paying Attention To:
View Through Rate (VTR). This represents the number of times your video was played divided by the total number of times it was viewed. The average VTR is 16.9%. If yours is lower than that it may indicate a problem with the title or the thumbnail used in the listing.
Watch Time. The VTR shows the number of people who started your video, the watch time is the number of seconds viewed before 50% of the audience bails. The average is 15 seconds which is an argument for keeping videos short. YouTube uses the bail rate or abandonment rate in its "ranking" consideration for YouTube search.
Click Through Rate (CTR). This is a measurement of performance. Essentially it measures the percentage of views that result in a click on a link to a site, the purchase of an item or a click on another thumbnail to watch another video.
Share. The beauty of an engaging video is that you have no idea where on the web it is likely to appear other than YouTube. It is so simple to embed the video or share with others via social media. With the social nature of the web and the popularity of video, it's a great way to spread the word.
There are other metrics which can give you an idea of how successful a video is. The likes and dislikes versus the number of views is a good indicator. Having more dislikes than likes is not good but worse yet is having no likes or dislikes, you're always looking for social interaction on your videos.
So what now? How do you use these stats to improve future videos?
If your VTR is low look at the titles which are really headlines. Are they compelling? Do they demand attention?  Above all, are they relevant to the video content?
Watch time is a question of content. Less is more with videos. Keep fluff to a minimum and set a definite tempo for the action. Consider using background music.
If your CTR is disappointing look to your call to action. If it is confusing, weak, or non existant you need to make it more direct. Tell the audience exactly what you want them to do. Never "suggest" they do something.
The tools available to measure your YouTube video marketing performance still have a ways to go but if you track these key metrics you should be in a position to continuously improve your videos. Engage with a YouTube video marketing agency now!
Want to embed this infographic on your website?