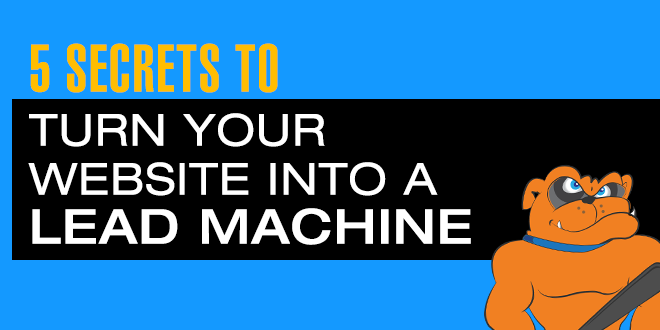 Your company's website offers an incredible opportunity to engage with potential customers.
In fact, it's often your first point-of-contact with them.
That's why it's so critical that your website is designed to turn traffic into phone calls, appointments and, ultimately, sales.
But how can you turn your website into a lead machine?
A number of website lead generation strategies can help you attract – and convert – your web traffic.
Utilizing tactics like SEO (to increase traffic), content marketing (to engage potential leads) and email newsletters (to reconnect with your existing customers), businesses can turn an underperforming website into a major lead generator.
Want to learn how to generate leads online?
Here are five secrets that can help you get started:
Secret 1: Increase Traffic to Your Website by Optimizing for Search
Chances are you've heard the term "search engine optimization" – or SEO, for short.
Essentially, optimizing your website means using tactics to rank higher in search engine results.
SEO is one of the most important lead generation tools.
Some estimates say that 90 percent of Google search traffic (or Bing or Yahoo, for that matter) visits sites that appear on the first page.
If you aren't on Page 1, you're missing a massive opportunity.
So how can maximize your website's SEO value?
First, look at your site's messaging. Are you placing keywords within your copy that visitors and search engines alike will recognize?
High-quality content including blog posts, video, press releases, and service pages can help you rank for relevant keywords and engage your audience.
---
Grow Your Business With A Digital Marketing Agency You Can Trust >> Book A Call
---
Secret 2: Make Your Contact Information Easy to Find
If it's difficult for your visitors to find key information on your website, you're more likely to experience high "bounce rates."
This means visitors land on your site but leave – or bounce – before finding the info they're after.
You can diminish bounce by making information easy to find.
In fact, your About Us and Contact Us pages are likely to be the No. 2 and No. 3 most visited pages on your site.
Make sure these are prominently placed on your website.
Yet, beyond this, you should also list your contact details widely across the web.
Your company's Name, Address, and Phone – called NAP by marketers – can be syndicated to search engines and online directories, helping potential leads to find your business when they search for you.
Google, Bing, and Yahoo all make it easy for businesses to list their NAP within those search engines and map apps.
Plus, there's an endless list of online directories that offer the chance to publish your NAP for a wider audience.
Secret 3: Keep Your Website Looking Fresh
A vibrant website creates a lasting first impression and establishes credibility.
If you're using web design style from the 1990s, visitors won't take your business seriously.
Having a "responsive design," a feature on many CMS platforms, automatically adjusts the site's appearance to the type of device visitors are using.
This is critical for today's audiences.
Google has mobile-first indexing now, which speaks to the importance of having a website that is mobile-friendly.
You want to avoid skipping over this important message Google is sending, sadly if you don't Google will penalize your website.
Additionally, keeping content updated regularly – i.e. your promotions page, company blog, as well as the homepage – can all help create an active appearance for customers.
Secret 4: Create Good Content & Turn Your Best Works into Lead Magnets
In the age of digital marketing, quality, relevant content is king.
Content can help all businesses grow their search rankings, as well as attract and engage potential customers.
But this goes beyond publishing one item and waiting for readers to march in.
Businesses must continually refine, polish, and make their high-performing content more "magnetic."
This means the content addresses customers' needs, answers questions, and draws people with "need to know" information.
For example, say a heating/cooling business published a blog post series about winterizing your home and one of those blogs went viral locally. Instead of leaving it as-is, you can take update the blog post to have more helpful information on the topic to add value and make the content even more engaging.
Some examples include adding video or multimedia, inserting links to other content on your site, adding calls-to-action and specialized offers, or integrating a lead form for people who want to learn more.
Secret 5: Use Email to Bring People Back to Your Website
Email is a powerful marketing tool that businesses have 100 percent ownership over.
In fact, 91% of consumers open their email on a daily basis (Exact Target).
Collecting email addresses from existing customers will help you grow your subscriber base.
In addition, implementing a system or having a protocol that allows you to seamlessly collect emails from prospects and new customers is a simple and effective way to grow your email list.
With a list of email addresses of potential customers, you can market directly to your prospects.
In addition, you can engage your leads with seasonal promotions, special offers, and inform them about new products and services.
Your website is waiting to be transformed into an effective lead generator!
For that to happen, you'll need a proven strategy, so you don't waste time or money. Learn how the OVP team has helped other businesses just like yours implement a digital marketing strategy and the results we've been able to produce for our clients >> VIEW CASE STUDIES NOW