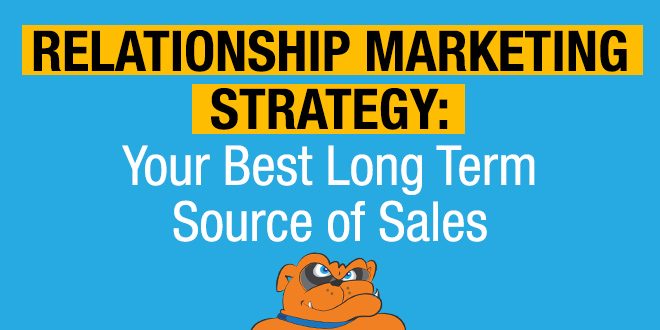 In your business, how important is a referral? What's the "close rate" on a prospect that has been sent to you by a customer? Would you say that it's easier to land a new project with a prospect that has been referred to you than a new lead? Our guess is yes.  The reason for that is the referred prospect has already been pre-sold by a trusted source…your customer.
Because we know a referred prospect is far more likely to become a customer than someone just asking for a quote, it's critical that we as business owners take the time to work on our relationship marketing strategy and understand how we can continue to improve it. There are lot of new ways we can do this.
Referrals are better than leads because the prospect has a relationship with the referring party. The prospect doesn't have to worry about being tricked by your silver tongued presentation because their friend, a person they trusts, has already convinced them you're the person for the project. That friend, your customer is an important sales asset.
Referrals are a great way to build a business
Being able to benefit from the relationships that your customers have with their own networks is one of the perks that comes with superior customer service.
But did you know you can build similar relationships with absolute strangers?
One of the biggest differences between Internet marketing and traditional marketing is the ability to interact with your target market. Done correctly, a relationship marketing strategy can result in complete strangers considering you to be their personal "friend in the business."
The Secret Sauce To Internet Relationship Marketing Isn't So Secret
So how do you get there? How do you become the "go to" business in your industry? Well it starts by giving away something for free and that "something" is your personal knowledge. Using social media platforms like your blog, Facebook and LinkedIn you can impart useful information that is not a direct pitch for your business.
For example if you own a restaurant you might list tips on selecting the freshest fruits and vegetables at the market. An attorney may post a blog on what to do immediately after an auto accident. If you're a small manufacturer selling B2B maybe you write an article on the latest technology in your industry or the pros and cons of a material or process.
The idea is to share knowledge your readers will find useful. The more consistently you do this the faster you gain a reputation not only as an expert but as a company who doesn't try to sell something with every post. When you get to that point you become that "friend in the biz" that a prospect can ask a question of and be confident you won't give a biased answer. And that's when you have struck gold.
The Multiplier Effect
When you've convinced someone that you're the real deal, they're going to tell others and today telling others is as simple as a single click. When that happens, you have tapped into their networks on their social media sites and your reputation spreads like a tsunami.  It's relationship marketing on a massive scale.
Now you know the content you need, the next step is to set up the tools to distribute it. Here's a short list of ideas:
Blogs. Your blog gives you an opportunity to share not only useful information but the personality of you and your business. It's also the principal source of content for a newsletter and your Facebook page.
Facebook and LinkedIn. Facebook is great for communicating with consumers while LinkedIn is fantastic for building a network with business professionals.
Your Email List. A great tool to stay in touch with your customer base. These people already trust you so you can be more sales oriented. Give them good information but also give them special offers only available to existing customers.
One of the keys to building your online relationship marketing strategy is having a clear understanding and grasp about what it's going to take in order to be successful. The biggest mistake is thinking that you can write a blog every once in a while, connect through social media occasionally and send a holiday email message to your clients and actually call that a strategy. Yes, something is better than nothing, but consistency is the name of the game when it comes to your relationship marketing strategy online.  Although relationship building can be time consuming, the benefits are incredible and should never be underestimated. Seek support from an internet marketing firm.
Want to embed this infographic on your website?