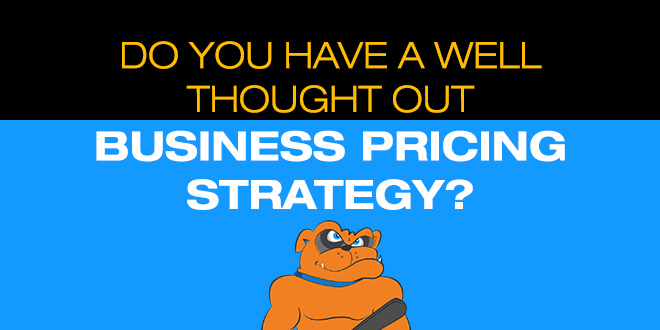 Is your business pricing strategy still to win on price? Are you following the strategy of the big box stores, grocery stores, drugstores and other high volume retailers that match their price to the competition? Are you trying to win apples to apples comparisons?
There's a better way.
Know Your Business Pricing Strategy And Stick To It
When you go head to head with the competition on a specific feature (like price) you are essentially telling the prospective customer that this single feature is really important. You don't really want to do that. You don't want to win the apples to apples competition because you may still lose the customer. You may be 15% cheaper but your completion may 20 minutes closer to the prospect, or has a loyalty program or is simply easier to get into and out of. Those features can be perceived as being worth the extra 15% and suddenly your offer doesn't look all that attractive.
It's All About Perceived Value
Check out the ads for any hotel in a resort destination. Nobody is advertising room rates only. Hotel rooms are a commodity with a very short shelf life. Resort hotels need to fill the rooms in order to support their high margin activities and services like food and beverage, spa services, gift shops and equipment rentals.
As a result, you'll find most resort hotels offering packages and they are hoping that these bundled services are perceived as a high value offer. They don't sell the rooms they sell the experience.
That same approach can work for Main Street businesses as well. It doesn't matter if you sell golf equipment, haircuts, dental services or beans…if you craft an offer that is perceived as being high value you'll attract new business.
Ways To Increase Perceived Value
If you're a styling salon you may want to drop the percentage off offers and come out with a makeover deal. For $125 offer a cut, styling, highlights, manicure, pedicure, a free bottle of shampoo and a 20% off coupon for your next visit. This is more than your typical customer will spend on a visit but the offer isn't for a cut it's for a makeover. What you want is an opportunity to get that new customer in your chair for a few hours and deliver the service that will bring her back…and that's where the money is made.
If you sell golf clubs you can do the same deal and don't be afraid to go big. Offer a new golfer special that includes a complete set of clubs and bag, 4 lessons with a local pro and coupon worth $50 off the purchase of any piece of equipment or apparel in the store. Now you have a golfer who is equipped to play, you given them lessons so they get hooked and hopefully they turn into the typical customer who is always upgrading equipment and buying gadgets.
The idea is to sell an experience not a product or service and make your margin on the repeat business.
Tips For Closing The Deal
Once you've created an attractive "experience" it's time to get the prospect to act on it. There are a few old techniques that work and they are timeless.
Create a sense of urgency. The most common way to do this is to place a restriction on the offer. "For the first 25 customers" or "offer good for a limited time" are two methods that are time tested.
Eliminate risk. Offer a money back guarantee and don't quibble about it. This whole exercise is to build goodwill and repeat business.
Lastly include a powerful image that "sells" the experience. If you have done a good job painting a picture with words, an additional image triggers the prospect to see themselves taking advantage of it.
By making your offer the one that the consumer perceives as providing overwhelming value you will become the best choice in their mind. They will then see it as their idea to do business with you. Obtain help from a specialized agency for your business pricing strategy services.
Want to embed this infographic on your website?