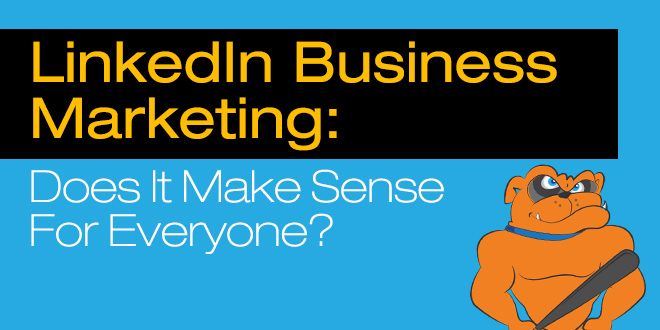 There is an enormous amount of attention given to Facebook and with over 1 billion users it deserves it. Facebook is the premiere social media platform and there's potential to get your message out to huge numbers of "fans." But Facebook is a "social" network in the same sense that a bingo game, or a concert is a "social" event. Everybody there has a common interest but very few actually know each other. In other words Facebook isn't really a "network" as the term applies in the typical business environment where networking members tend to recommend and partner with each other.
Does that really matter?
We think it does. Nobody is going to recommend abandoning Facebook, but on the other hand you shouldn't overlook LinkedIn as a valuable business marketing platform.
Consider this: There are over 225 million profiles on LinkedIn and those profiles belong to people who are more affluent, better educated and hold positions of greater authority (influence) than the demographic that frequents Facebook. In addition there is a total mind shift when members log-on. They are there to network and do business not check on a friend's status. Yes, we believe that getting your brand and your message in front of business influencers will significantly help even B2C enterprises grow.
 5 Quick Tips To Get the Most Out of Your LinkedIn Business Marketing

Complete your profile entirely. Remember you are not just filling in the blanks on a job application. Your profile is a marketing piece and you want to make it sing. Make it interesting, make it compelling give the reader a reason to contact you.
Connect with others. LinkedIn has a feature that will search your email and match those addresses with people who are on the platform. You can send requests to connect individually or LinkedIn will do a mass request with the click of your mouse. The more connections you have the more access you have to their networks. Note…you can't just send a connect request to anyone. There has to be a connection that matches information in both your profile the person you are sending the request to. One of the easiest ways to build your connects is covered in the next tip.
Join LinkedIn Groups. It doesn't matter what your niche is there will be a LinkedIn Group, or two or ten for it. Join the appropriate groups and then get active. Contribute, comment, show some value and you will quickly build your reputation. Also…because you now share a connection with every member of the group you can send requests to connect.
Recommend others. You can go the profile of one of your connections and recommend them for a specific skill. If you have worked with or done business with a person you can leave an authentic recommendation that just might make that person's year. Needless to say the relationship will be stronger as well.
Build a company page.  This was the one element that was missing until recently on LinkedIn. Now you can have a business page complete with all of the apps that allow you to create a powerful message for your company.
The takeaway is that when you implement a solid LinkedIn business marketing strategy, you give yourself the chance to get in front of a different, more sophisticated, business-focused crowd which will create a new type of networking experience online for you. One that is likely to have influence over someone else who has an interest in what your business offers.