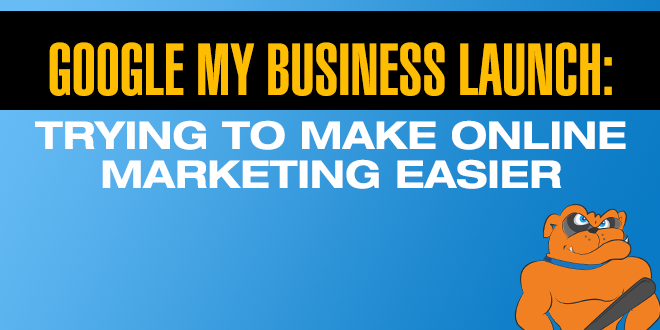 Its' true, Google has introduced a new product. I know it can feel like a never ending road trying to keep up, but Google's goal with the latest update is to help businesses streamline their online marketing when it comes to managing Google-based properties. The tech giants who pretty much revolutionized the search engine industry have recently announced the launch of their new business platform called Google My Business last week. And for companies looking to create an effective online marketing program or those already fully evolved, Google My Business is a great tool to to help you reach current, past and future customers.
The purpose of Google My Business is to gather more business owners to activate a large portion of their online marketing effort under the Google umbrella of individual services. From the use of Google+ (Google's Social Network) to Google's 'Places for Business' platform, to a businesses YouTube channel — this new 'one-stop-shop' is now ready to be used in the United States.
Important Facts About The New Google My Business Program
First: What exactly is Google My Business?
Google My Business is a 100% free online dashboard that online marketers and business owners can use to manage all of their Google-based programs. Some of the individual programs that are easily used though Google My Business include:
Uploading pictures or media files / such as a virtual tour of your business
Managing your business listings for Google Maps, searches and Google + accounts
Sharing data and content while interacting with other Google + users and followers
Being able to quickly reply to Google + reviews
Integration of Google AdWords Express to track and create online marketing campaigns
Quick access of insight reports, social analytical tools as well as accessing YouTube and Google Analytics accounts from one; easy to manage platform
Second: How can you get started with Google My Business
If you are currently using Google+ or Google Places for Businesses accounts you'll automatically be directed to the new Google platform before your next log-in.
For those that don't have current Google+ or Places for Businesses accounts, you can access the Google My Business website HERE – to sign up.
Once you access the website, you'll see a big blue button that screams at you "GET ON GOOGLE". Once you click, you'll see a map of the world where you can easily search for your local business. If you are not a local business, you can click an option in the upper-right hand corner that will direct you to My Business, where you can create a Service Area, Storefront or Brand Page on Google+.
After you've chosen your platform, simply follow the easy to navigate options to create your account and page. It really is that simple.
Companies large and small greatly benefit by getting set up on Google. In this day and age you really can't afford to ignore the Internet and especially Google as it continues to own around 80% of the marketshare for Search. The update by Google is not meant to make us pull out our hair thinking we have to learn something new, they are striving to combine and simplify all of your business Google properties into a more streamlined, user friendly dashboard (it just may take a little getting used to).
Whether you're a small mom and pop operation or a huge corporate brand, and your business goal is to maximize your online visibility to the people searching on Google (or YouTube) for what you have to offer then using Google My Business marketing services is a must. Take it one step at a time, and reach out for help if you feel it's not something you have the time or technical IQ for. Just don't ignore it.
Did you find our blog formatting checklist a helpful tool for content marketers? Feel free to share on Twitter or Facebook by using the super-easy share buttons on the left!
Want to embed this infographic on your website?