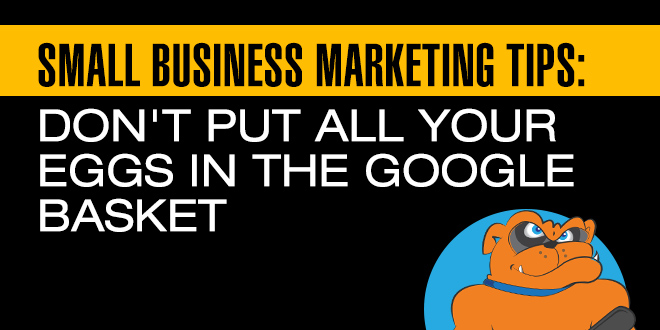 If you are a small brick and mortar local business don't get so tied up trying to rank for particular keyword phrases on Google search that you miss out on other opportunities to promote your business. Search traffic is great but it isn't the end all be all solution to your small business marketing.
You've got other options. The internet is loaded with "cross channel" opportunities like social media, PPC, video marketing, coupons and of course content marketing. How many you get involved in is entirely up to you but the one thing you want to ensure is that your "message" is consistent across all of them.
And when we say "all of them" we're including the often overlooked offline promotions. Your print and broadcast marketing efforts should tie in seamlessly with your online promotions.
A Short List Of Small Business "Cross Channel" Marketing Tips
We believe thinking outside of the "Google box" will have a positive impact on your new and repeat sales:
Your email list is most likely your most productive marketing tool. Expanding that list is money in the bank. Sure the bulk of your new signups come from your website and the traffic to your website comes from search and other internet marketing but that signup form on you site can be used in other places…like next to the checkout in your retail operation. Don't let that moment when the customer thinks enough of you to buy from you pass without providing an opportunity to leave their email address. Consider offering them a discount on their next purchase as an incentive.
If you are doing offline promotions (direct mail, circulars etc.) make sure they are promoting the same thing as your online marketing is or you're using a custom landing page to drive that traffic to directly. You want to provide a consistent message when you're driving traffic off-line to online. These two channels do not exist in separate universes your customers will see both and should be seeing the same message.
Make sure that every piece of paper you use in your business has the URL for your website on it. That means register receipts (include a call to action), invoices, purchase orders, packing lists as well as stationary should provide the information needed to get a person to your main marketing feature.
If you use vehicles in your business make sure you have your website address clearly visible. Take it another step and add an incentive for new customers by displaying a discount on the vehicle if they "text" a phrase like "save me money" to your SMS number.
Use the same technique to turn printed signs into internet connections. This works great for realtors who constantly have to resupply the printed descriptions posted outside of listings. Rather than printed material, have a sign that says "for more information on this property and other homes in the area text 125 Green St to 123-456-1256" instead. This is a fantastic way to build an email list of hot prospects. The same concept can be used for any service that traditionally has a sign at a project like remodelers and roofing companies.
There are two points to take away from this list of tips. First is to take off the Google blinders and look at all of the online and offline marketing opportunities available to you. Your customers use more than Google and you should too. Secondly is consistency in your message. Just because you are using more than one channel does not mean you are reaching entirely different audiences. Keep your message uniform across all channels to build a solid brand image.
If you have questions about small business marketing services or other marketing issues give us a call or contact us and we'll be happy to share our ideas. You can also check out related articles listed below.
Want to embed this infographic on your website?