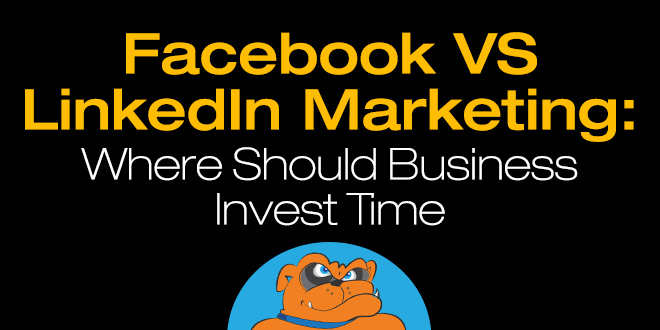 There's one resource that both you and your biggest competitor have the same amount of. You both have been allocated 24 hours per day…no more, no less. How you use that time to lead your business makes all the difference in who comes out on top and that's particularly true when it comes to marketing.
Remember the "good old days" when all you had to do is get a Yellow Page listing or an ad in the local paper or a spot on the radio? Yes it was expensive and it wasn't very effective but it was simple.
Well… Marketing Has Changed.
Today you're actually engaging with customers instead of sending out messages to the masses. The cost is a fraction of what traditional marketing but it can gobble up time. The question so many small business owners want to know is… "Facebook vs LinkedIn, whats more important?"
You probably already know that Facebook is more consumer oriented and LinkedIn is more B2B. So the generic answer is if you're a consumer based business you should be spending your time on Facebook and if you are a B2B you should be hanging out on LinkedIn.
But the reality is you should be spending time on both and here's why:
FACEBOOK: With a billion members you should be on Facebook even if you're selling ice to Eskimos. Somewhere in that billion Facebook members there's going to be an Eskimo who believes he needs ice from the crystal streams of California. For B2B companies Facebook gives you an opportunity to share your company's personality. If you're supporting local charities or events this is where you want to tell your community. This is where you brand your values. This is where you put a face to the business and make it more than a listing in the Yellow Pages. When you talk about community you're going to draw a specific demographic and that demographic can include decision makers and influencers who can turn a Facebook relationship into a B2B relationship.
LINKEDIN: If you're a consumer based business don't think involvement on LinkedIn is a waste of time. Is everyone going to be interested in buying your new and improved food processor or visit your gourmet olive oil shop? Maybe not. But you have a great opportunity to find strategic partnerships or possibly engage in a joint venture to franchise your olive oil business. LinkedIn is all about business networking and the first key to networking is how well your personal profile is set up. The key for developing connections and relationships is active participation. Reaching out to potential strategic partners directly by connecting and starting a conversation. That will give you the chance to take that relationship off line (either on a phone call or a physical meeting). Give and get, that's the name of the game. Through active participation in the personal connections you make through your profile and also with LinkedIn Groups you'll start to develop a reputation, learn something, become virtual friends with others in your industry and build networks that can be mutually beneficial. And it's a great place to look for staff or outsourcing resources…the original purpose of LinkedIn.
So it's not really a question of how much time to spend on Facebook vs LinkedIn, it's how to present yourself and engage these two audiences. Both of these social sites can be important in developing new business opportunities regardless of who your target audience is. Be sure to create a systematic approach to your involvement with Facebook and LinkedIn that way your business is being consistent and has a long term approach. Remember, social media is NOT a 'set it and forget it' type of marketing. With that said, it doesn't have to be a time suck — develop a plan and work the plan and you'll see results. Enlist the services of a web-based marketing firm.
Want to embed this infographic on your website?