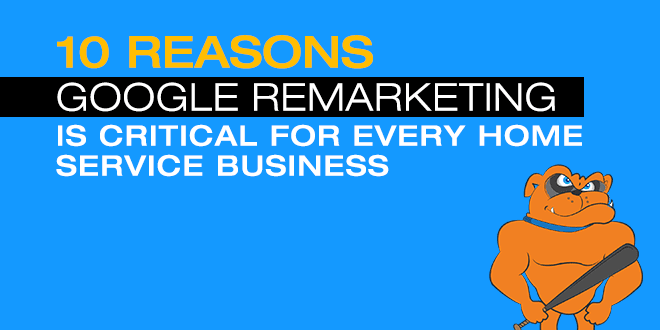 More and more, people are turning to the web to research businesses before contacting a service provider. In fact, 80+ percent of web users say they've visited a website before they were ready to book a service or make a purchase.
How can you re-attract these first-time researchers once they've left your site? Google remarketing offers an effective and affordable solution.
Unfamiliar with the term remarketing? Chances are, you've seen a remarketing ad before. If you've ever shopped for shoes, and then saw an ad for those shoes on a different website, you've experienced remarketing. Essentially, it means you're displaying ads for people who have already visited your site within search results or as display ads on other websites.
From a technical perspective, retargeting is made possible by web "cookies" and "pixels." The website owner places a pixel – a bit of code – on the backend of specific pages. When someone visits a page with a pixel embedded, a "cookie" is created within their browser. Then, later on, the website owner can serve ads specifically to this list of people with a browser "cookie" from their site. (Here Google explains how to set up a remarketing display campaign.)
All types of business can benefit from remarketing. How? These are 10 of the most significant advantages:
Increases Brand Awareness
Since retargeted ads deliver your logo and messaging to customers who have already interacted with your brand, they instantly boost brand awareness. Display remarketing ads reinforce your brand to customers, and thus, they are more likely to remember your company and services. According to one study, 3 in 5 digital shoppers said they recognize ads for a product or service they previously researched. Why this is so awesome too, you don't pay for impressions only clicks! So, you're almost getting this bonus of Brand Awareness for free.
Nudging Customers to Convert
A small fraction of first-time visitors to your site will be ready to buy or fill out a form. But with remarketing ads, you can continue to reach these customers and nudge them in the right direction. In fact, according to WordStream, remarketing ads increase conversion rates over time, meaning the more customers see the ad, the more likely they are to convert.
An Affordable Option for Search and Display
Remarketing ads can be placed on third-party sites, through the Google Display Network, or within Google search results. In both spaces, remarketing ads may offer a more compelling ROI, compared to non-remarketing ads. With display ads, typically the cost-per-click is significantly lower. And on the search side, since these customers already recognize your brand, cost-per-conversion and cost-per-click can potentially decrease, as well.
More Engaged Traffic
Considering these are people who have already visited your site, it makes sense visitors from remarketing ads tend to spend more time on page, visit more pages, and improve your website's new-to-returning visitor ratios.
Personalized Offers
Depending on the pages people are interacting with, you can accurately estimate the type of service or product they're interested in. Then, you can offer a personalized offer or promotion for that specific service. For example, if a heating and cooling business visited a website's "Air Conditioning Tune-Up" page, a retargeted ad that offered 10% off may be the incentive the customer needs.
Advanced Audience Targeting
Google remarketing tools allow you to adjust your remarketing efforts by demographics, interest, or engagement level with your website. For example, you can reach "warm leads," which are people who have shown a high level of interest in your products. Someone who abandons a cart is a prime example. This is one of the most valuable audience segments you can reach.
Choose Where Your Ads Are Displayed
With the AdWords manager, you analyze the data of your remarketing efforts. In fact, Google lets you review which websites are generating the best ROI. If a website sends you a lot of retargeted traffic, but those visitors do not convert, you can block those sites from showing your ads. With search remarketing, you can narrow focus by a specific keyword, as well as location and device type.
Reach Your Audience on All Devices
With remarketing on Google, you can reach Google user across device type. Plus, Google's Display Network casts such a wide net. The Google Display Networks allows you to display your message on roughly 2 million websites worldwide; the network reaches nearly 90 percent of Internet users. Google Search, on the other hand, services about two-thirds of all search requests in the U.S. on any given day.
Engage Local Customers Who Are Searching For You
If you're a local business, you can target previous visitors when they're searching for your company. Remarketed search ads allow you to display your search ads specifically to people who have interacted with your brand, and you can narrow it down by many factors: Location, the device they are using, and the pieces of content they have interacted with.
Show The Right Ads To Your Buyer Personas
You've likely developed unique ads for different buyer personas. For example, a home contractor might have different ads for people that search for kitchen remodels and deck building providers. Based on the content they've interacted with, as well as their demographics and other information, the contractor can ensure the right type of ad is displayed for the ideal buyer persona.
Google remarketing is a must-have item in your digital market toolkit. Along with SEO and content marketing, PPC remarketing ads can help you interact with and engage the most qualified leads for your business. You can also get help from Google remarketing service providers if you're not sure on your campaign.
Want to embed this infographic on your website?