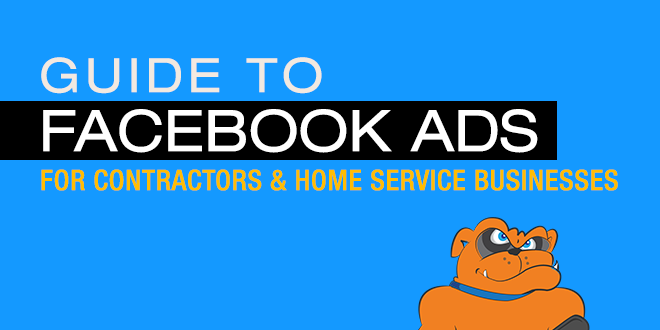 Social media advertising can be a powerful marketing tool for home service businesses, and in terms of potential reach, Facebook is one of the best networks to advertise on.
With nearly 2 billion active monthly users, the social platform enables brands big and small to market their products and services and engage and attract new businesses.
Yet, the real promise of Facebook advertising is that businesses can precisely target their ads to specific audience segments. Marketers can hyper-focus the audience for their ads by city, gender, marital status, interests, income and much more.
Plus, Facebook ads remain affordable. With an average cost-per-click (CPC) of 27 cents and a cost per 1,000 impressions of $5.95, businesses can leverage the network to maximize ROI for their marketing dollars.
Is Facebook Advertising Right for Your Business?
Many businesses think that Facebook just won't work for their industry or specialty, but that couldn't be further from the truth. Successful Facebook ads campaigns aren't limited to consumer products, hospitality or technology businesses.
Home services businesses, too, can utilize Facebook ads to achieve specific business goals like:
Generating leads
Boosting phone calls
Increasing website visits
Growing the visibility of the company
Building loyalty with existing customers
In fact, in many cases, Facebook ads may help small local service businesses create reach like never before. The key, though, is a clever strategy, effective optimization, and precise targeting.
Getting Started with Facebook Ads
Before getting started, it's important that you understand the structure of the Facebook advertising platform. Behind-the-scenes there are three main components to setting up your Facebook advertising. They include:
1: Campaign: This is where you define the marketing objective of the ads, and you have the option to choose from three broad categories, including:
Awareness: These objectives are designed to raise the visibility of your Facebook page and include options like Boost Post or Promote Page.
Consideration: These objectives are aligned to lead generation and encouraging potential customers to take the next step in the sales funnel. Options include Send People to Your Website, Raise Attendance at an Event, Get Video Views, and Collect Leads.
Conversion: Ultimately, your objective will be to convert leads into customers, and these objectives are aligned to that goal. Options include Increase Web Conversions, Get People to Claim Offer, and Promote Product Catalog.
2: Ad Set: This is where you set parameters for your ad campaign: Budget, schedule, audience, placement and proposed bid. You can create individual ad sets for each ad in your campaign, and the more precise the targeting, the more successful your ads will be.
3: Ad: Finally, this will be the creative that you produce and promote. At this stage, you will edit the text, add photos or videos, write the headline, and add call-to-action buttons.
Once you've completed each section, there is an approval process that Facebook conducts, which takes typically a few hours or, at most, 1-2 days.
What Types of Facebook Ads Are Available?
You choose where your ads will be placed on the Facebook platform. There are two main options, including News Feed ads and Right Column ads.
Plus, a type of News Feed ad, the Boosted Post, offers a unique way to promote your brand.
As far as placement, a new feature in Ads Manager – Automatic Placement – determines the best place to display your ad, so you don't have to choose. The types of ads include:
News Feed Ads: These are ads that appear in a user's timeline News Feed.
They often appear in between news stories and posts from friends, and thusly, businesses must ensure their News Feed ads are attractive and enticing. These often appear as sponsored posts, and there are desktop and mobile options.
Right Column Ads: Available exclusively on desktop computers, these ads appear in the right column next to the user's Facebook News Feed. Typically, these are small text ads that include a small picture.
Boosted Posts: Although Boosted Posts are a type of News Feed ad, they differ in a few unique ways.
Essentially, a Boosted Post can be used to increase the likelihood that a post (status update, photo, or video) is seen by the people who follow a page. This helps brands more effectively distribute a blog or landing page.
Also multimedia performs especially well. For example, boosted videos autoplay, which instantly improves their engagement with audiences.
In the News Feed, you have several different options, including Image, Video, Carousel and Slideshow ads. Image ads are just a static image, with accompanying copy, while video ads are a playable video with text. Carousel ads and Slideshow ads are little different.
Carousel ads allow businesses incorporate multiple images, as well as a calls-to-action.
And Slideshow ads are like Image ads but allow you to incorporate up to 10 images/videos.
Reach the Right Customers with Your Facebook Ads
Using the Facebook Ad Manager, you can begin to define your audience. In fact, you can create multiple audiences and save them, to determine which segments are most valuable to your business.
In Ad Manager, you can target based on a variety of criteria, including age, gender, location, and interest. The Behaviors tab also allows you to target to niche areas, like "above average spenders" and "trendy homemakers."
Plus, you can create additional audience types, including:
Custom Audience: You input all of your existing contacts, including email addresses and phone numbers. Then, Facebook locates those people on the platform – with, on average, about 70 percent of your existing contacts added to the audience.
Look-A-Like Audiences: Facebook analyzes your custom audiences and generates a broader audience with similar interests and demographics.
Custom Audience from Your Website: Facebook allows for seamless remarketing ads to users who have visited your website. You attach a small bit of code to your website, and Facebook does the rest (more about this below).
Facebook Remarketing: Is It Worth It?
Facebook remarketing, if you're unfamiliar, allows you to add a snippet of code to your website that will track all of the people that come to your website. This becomes your custom "website" audience within Facebook.
What you can do with that list is strategically place ads on Facebook that are associated with your business or special offers you're running.
So, just in case you were wondering, it's not a coincidence that the wireless rugged Bluetooth speaker I was looking at on Amazon is now showing up in my newsfeed on Facebook, it's just remarketing.
So, should your business be remarketing on Facebook? The answer is a very firm "Yes". Let me explain.
The opportunity to leverage remarketing (whether it be on Facebook or Google for that matter) is an amazingly powerful marketing gift we as business owners have all been given.
You have literally been given a second chance to convince your website visitors (interested prospects) to come back to your website and why they should do business with you.
Although this concept of a 2nd chance is the main benefit, there are many more, here are a few:
Extremely Affordable (Low Cost per Click)
Brand Building (You Don't Pay For Impressions just Clicks)
Increase Direct Traffic + Repeat Visitors To Your Website
Incredible Reach (FB has over 2Billion active users)
At the end of the day, the benefits and the low cost for remarketing ads makes this advertising channel an extremely smart decision for just about every business owner.
Test (And Optimizing) Your Facebook Campaigns
Once you've created a campaign, ad set and ad, you're not finished. You want to continue to refine where your ad is displayed, the content of your ad, and the audience you are targeting to ensure you're reaching the most profitable audience.
This process is called optimization, and A/B testing is one of the best ways to achieve it. Essentially, in Facebook Power Editor, you can adjust variables in each ad.
For example, you have a single image ad that you test with two distinctive demographics.
You can try numerous variations – for example, a different headline, text, call-to-action button, or audience – all for a single add. This will generate valuable insights into who is most likely to interact with your ads.
Yet, there are a variety of other optimization techniques, including:
Use Unique Mobile and Desktop Ads: Using a one-size-fits-all ad for mobile and desktop leaves you at a creative disadvantage. Create distinctive ads for both platforms.
Try Different Images: In your A/B tests, images and multimedia are a No. 1 area to focus. The right image can make a world of difference.
Call to Action Buttons: A call-to-action button – like Book Now, or Sign Up – can help you better gauge the types of leads your Facebook ads are generating, and they can help to improve their performance.
Refine Your Audience: Is your campaign underperforming? Narrow your focus down to income, audience behaviors, or a more precise location.
Analyze Your Reports: Once you've run a campaign, take a look at the data and find the audience segments that are most likely to make a purchase.
With A/B Testing, it's important that you test one aspect at a time. This will help you to discover what aspects of the ad are most effective in boosting engagement.
Quick Design and Development Tips for Your Ads
On Facebook, you'll be competing with cat videos and engagement announcements. So it's critical that your ads are designed to be eye-catching and enticing to potential customers. A few quick ideas:
Create Unique Ads for Buyer Personas: Again, a catch-all ad will not perform as well as a hyper-targeted one. Design your ads based on the needs and pain points of specific groups and use a different ad set to reach them.
Tell Users What To Do: A quick tip for improving conversion rate and CTR: Tell your users what the next step is and how it will benefit them. For example, "Follow the Link for 20% Off" or something similar would be effective messaging.
Include Multimedia: Facebook is a visual platform, and without images or videos, your ad is DOA. Utilize high-quality photos, graphics or videos to ensure people look at your ad. Of all those choices, a video is the best.
Add Testimonials: Testimonials are a wonderful strategy for enticing customers. Include them in your text or within the multimedia. If you're trying to boost brand awareness, a customer testimonial video is one effective strategy.
Use Copywriting to Entice: Use taglines, headlines, and text that acknowledge the customer's pain points and needs, as well as highlight your unique benefits. Examples include: Call Toll-Free, Try it Risk-Free, or Call for a Free Estimate.
Facebook advertising can be a valuable tool for your business. But you can't just publish an ad and expect the world. You have to finely tune your Facebook ads for specific audiences, or get help from Facebook marketing experts to design your advertisement for maximum appeal, and then optimize them to improve their success rate. If you can do that, you'll be reaping the benefits in no time.
Want to embed this infographic on your website?