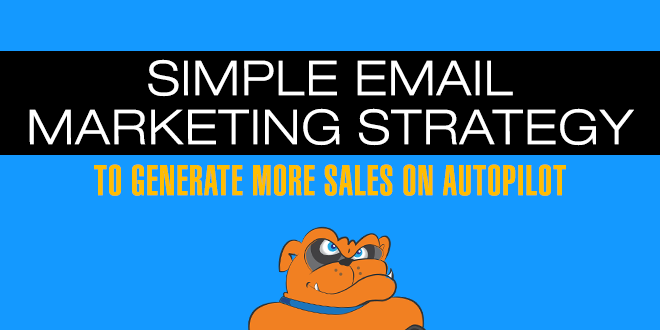 When you own a business, it's important to constantly be looking for ways to automate, eliminate and delegate tasks in your business so you can continue to put energy and focus on sales growth and profitability.
Have you ever considered bringing automation into your business? What if you could automate follow-up, aspects of your sales process, sharing a special offer with first-time clients? You can! With a cost effective and often overlooked powerful automation tool: email autoresponders. 
What is an Autoresponder?
If you've never used email marketing software, there is a good chance you have no idea what an email autoresponder is. There are email marketing software companies like Mailchimp, Constant Contact, Aweber, etc. that all have an option to create pre-written emails and load them into the system. Depending on the action of the person will determine what kind of email.
Here is a quick example. Let's say you have a place on your website where visitors can sign up for your monthly newsletter that includes monthly deals. You could set up an autoresponder to automatically send a thank you email after they sign up for your newsletter that lets them know you received their request and also shares a few happy client testimonials. This helps you build trust.
You could also schedule to have an email sent out 3 days after the newsletter sign up that lets your new newsletter signups know that all first-time customers get a 20% discount off their first purchase. Can you image how helpful this one simple automated sales tactic could help your bottom line?
If you're not yet leveraging email marketing and autoresponders in your business yet, you'll want to keep reading.
Top 6 Benefits Of Autoresponders
Save Time – Your own emails, on your own schedule. Just choose the days and times you want your follow up messages delivered, and they will be sent to in sequential order.
Provide A Consistent Experience – Even if we have every intention to follow up they same way with everyone, doing it manually means you're faced with human error and other challenges, like getting busy or the staff member that handles the follow up being out sick.
Strong First Impression – Having a way to follow up with prospects and customers with a well thought out makes a huge impact. It shows you care, it shows you're on top of your stuff and it shows you're focused on providing exceptional service.
Build Trust – You can make sure you're getting specific email message out that are specifically geared towards building trust. Try sharing stories and case studies – it' makes you seem more human and relatable.
Maximize Sales – By staying in front of people in their email inbox you'll be perfectly positioned for when that person needs what you have to offer. In addition, you can set up special offers to be emailed out or dripped out as much or as little as you'd like. Just be careful to not over-do the selling.
Stay Top Of Mind – Knowing that people are constantly on their mobile device and with that comes constant email monitoring, you can feel confident knowing that sending consistent, high-value email messages will have you staying top of mind.
Types of Autoresponders
Autoresponders can be used in a variety of ways. Check out some of the most popular and effective email autoresponders you can use in your marketing: 
Welcome Emails
If you have a "list builder" or "lead magnet" you'll want to have a welcome email that gets sent out to anyone and everyone after they sign up. It's your virtual handshake and a way to say, "Hey, thanks for signing up for our newsletter, or, thanks for requesting your copy to the 10 biggest residential plumbing mistakes". In your welcome email, you'll want to say "welcome and thanks". This is also a great time to encourage deeper engagement, share your social media links, share a promotional offer or printable coupon.
Think about it, you can craft a welcome email once, and set it up to automatically get delivered immediately after someone signs up. That way you're not leaving your follow up to chance when someone decides to sign up for your company list.
Confirmation Emails
When a customer or client signs schedules an appointment or sends a request through your contact form on your website, they want acknowledgment that you've received their request and what they can expect next. An automated confirmation email gives provides a sense of confidence to the prospect or customer and also opens the door to provide additional information about your company. You could share testimonials, case studies or any other information that would help continue the conversation and build trust.
Follow-Up Emails
Just because you send an email, doesn't mean it will get opened. So, consider sending a follow-up email to those people who did not open the first email. If your email is not opened within the first couple of days, you could send a follow-up email which can result in an average 30% increase in open rates. You can keep it really simple and just re-send your original message.
By leveraging autoresponders you'll have access to options like sending a follow-up email. By having automation in your business like autoresponders that you can set up follow-up emails for anyone who doesn't open your first message is powerful. The best part is you can set this up once and know that the system will handle your follow-up for you.
Educational Trust Building Emails
This style of email can be used in a variety of ways. For example, you could send an email with some important content you know your list will enjoy as a way to support them and continue to stay top of mind and seen as a resource.
You could also add educational information in you're a thank you email or follow up email. If you have worthwhile content you can include that you know your target market would appreciate, why not share it! Whether you include the information in the email or provide a link to the content so they can review on their own time is up to you. The goal is to be a resource, build trust and stay top of mind.
Surveys and feedback requests
Rather than make an educated guess, why not just run a survey? You can take the temperature of your prospects, customers or clients in a variety of ways and on a variety of topics. Running surveys or sending feedback requests allows you to show you're interested in their opinion, at the same time as gathering important information that could impact your bottom line. If you're struggling with or want to maximize participation try incorporating an incentive offer, like a chance to win a free gift.
As a business owner, it's important to uncover the aspects of your business you can automate. There are plenty of email software solutions you can use to effectively incorporate to automate aspects of your follow-up with prospects and customers. These are just a few ideas. Depending on your sales funnel, you can find other ways to leverage this powerful, yet affordable technology in your business such as getting help with an email marketing agency.
Want to embed this infographic on your website?