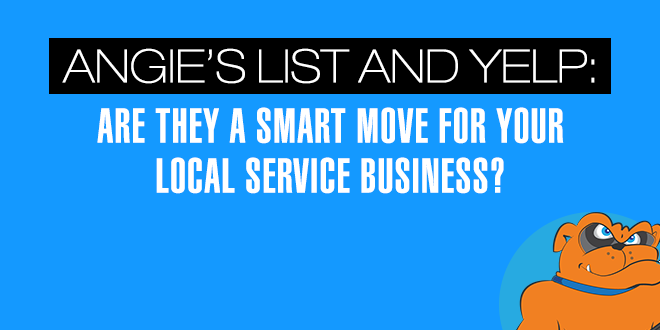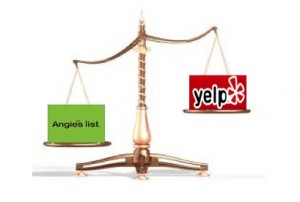 AngiesList.com and Yelp.com are perhaps the two most recognized consumer rating directories here in the US. Both websites provide a platform for local service businesses and local consumers to connect, do business and leave reviews. I should also mention there are SEO benefits to setting your business up on these websites too. So the short answer is "Yes" you should have your business set up with a profile on both sites.
To be clear, I'm suggesting to get your business set up with a profile and hold off on paying for advertising right away. Yelp and Angieslist both offer a variety of paid advertising options and you'll learn more about how to determine when to consider getting involved with those opportunities below.
Let's get a better understanding of each of these websites and how to maximize your organic opportunity.
AngiesList.com
Angie's List is a review and directory website focused on providing consumers access to top notch home service businesses. It wasn't long ago that consumers had to pay for access to the website. A change was made in July of 2016 to offer the basic membership tier, which is now free and includes access to more than 10 million reviews. Currently, Angie's List has more than 3 million paying users (consumers).
The rating scale is not a traditional 5-star system, it is A to F scale. The better your score, the higher you are listed for any given consumer search.
When you sign up for your account on Angieslist you'll want to make sure you fill out your business profile with as much detail and as completely as possible. It matters!
Next, start collecting favorable reviews. You want to get as many people sharing about how great your company is, how much you helped them, how awesome your staff is.
Angie's List says their reviews are:
Never anonymous
Verified by BPA Worldwide's certification process
Submitted online, through mail or over the phone
Easily accessible to read and respond
Train your staff to listen for compliments as a trigger to ask for a review. This, in turn, helps you rank higher in Angieslist and also improves your chances of getting leads from the website. The consumers on Angieslist are reading through your reviews to help make a decision about what company to call.
If you do choose to invest in paid advertising, be sure to build up your reviews before you get started so you're not just throwing money away. Your competition likely has dozens if not hundreds of reviews, so if you pay for an ad and you only have 10 or 20 of reviews, you're not going to have much success. Build up your reviews, so you can hang with your competition, then consider paying for ads.
Yelp.com
Yelp is a multinational review site for all local service businesses. It's free to join the community and it's free for businesses to list. There is an evaluation and verification process before you can get started.
Yelp boasts 174 million unique users per month (mobile & desktop combined) but that number only means something if you have a strong presence in your niche community.
Joining and setting up your profile is free, but expect a phone call from a Yelp sales person shortly after you hit "submit." Yelp offers a wide array of promotional advertising options that average between $300 and $1000 per month for the typical local small business.
A few tips about Yelp if you're new or haven't spent much time there 1) You're not supposed to ask for Yelp reviews – strange I know 2) reviews are the main ranking factor 3) the review filtering system is not the greatest 4) Yelp is more competitive in coastal locations (San Fran, NYC) 5) if a Yelp review comes from a new account, expect it to be filtered; it typically takes 10 to 15 review before a yelp reviewer is "trusted".
There are aspects of Yelp that are not very appealing for sure, however, the amount of traffic the website receives along with the fact that Yelp pages rank all over the first page of Google make it a must if you're a local business.
If you're considering paying for advertising, just remember to build your reviews to a place so you don't stand out as the guy with 10 reviews when everyone else has triple digits.
Consumer Rankings
AngiesList offers a consumer-contractor resolution service but there is no guarantee that a dissatisfied consumer is not going to slam you in a review.
For both sites, there are rules regarding who can leave reviews and how many times to minimize fake and vengeance comments. Every business is going to have a disgruntled customer or two so nobody expects a business to have only excellent ratings. In fact, if they do it often times raises suspicions if they are genuine.
Google Organic SEO Benefit
Both sites are viewed as authorities by Google so there is an advantage in listing with them. Both sites will try and sell you upgrades and there is no question that those features do better than free listings. Both sites allow customers to leave reviews which can be a positive or a negative.
Although there are risks putting your businesses out there to receive reviews, the risk of not being listed and competing for leads on these website has the potential to be a greater risk to your bottom line. Review sites are a big part of local business marketing, so it's better to get to know them and how you can use them to help grow your business and connect with more customers and clients. Get help with digital review service providers!
Get More 5-Star Customer Reviews for Your Service Business – on Autopilot. Sign up for Maxx Reviews and maximize your online reputation without the loss of your time. Questions? Send us a message or give us a call at (888) 593-0505.
Want to embed this infographic on your website?