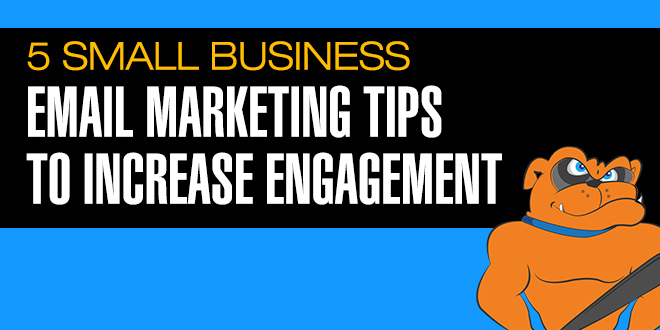 You probably already know that building an opt in email list is one of the most productive marketing strategies you can pursue.
Gaining the permission of a prospect to market directly to him or her is absolute gold if handled properly and "properly" means sending messages that engage the subscriber.
You can do a bang up job of acquiring addresses but if your messages go unopened or your links within messages go ignored then what's the point?
Lets talk about a few important small business email marketing tips that will have you leaps and bounds ahead of your competition.
Engagement, capturing the interest of the subscriber, is the key to successful email marketing.
Ultimately you want your subscribers to look forward to receiving your mail and they will if you are providing information that they perceive to be of value.
Developing that perception is the challenge and it starts with the offer you use to acquire the address in the first place.
Most organizations will test multiple offers to develop their email list.
Common examples include coupons, discounts, special reports, exclusive benefits and of course the old standby, a subscription to a newsletter.
If the offer lives up to its promise, if the subscriber really can get 20% off their first order or learn 5 ways to get rid of ants, then they start their relationship with you on a positive note.
So how do you keep that good feeling going?
How To Nurture Your Email Marketing Relationships To Create Engaged Readers
(1) Use a transition message
Consider making the first email you send to a new subscriber one that reminds them of the offer they received, asks them to white list your email address and explains what they can expect from you in the future.
Use an eye catching subject line like "How much did you save?" or "Are your ants gone yet?" to trigger them into remembering that offer they took advantage of 2 or 3 days ago.
(2) Make it personal
With name validation software you can parse out the salutation anyway you like.
Address the subscriber in the most casual form that is appropriate to make it personal.
For example who knows you better; the person who addresses you as "Dear Mr. Robert Jones" or "Hi Bob"?
Making that personal connection is crucial in building the relationship.
(3) Send relevant content
If your subscriber downloaded the "ants" report don't start your relationship by bombarding him with pitches for exterminator services.
Tell him about ants; red ants, ants in the lawn, the difference between carpenter ants and termites.
Start building your reputation as an authoritative source with content your subscriber can use.
(4) Analyze, analyze, analyze
One of the beautiful things about email is its ability to track actions on individual addresses.
You can't track the behavior of individual fans or followers on Facebook or Twitter.
You can on email which means you can segment lists by interest and send laser targeted messages to them.
That 20% discount offer on your sporting goods line will quickly tell you who the golfers, tennis players, fishermen, campers and cycling enthusiasts are.
Use that intelligence to engage your list.
(5) Be readable
Mobile devices have been a game changer in email marketing.
The odds are better than fifty fifty that you list will be checking their email on a smartphone or tablet rather than a PC or laptop.
Speed is essential.
If your email takes forever to load because it is not optimized for mobile your subscriber will likely hit delete and go on to the next message.
The most important small business email marketing tip or takeaway here is that you will learn more about the behavior of individual subscribers than you could ever learn from any other form of media.
That intelligence is a goldmine if you take the time to build the relationship.
Remember it's not just that first conversion that you are after, it's the lifetime value of that subscriber that is the real payoff. Leverage the expertise of a digital email marketing agency.
Want to embed this infographic on your website?