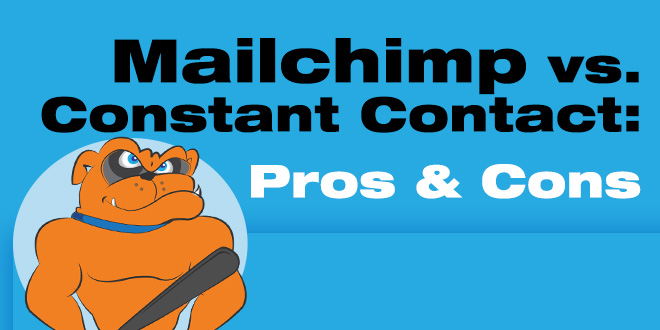 Mailchimp and Constant Contact are two of the most popular tools for email marketing out there.
But how can you tell which one is right for you?
Here's our breakdown between Mailchimp vs. Constant Contact.
Mailchimp vs. Constant Contact Features
Both platforms offer similar features, it's just a matter of knowing which features you actually need.
What you need might be different than what another business needs, not because you're better or worse, but simply because your needs are different.
Both Constant Contact and Mailchimp offer autoresponders, which helps automate and streamline the email marketing process for businesses.
Both platforms also offer A/B split testing and contact segmenting.
(Get started with Constant Contact here.  Get started with Mailchimp here.)
User Experience
You don't need to be a graphic designer or tech wiz to use Mailchimp or Constant Contact.
Both tools are made to be user friendly for all levels of users.
But, Mailchimp's design is a bit more modernized and design-heavy.
Navigating between features and campaign design on Mailchimp is slightly more in tune with the user.
But that difference is hardly noticed.
The fact is, many users might prefer Constant Contact's simplified design and usability.
Design Options 
Both email marketing platforms are packed with templates for every type of purpose and business.
If you're looking for email software that you can just find and use a template for, you'll like both Mailchimp and Constant Contact.
Mailchimp has slightly fewer template options than Constant Contact.
But, it offers more customization for users who want it.
In Mailchimp, you can build an entire email template from scratch if you'd like.
But it's design elements aren't incredibly intuitive and you may experience a slight learning curve with this platform (more labor-intensive).
Constant Contact might be a better fit for users who aren't looking to get too crazy with the design, their templates have a more basic look that can be customized to match your brand quickly and easily compared to Mailchimp.
Opt-In Forms and Website Integration
One of the musts for email marketing campaigns is their ability to capture leads and track the number of sign-ups.
Email marketing tools need to be able to easily create and support opt-in forms that stand-alone or integrate into websites.
It's nice if you can do this without having to contact your web developer.
Mailchimp has more design options for their opt-in forms.
Constant Contact offers the same features, making adding a form to your website straightforward, but the designs are basic and more simplified.
For people who prefer a simple approach so they don't waste any time, this is a great fit.
If you're more technical and want to have more controls and customization options with your forms, Constant Contact may feel limited.
Software Integrations
Mailchimp and Constant Contact offer hundreds of integration capabilities.
Constant Contact still has well over 200 and Mailchimp even more.
How advanced of a marketer will likely influence how important software integrations are.
For basic software integrations, it's likely that both email platforms will provide what you need.
Both email marketing tools integrate with customer relationship management tools, e-commerce platforms, content management systems, accounting software, and social media.
For example, some of the integrations available on both platforms are Shopify, SalesForce, Facebook, WordPress, and QuickBooks.
The best option would be to create a list of all of the software your ideal email marketing tool would integrate with.
Then, cross-check to see which tool would better support your business' needs.
Tracking and Reporting
Constant Contact and Mailchimp offer the ability to track and report campaign performance to their customers.
If you need an email marketing tool that deep-dives into reporting, Mailchimp offers more data mining opportunities.
With Constant Contact, you have all of the tracking and reporting capabilities needed to measure the success of your email marketing campaigns and you can integrate Google Analytics.
Similar to the software integrations, it's important to understand the unique goals of your company so you can properly match up your need with the features available in any email marketing software provider.
Email Testing
Both Mailchimp and Constant Contact offer the ability to test emails with A/B testing and the ability to track link clicks.
As an example, Mailchimp allows you to easily test email subject lines, calls-to-action, and content.
Constant Content also offers a number of different A/B testing options from subject lines to webforms and landing pages.
Spam Protection
All of your email marketing efforts aren't worth the time if your emails are going straight to your contact's spam folder.
Both email marketing platforms are very successful in sending emails to inboxes (instead of spam folders).
Constant Contact has a strong history and reputation for high email deliverability rates.
Their platform is much more strict about list management and spam emails.
In fact, Constant Contact has a 97% deliverability rate where Mailchimp's rates are less clear.
Both platforms will check your emails for their likelihood to get marked as spam.
Remember, you don't want to purchase a list of email addresses to upload, but rather have an ethical approach to list building with prospects interested in what you have to offer, and of course, make sure your buyers are on your email list as well (with their permission).
If you are ethical with your list building, the likelihood of your emails getting marked as spam will remain low.
Support Options
Constant Contact and Mailchimp both have support services for different levels of users.
Both of Constant Contact's subscription levels have the same access to support.
According to the company's site, users can get help troubleshooting problems, developing their marketing strategies and more by phone or through chat.
Constant Contact's support information is easy to find.
They also provide users with a large library of video tutorials, community questions and even live seminars and webinars for more training.
With Mailchimp's free version, users only have access to the platform's Knowledge Base, which is a resource library (no phone support).
Only paid subscriptions have access to chat support.
Chat support is mostly available 24/7, but some plans are limiting.
Only Premium Plus plan members have full access to support, which includes contacting Mailchimp by phone with questions.
Overall, Constant Contact wins big when it comes to the support they offer.
Depending on what level of marketer you are, this may not be a big deal.
For others, having someone you can speak to on the phone can make all the difference in the world.
Summary of Mailchimp vs Constant Contact
So which platform is really right for your team?
It's difficult for us to make this decision for you.
Simply because the "right" platform for your depends on a lot of different factors.
These include your budget, bandwidth, staff, expertise, type of business, marketing goals, etc.
If you're looking for an email marketing tool that will allow you to have more design control Mailchimp will be the better option.
If you need in-depth reporting on your email marketing campaigns, Mailchimp also has a more robust reporting offering.
For most small businesses, the basic reporting and tracking in Constant Contact is plenty.
For teams who want to conduct A/B testing, you can feel confident that both platforms will offer you options to run and track these campaigns.
Constant Contact is the clear winner if you care about live support.
Mailchimp is not a great choice for teams who prefer to have access to a 'real human'.
If your team needs a tool that will help guide you in creating email marketing campaigns and using the product, Constant Contact is the standout choice.
It's also the better option for teams that just want to pick a template, and maybe make a few minor adjustments before sending it off.
It's got a simpler interface than Mailchimp and a lot more templates to choose from.
So, who won your battle between Mailchimp vs Constant Contact?
Who Will Run Your Mailchimp or Constant Contact Software?
Choosing the right email marketing management service provider to run your email campaign can seem difficult at first.
But most legitimate email software providers actually award and designate marketing agencies who use their tools the best.
Getting your hands on this list can make the process of choosing an agency much easier.
Did you know that we've been recognized as a Constant Contact All-Star Solution Provider for six consecutive years?
This means that Constant Contact officially has recognized our marketing firm for generating business results using its platform.
Only 10% of the email marketing software's customers are recognized.
This is because to get this designation you must meet a list of requirements.
One is that your organization must have an average open and click-through rate of at least 25%.
Because of our success, Constant Contact has designated us as a "marketing expert" on their website and allows us to access resources on how to use the software and new features and tools that other agencies don't have access to.
Having a reliable channel to communicate with your list of prospects and customers is critical.
Once you have your email software in place, then you'll want to create a clear plan of action to leverage that software.
You can set up list building lead magnets, autoresponders, newsletters, promo emails, and so much more. The lists of options are endless.
If you have more questions about how to master email marketing for your business, you can shoot us a line to get questions answered!
If you're looking for an outsourced solution for your email marketing, and need an experienced agency to do the heavy lifting for you (list management, template development, eNewsletters, etc) then you'll want to check out Maxx Email™, our award-winning done-for-you email newsletter service where our team does all of set up and management for you.
Want to embed this infographic on your website?