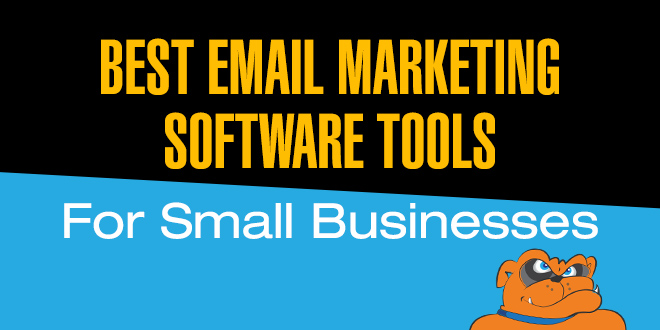 Despite the claims of some social media gurus, email marketing continues to be one of the most effective methods to get your message out, convert prospects into buyers and existing customers into repeat buyers.
In short…email is an essential element of any successful marketing program for small business today and moving forward.
The question is, with so many email marketing software tools out there…
What is the best small business email marketing software for your business?
When you have something as important to your marketing plan as email is, you want to be sure that the software you choose meets all your requirements for today and you also consider growth into the future.
Once you select an email platform switching can be a pain in the butt, however it can be done if necessary.
So before you jump right in, it's important to fully understand how you intend to use your list and what kind of functionality you will need.
To give you head start on evaluating email software, we are providing quick reviews for three of the most popular platforms.
3 Best Small Business Email Marketing Platforms
This platform is exceptionally popular with small and medium sized businesses thanks to its simplicity of use and a huge library of professional templates (over 400).
It is particularly attractive for its integration of social media.
Constant Contact offers social media buttons for Facebook, LinkedIn, Twitter, Yelp, Flickr, Blog and YouTube as well as a "Join My List" app that allows visitors to sign up for your newsletter or promotions while visiting your Facebook business page.
The backend offers segmentation, reporting including data about bounces, complaints, opens, unsubscribes and more.
Pricing is based on the size of your list and starts at $15 per month for 500 addresses.
If you are on a shoestring budget this is the software for you.
It's free up to 500 addresses and then it goes to $10.00 per month for 2500 subscribers.
Mail Chimp has 59 templates to choose from and given the price that's not bad.
The backend is a tad clunky but there is more than adequate support available.
They made a smart move in making the platform compatible with Google Analytics so the data that is displayed is meaningful.
If you are not into micromanaging the lists then this platform will meet your needs.
We're calling this an email platform but it is really a market automation program or CRM with an email function.
It does a fantastic job of tracking prospects and customers and has an automated email follow up feature that reduces reliance on an inside sales force.
If you plan on having an affiliate program, InfusionSoft has an excellent and trusted program for tracking affiliate leads and commissions.
Same goes if you are selling products online.
There is a simple to set up shopping cart that automates the entire process.
The cost is price starts around $99 per month and goes up from there, but remember this platform is a whole lot more than an email marketing software.
There are many more email providers to choose from in addition to the 3 listed here.
With such a wide range of functions available within each small business email marketing software platform, it's important to know what you want first.
If you can pin down how you plan to use the software, specifically for your business then you are in a position to make an informed decision for your business much faster. Consult with email marketing professionals to boost lead generation efforts.
Want to embed this infographic on your website?