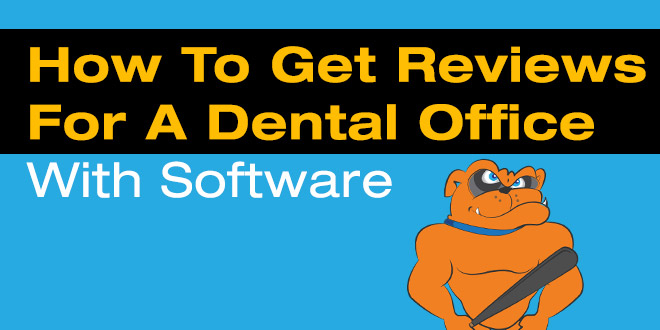 Are you interested in getting more patients in your dental chair? Do you have certain dental cases you enjoy taking on more than others?
This may come as a surprise, but there's one simple thing you can do that can help with both.
All you need to do is get stellar reviews from clients talking about your practice and the specific service they received…and voila!
In the past, people would look at reviews before eating at a new restaurant or going to a mechanic. Over the last few years, reviews have become critical for every type of business out there. Including dentists.
Curious about how to get reviews for your practice? Stay tuned, we're going to tell you everything you need to know in this post.
How to Get Reviews for Your Dental Practice
Reviews play an important role in the success of any business, and that includes people in the medical field.
A customer review is more than just a few stars or points on a website. An article by Inc.com put it this way:
If you think online reviews get lost in all the Internet noise, think again. Research shows that 91 percent of people regularly or occasionally read online reviews, and 84 percent trust online reviews as much as a personal recommendation. And they make that decision quickly: 68 percent form an opinion after reading between one and six online reviews.
Online reviews act as a virtual seal of approval and a sales tool that lets people know that you're the best dentist to go to.
If you need tips on how to get reviews from your patients, make sure you follow these tidbits of advice.
Think About the Entire Patient Experience
When you're eager to get reviews from people, you need to be aware that you're going to be rated on absolutely everything that happens in your dental office. The work you do will matter, but the overall patient experience matters even more.
A rude or less than attentive front desk receptionist can ruin an otherwise great visit to the dentist. Sitting in a cold waiting room and experiencing a delay because your office is running behind schedule will likely make someone think twice about visiting you again.
The best way to get great reviews is to provide a great customer experience from start to finish.
That's why we recommend that every dentist and dental practice takes time to evaluate what their patients experience when they call into your office and what they experience when they come into the office for a visit.
Make sure your administrative staff is helpful, friendly and empathetic. We all know that going to the dentist can be difficult for many reasons.  Train them on the right way to interact with patients.
Set up the waiting room so it's pleasant for patients, give people access to wi-fi, and have toys or books for kids. Show that you care and are thinking about how to make them as comfortable as possible.
Make it Simple For Patients To Leave You A Review
The last thing you want to do is make people search or dig around the internet themselves to figure out how to leave you a proper review.
People aren't typically going to take time to seek out your review profiles unless they've had an exceptionally good or absolutely terrible experience. You want to make it simple and easy for them to leave you an online review.
One great ways to do this is to send an email after every patient visit. Include links to your review profiles on popular websites, and write an enticing subject line to encourage people to open your message.
You can sweeten the deal by offering certain kinds of incentives. Sometimes something as simple as a percentage off their next dental cleaning can be enough to persuade someone to leave a review.
Have a Presence Where People Are
Don't discount the power of reviews posted on mainstream sites like Google, Yelp, and Facebook. They're all sites that people know and you definitely want to get reviews on these mainstream review sites. However, if you are in the medical field then it's important to include industry-specific review sites.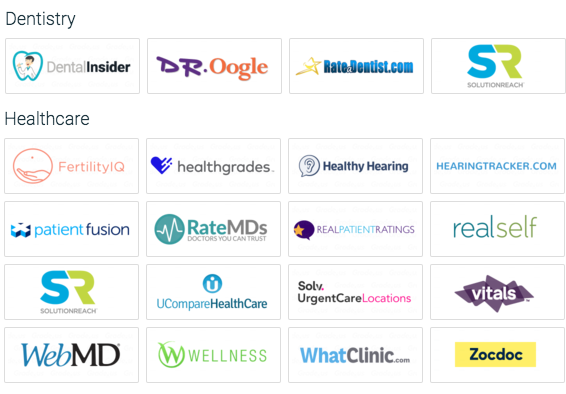 There are plenty of review websites that cater to doctors and people in different medical fields. Having a strong presence on them can send a strong message about the work you do.
HealthGrades and ZocDoc are two of the most well-known review sites for practicing doctors. Make sure that you have a fully built-out profile on each of them.
Have all of your important information listed including your Name, Address, Phone, Website (NAPW), and hours of operation. The more filled out your profile is, the more impressive you'll look to potential patients.
It's also important to keep in mind that medical-specific websites can be a great information source for people that are looking for jobs.
Your next potential dental assistant or receptionist could be looking at these sites to learn about your practice. That's why it's always a good idea to put your best foot forward.
Don't Be Afraid to Ask
Did a patient just tell you how much they love you compared to their old dentist? Have you had a patient remark that their root canal was much easier and less scary than they thought it would be?
Ask them for a review!
The old saying "ask you shall receive" is very true in the world of online reviews. Sometimes just asking a patient for a review can be just what you need to get them to write one.
Always look for patients that are already having a positive experience with your practice. The more pleased with your services they are, the happier they'll be to write you a review.
Find Software That Can Help Automate
We just mentioned 5-10 separate review websites in our last section, and that's just the tip of the iceberg. There are tons of review sites out there that people can be on, and you'll want to make sure that your presence is managed everywhere.
Finding a way to maintain everything is difficult. When you factor in the best way to respond to reviews and manage negative ones, maintaining your presence can get to be time-consuming.
This is why we highly recommend finding the right review software to help you manage your dental reviews.
The right software can help you manage every aspect of your review presence. You can add reviews to your website, respond to the ones you already have, and share top reviews on your social platforms. When the system is working, it's extrememly powerful.
Get Powerful Reviews Today
You may have thought the answer to the "how to get reviews" question would be really complicated. In reality, as long as you do simple things you won't have any trouble getting reviews from customers.
Are you ready to start getting reviews from customers today? A reputable digital marketing agency is here to help!
We have plenty of review and marketing experts that are ready to talk to you about the best way to get reviews for your practice. Be sure to schedule your call today so we can discuss the best way to approach the review needs of your dental practice.
Want to embed this infographic on your website?