AV Contractor SEO Hauls in 30+ Exclusive Leads Per Month from Google
A strategic
AV contractor SEO campaign
for audio visual installation and repair company produces MASSIVE INCREASE from only a handful of leads per month to more than 30 leads from Google SEO campaigns every month.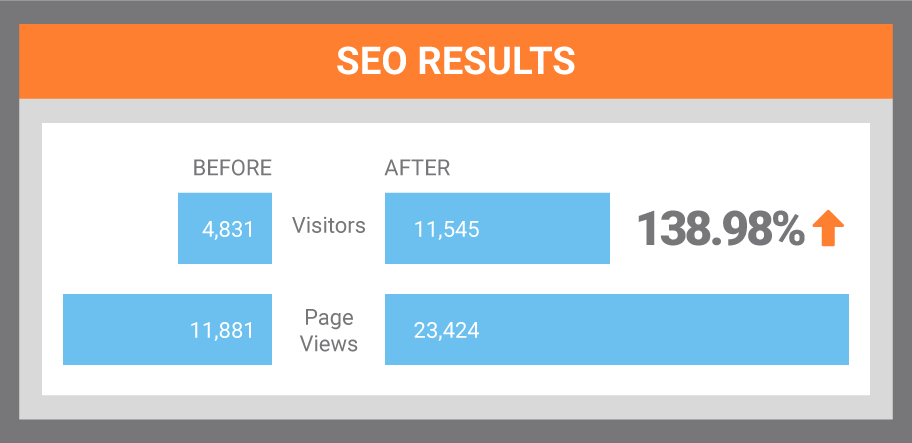 Client Backstory
The co-owners of an audio visual service company based in Phoenix AZ initial had a digital marketing strategy call with our lead generation team to see how they could generate more leads and customers from the Internet.
Their audio visual company specializes in home theater installation, TV wall mounting services, surround sound installation, security system installation, and more.
When our team initiated their digital marketing campaign, the company was getting a handful of leads per month from Angi's lead generation program.
They needed more qualified prospects in their pipeline.
Wanting to breakthrough into their local market, Infinity HD knew they needed an expert in AV contractor SEO marketing company that would understand their vision and help take them to the next level.
And part of that next level vision included a re-develop company website in order to improve their effectiveness of capturing online leads and converting them into appointments and sales.
To obtain the results Infinity HD was looking for, our marketing team set out to transform the company's website into what we call an Unstoppable Lead Generation Machine that is designed to convert targeted website visitors into premium audio visual installation and repair leads, appointments and sales.
The Attack Plan
Complete Website Transformation
SEO for Profitable Long-Term Business Visibility
Integrating a Lead Tracking System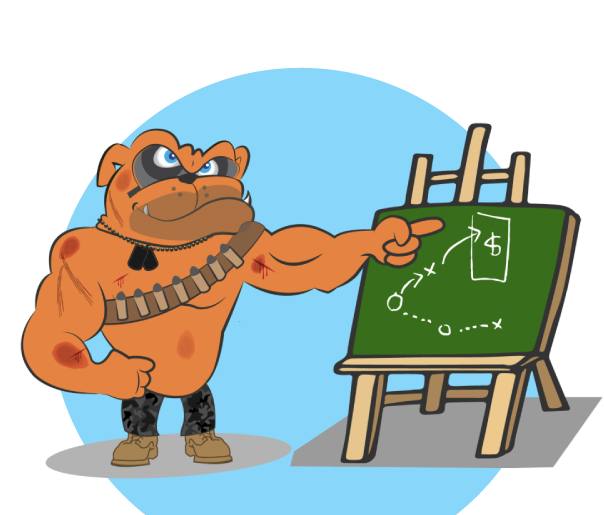 Below you will learn how Infinity HD went from generating a handful of leads from the internet to generating 33 to 35 leads per month after just 6 months:
Transformed website into a lead generation machine
Increase in organic website traffic by 249.55%
Improved keyword rankings – Earning first page Google rankings on hundreds of new keywords
Generated an average of 34 leads per month in months 5 and 6
Implemented a reliable lead tracking system into the company website.
#1. Complete Website Transformation
We made key updates to the website site included making sure the website was mobile responsive and provided an exceptional user experience on all screen sizes, which ultimately helped Infinity HD improve the overall lead generation performance for the company.
Our experienced web development team implemented a new functional design that was not only sleek and captivating, but also designed with Google's algorithms in mind.
Along with the new look, the website was developed to be responsive which made it more user-friendly for people to find Infinity HD through desktop computers, tablets and smartphones.
See the amazing transformation for yourself below.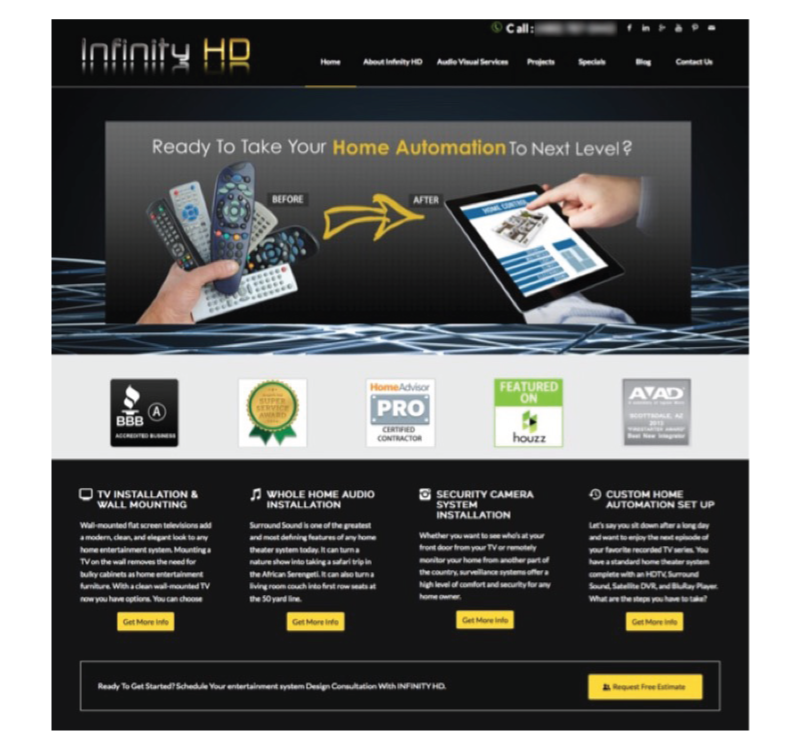 #2. SEO for Profitable Long-Term Business Visibility
We created an AV contractor SEO plan that would not only rank Google, but also on the other major search engines like Yahoo and Bing.
To do this, we set out target keyword searches potential customers would search for.
The dramatic increase in targeted, organic traffic driven to the Infinity HD website from Google, Bing and Yahoo came about after a strategic move to update the site's website structure and architecture.
This one move had a strong impact on the trajectory of the campaign.
The result:
New website users increased 249.55%
New visitors increased to 1,545 (from 442)
Before the implementation of their SEO campaign, Infinity HD only amassed 442 new visitors to their website.
After the AV contractor SEO strategy was put into place, new website users increased to 1,545.
This large jump in organic traffic allowed for new potential clients to see all of the services offered by Infinity HD.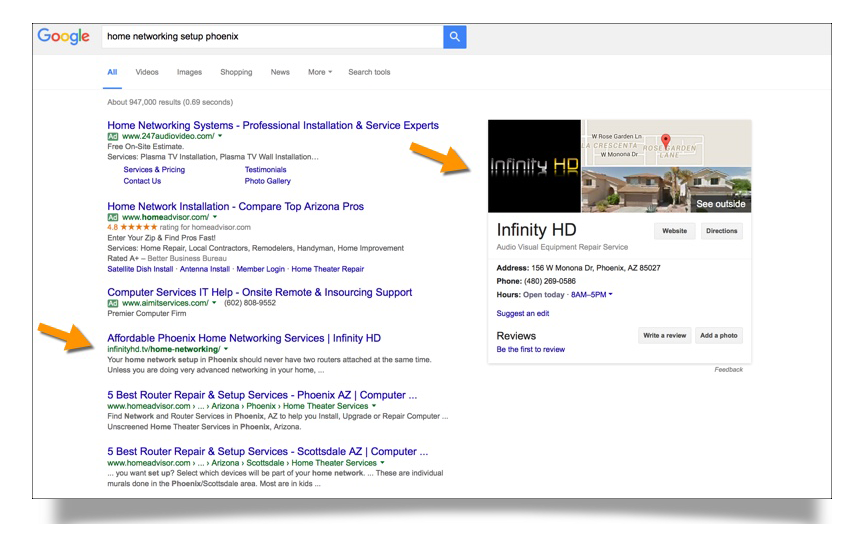 #3. Integrating a Lead Tracking System
A call tracking system was integrated into the website, which helped the company track new business generated from the website.
You can see form the screenshot below that incoming calls can be tracked by:
The time of day that people called
If they called from the website
How long the call lasted
And the details of the call that were stored as an audio file.
These call tracking features allowed Infinity HD to help sort their leads and track down to the customer where their revenue is coming from.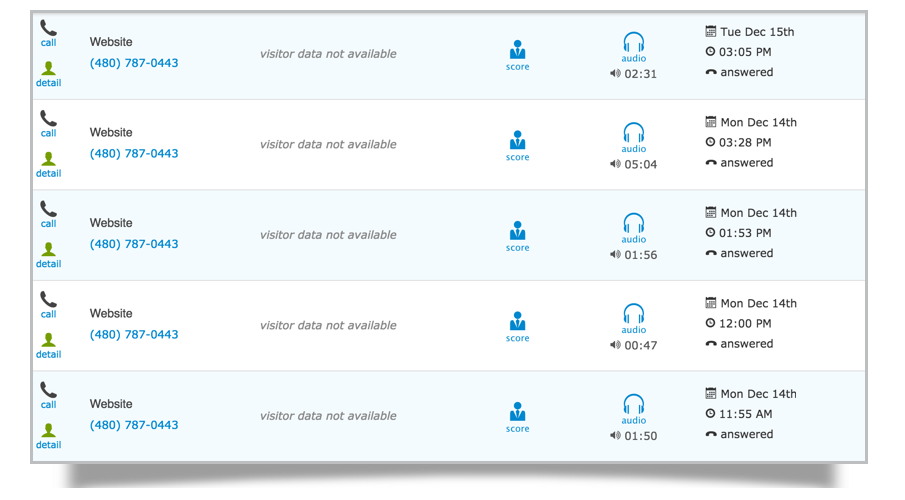 In addition to the call tracking features integrated into the Infinity HD website, website visitors were also able to easily submit a request for services or a quote by simply entering their project info into the online form.
See the screenshot here to showcase real leads coming through the lead generation forms on the site.

Home Builder Lead Generation Results
The strategic AV contractor SEO plan created by our team produced immediate results for Infinity HD.
Through their newly designed website and effective SEO strategies, the goals of increasing web traffic and generating high-quality online leads were quickly achieved.
Infinity HD went from generating a handful of leads per month to 33 to 35 leads per month!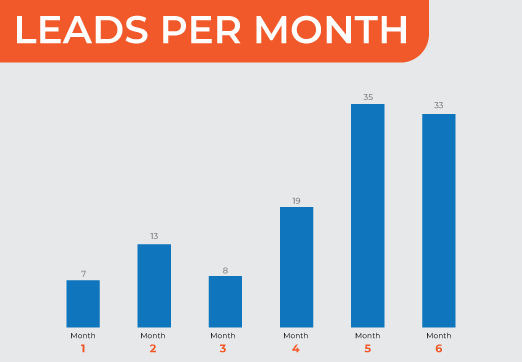 Let Us Take the Hard Work Out of Your Digital Marketing
When Infinity HD partnered with Online Visibility Pros, they wanted a digital marketing campaign that would turn into an Unstoppable Lead Generation Machine for their company.
With this specific goal in mind, our experts here at Online Visibility Pros were able to funnel targeted SEO traffic to their newly developed website and convert that traffic into new leads, appointments and ultimately clients.
After only 6-months, we had helped Infinity HD build an Unstoppable Lead Generation Machine into their business marketing strategy leading to double the business revenue.
Save Time
Justin and Jeremy wanted to focus on what they do best, audio visual installation and repair… so instead of trying to undertake generating their own leads from the Internet, they reached out to us to achieve the results they were looking for.
Save Money
The results that were produced in only 6-months was business changing for the audio visual company.
Our custom marketing blueprint attracted new business in a highly competitive market.
By partnering with Online Visibility Pros, Infinity HD was able to save money by not needing to replicate the same services in-house.
Trying to bring new employees up to speed on what your marketing goals are, along with them needing to have special training in certain fields to produce the results Infinity HD wanted would be cost-prohibitive to their bottom line.
Infinity HD realized early on that to truly get the best results they needed to invest in our team, who are experts at generating high-quality, targeted leads that turn into long-term customers.
Hiring and training employees, paying taxes on them, paying their benefits, and providing both office space and equipment is enormously expensive.
The company made the smart investment by avoiding all of those extraneous costs and choosing a partnership with us that would take his online presence to the next level and allow his business to grow for years to come.
Want to embed this infographic on your website?