HVAC SEO Services Produce 1,237 Repair & Installation Leads
By investing in HVAC SEO services, a new website and a few other smart digital marketing strategies, Hays Cooling & Heating gained the boost their company needed to become a powerhouse in their local marketplace.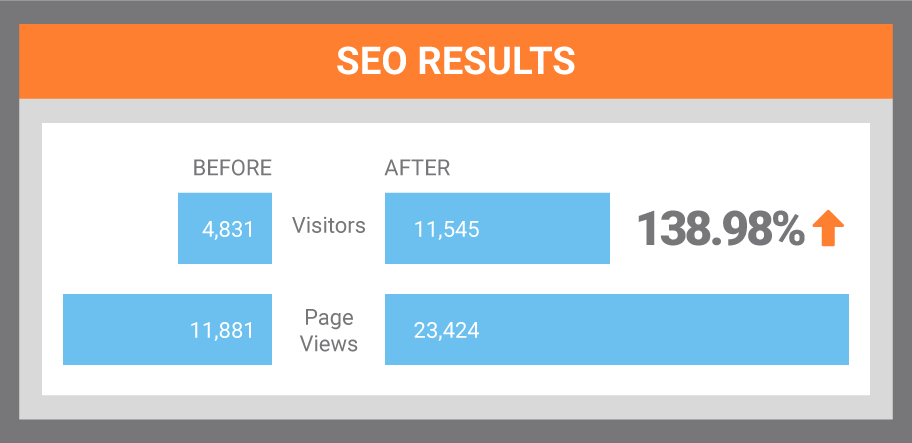 Client Backstory:
Hays Cooling & Heating wasn't satisfied with the digital marketing agency they were with.
They weren't receiving the number of quality leads they knew they could achieve from their SEO campaigns.
So Hays set up a meeting with Online Visibility Pros to learn more about our digital marketing lead generation strategies.
As a company with growth goals, Hays knew they had to find a company that could produce results and take their brand to the next level.
We went to work developing the following strategic marketing plan for Hays.
The Attack Plan:
Develop a new high-converting website that looks good on all device sizes
Improve organic HVAC keyword rankings in the search engines (Google, Bing, Yahoo, Etc.)
Increase visibility in Google Maps and start to gain recognition online
Re-brand and optimize social media accounts
Establish a solid digital footprint on the most popular HVAC contractor review websites
Run a monthly email newsletter to stay in touch with customers
Implement phone lead tracking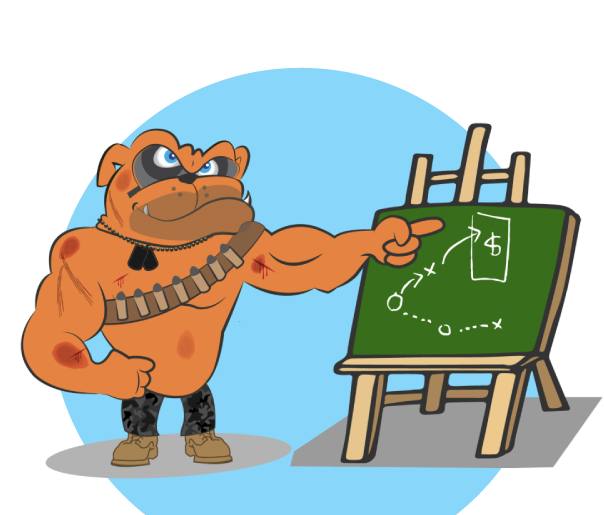 Despite Hays' being in one of the most competitive HVAC markets in the US, the digital marketing strategies that we implemented produced the targeted traffic, leads, appointments and sales that Hays needed.
In two years, we generated 1,237 HVAC service, repair and installation leads (see screenshot for the breakdown):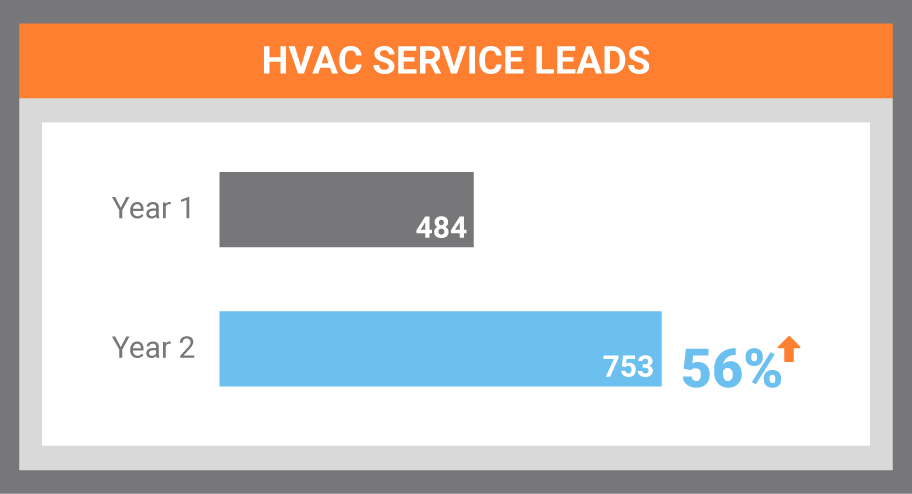 The company also experienced an additional boost from their social media, online reviews from customers, and lots of first-page placement on Google Maps.
Their Google My Business listing produced an extra 84 "click-to-call" phone leads and 312 targeted visits to their website.
Let's dive into the details of the lead generation strategy.
#1. Website Redesign
First, we focused on overhauling Hays' current website.
The company needed a website that truly represented their brand and could convert traffic into leads.
Our web development team understood this.
Through time-tested design, formatting, and optimization techniques, we transformed the old website to a new user-friendly, responsive website designed to build trust with customers and convert leads on a more consistent basis.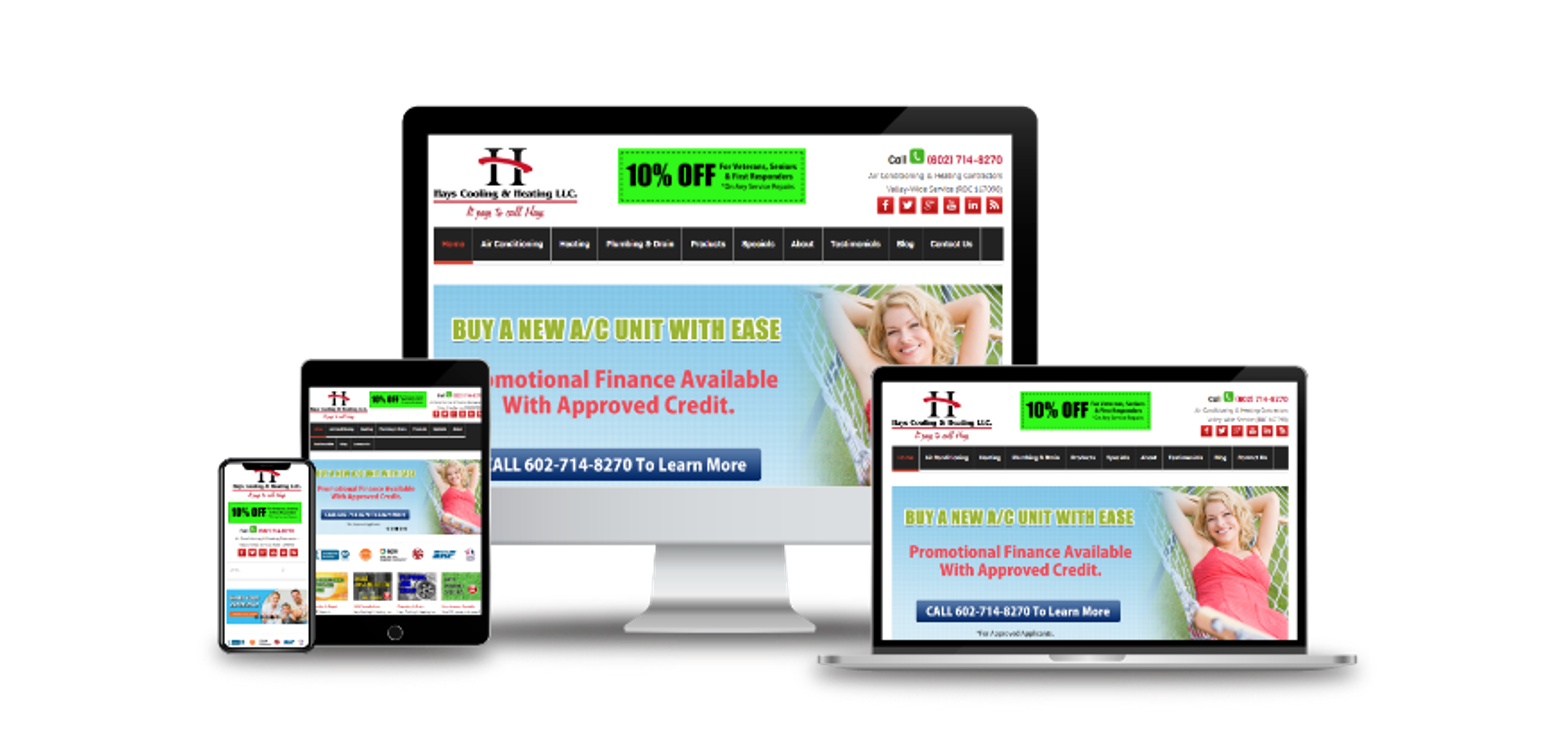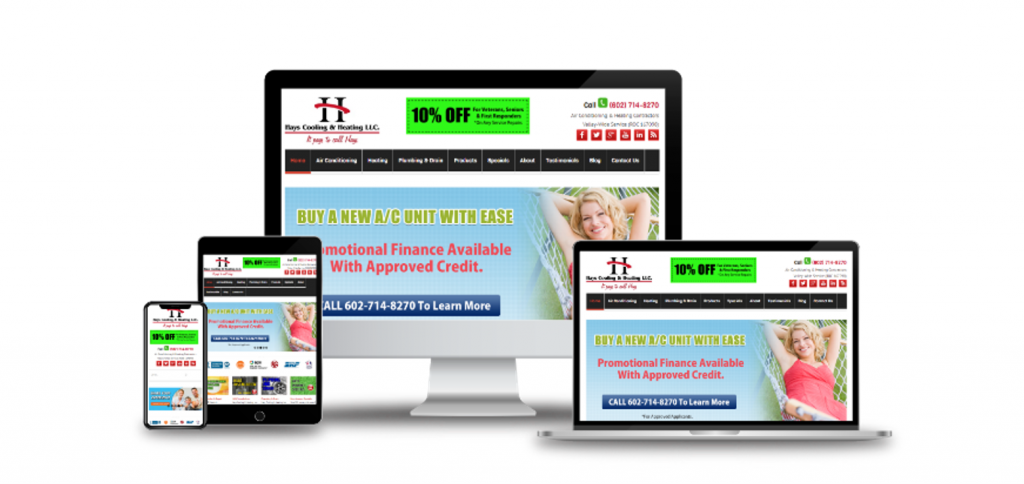 #2. Organic Google Search Traffic
Hays Cooling & Heating was missing the boat on organic search visibility on Google, Bing, Yahoo and the other search engines and needed to make some adjustments in order to show up more often and higher in the search results.
The screenshot below highlights how the company's organic search traffic grew significantly after we implemented our SEO strategies, especially during the summer season for HVAC in Phoenix, Arizona.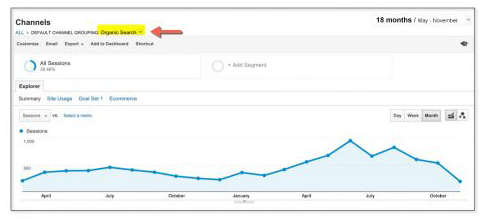 Below you can see Hays ranking at to the top of the Google Maps results on Google for a very targeted keyword: heating and cooling services phoenix az.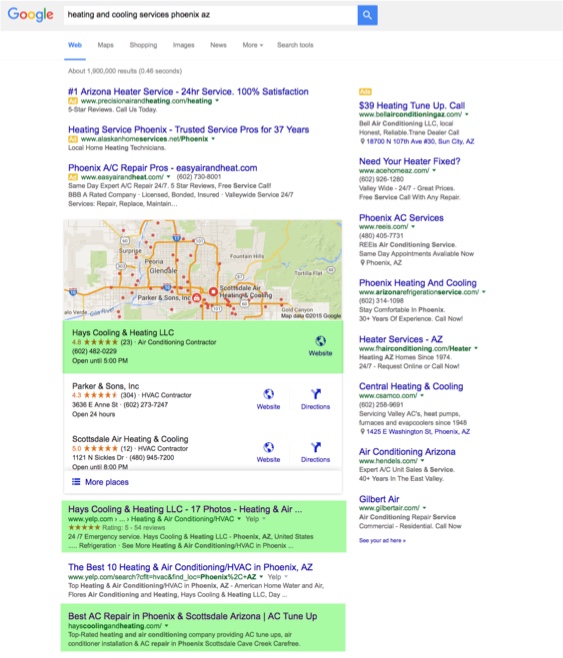 We were able to achieve impressive results by using the Google My Business verification program and implementing citation building campaigns to make sure that all websites for Hays Cooling & Heating represented the same name, address and phone number.
#3. Google Remarketing Campaigns
Google Remarketing is one of the best ways to stay on the top of the minds of website visitors allowing Hays to continue advertising to previous website visitors after they left their site without taking an action.
This would help previous website visitors to be more likely to return to the website and schedule a service, repair or installation.
Once a visitor leaves their website, specific ads will show up in advertisement fields as they search the web.
Using retargeting ads like Google Remarketing to stay in front of potential customers can go a long way in asserting their services when those potentials customers are ready to buy.
#4. Social Media Branding
Next, we set out to transform their vitally important social media presence.
Social media sites like Facebook, LinkedIn, Twitter, Instagram, and Youtube are crucial tools to reach multitudes of potential customers and improve credibility in the local market.
This is because your audience uses these websites and it's the best way to reach them.
Optimizing and rebranding social media accounts for Hays allowed the company to look as professional as possible helping to gain trust with current and potential customers.
#5. Business Profiles
Once the new online lead generation machine was in place, our team turned to online review sites.
These sites have an amazing effect on generating online business for contractors and other home service businesses.
We used popular sites like Google, BBB and Facebook to get happy customers to review Hays Cooling & Heating.
We developed an easy-to-use customer review program for the service technicians that boosted the company's digital footprint by converting over 30% of their happy customers to online reviews.
This increased their reputation in the HVAC industry exponentially, helping them stay way ahead of their competition.
We've seen a direct correlation between positive reviews and a higher conversion rate from potential customer to actual customer.
Do not overlook this in your own lead generation approach.
#6. Email Newsletter Campaign
Next, we used professional email newsletters to help Hays stay in touch with their current, past and future customers and share timely specials, testimonials, and company news.
We helped Hays get a 32.8% open rate (more than 550 opens per month) on their email newsletters.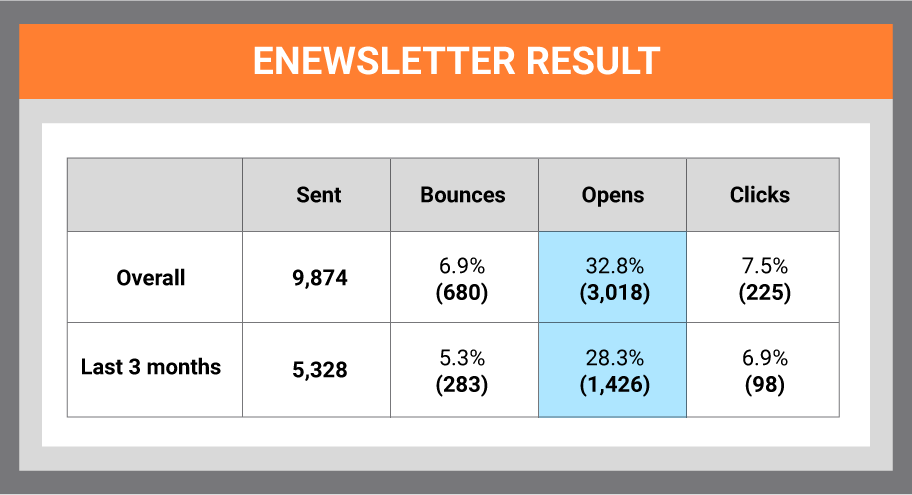 Where else can you get in front of 550 customer per month to share your specials, news and any other important company and industry updates?
These are not looky-loos either… these are people who know, like and trust you already.
(If you're not sending a company email newsletter to your customer list yet, check out our done-for-you email newsletter service here.)
#7. Integrating Phone Lead Tracking
By installing a phone lead tracking system, Hays was able to see an incredible increase in calls over the time span of their SEO lead generation campaign.
During that time frame they received 2,158 calls averaging 2:48 minutes per call, which created 1,468 unique leads.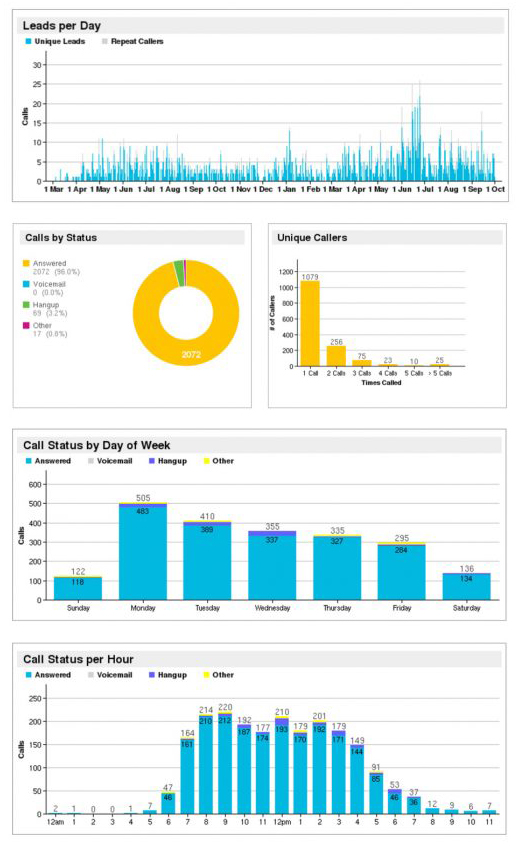 Receiving these calls and speaking with homeowners about their HVAC service needs sets the foundation for turning those calls into appointments, sales, more revenue and profits.
Let Us Take the Hard Work Out of Internet Marketing
When Hays Cooling & Heating partnered with us, they wanted a strategic rock solid digital foundation that would become an unstoppable lead generation machine for their company.
With this goal in mind, we were able to acquire highly-targeted industry specific online leads and build their brand recognition within the HVAC community.
Our results show that Hays Cooling & Heating is well on its way to cementing their brand in a highly competitive market.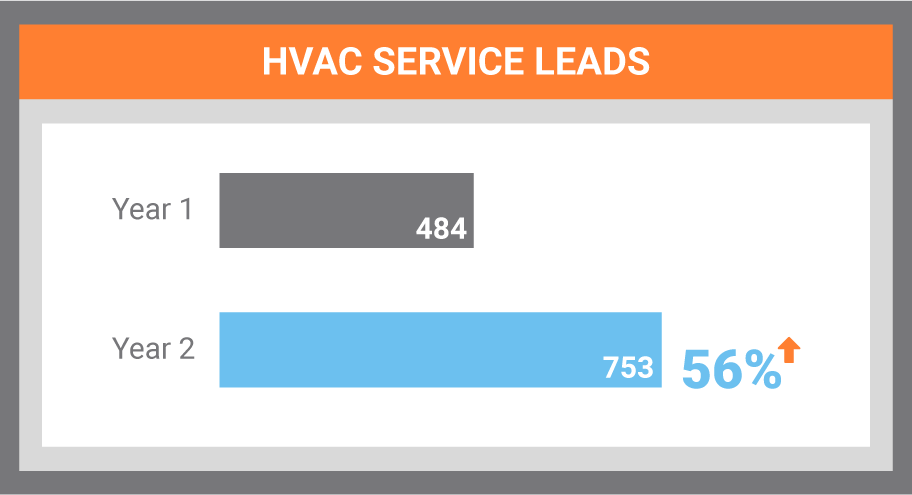 The team at Online Visibility Pros helped Hays in two key ways:
Saving Time
Instead of dealing with the headache and hassle of trying to do everything in-house, Hays hired a professional digital lead generation company.
They knew we would achieve the results they had been looking for and would keep them up to date and informed on the progress with their online presence.
Saving Money
Our marketing campaigns produced great lead generation results for Hays.
Our personalized contractor marketing blueprint costs a small fraction of the price of replicating these services in-house.
Our specialty is online lead generation, which we've been executing for clients for over 10 years.
Trying to replicate our services in-house would be a cost-prohibitive process likely to end in frustration with less than desirable results.
Hays realized this early on and made a smart investment by partnering with Online Visibility Pros, which has paid dividends by producing highly-targeted online leads.
Want to embed this infographic on your website?