Highlights:

Tailored internet marketing strategies help a local HVAC company GAIN A MASSIVE MARKET SHARE through consistent blogging, improved organic search results, and email marketing efforts.
Want Results Like this? Click Here
How would you feel with a 64% open rate for emails?
That would be great wouldn't it be?
This HVAC company didn't only achieve that number with us but we also increased organic traffic by 138%.
Check out this case study to learn how we achieved these great results…

Challenge
On Time Air Conditioning & Heating weren't satisfied with their current internet marketing company.
So, they set out on a mission to find an online lead generation company that would generate good results.
So they came to us and spoke to our team of experts.
Our team understood On Time Air Conditioning & Heating's situation.
No one wants to throw away hard earned money on marketing strategies that don't produce an excellent return on investment.
On Time Air Conditioning & Heating's goals were simple.
They wanted a larger digital footprint, as increasing their overall visibility would produce phone and internet leads.
This increase would also grow their customer base, so they could keep in touch with timely emails promoting their services.
Read on to learn how On Time Air Conditioning & Heating went from HARDLY generating online leads, to generating over 99 calls per month!
This massive spike in incoming leads secured them a portion of the heating and AC industry.
Solution
Our strategy call with On Time Air Conditioning & Heating helped us form a custom marketing plan to exceed their lead generation goals.
As a local search engine optimization company, we understand that every company is different in what they need to become visible.
We conducted research into their digital footprint and put together a custom internet marketing strategy that was sure to garner the exposure their company desired and create an Unstoppable Online Lead Generation Machine for them.
The plan was designed with the specific needs, priorities, and desires of the HVAC market in mind, positioning the company for successful targeted marketing in their specific field.
We first identified the following sub-goals to get On Time Air's marketing on track:
Increase Business Visibility on Search Engines
Blog on a Consistent Basis
Increase 'Visibility' Website Traffic
Increase Business Visibility on Social Media
Establish Communication with Customers Through Email
Increase Website Conversions
After establishing their sub-goals, we could then set out to begin our campaign.
Before executing and planning our strategy, we performed a full site audit to help improve our clients website and here's what we've come up with…
Search Engine Visibility
Our first priority was to rank the blog articles, website pages and videos organically on Google.
You may have content on your website, but that doesn't mean that people are finding you through search engines.
That's where we step in to make sure your blogging foundation is rock solid plan.
Think of a blog article like a 24-hour open for business sign.
People always search the internet and they'll find your business if it's ranking well.
When your website contains unique and well-written content, you can generate online leads for years to come.
Social Media Interaction
Next, we focused on their Facebook business profile.
The easiest way to convert social media followers to long-term customers is by engaging them with useful, interactive content.
Social media has become an increasingly popular means of communication with service providers.
So, we prioritized strengthening On Time Air Conditioning & Heating's digital footprint by putting their company in the best light possible to gain trust and show authority in their field.
Email Newsletter Campaign
Finally, we implemented a stellar Email newsletter campaign to keep On Time Air Conditioning & Heating's brand top of mind with current customers.
We were able to implement custom emails with heating and AC specials that could easily generate business from customers that had already formed a relationship with On Time Air Conditioning & Heating.
Results
Our custom-tailored internet marketing strategy for air conditioning & heating businesses produced massive results!
Our time-tested SEO techniques and strategies for increasing social media engagement produced an astounding 99 phone leads per month!
Blog articles were gaining impressive organic traffic, and their new YouTube videos were showing up on Google's 1st page. Engagement and posting reach skyrocketed on their Facebook business account, having an impressive post reach consistently of over 100.
On Time Air Conditioning & Heating's email marketing campaign had quite the attractive results.
We received up to a 64% open rate! That is almost unheard of in the HVAC industry!
How We Did It
Targeting specific HVAC keyword phrases, implementing proven SEO strategies, and utilizing our own unique techniques increased web traffic from 4,831 visitors in 2011 to 11,545 visitors in 2012.
That's an incredible 138.98% increase in organic traffic!
The screenshot below shows that search engines accounting for nearly 63% of their website visitors.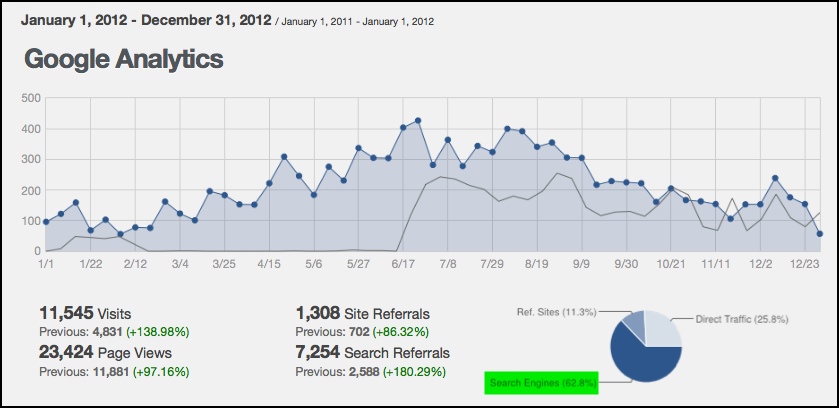 Highly Targeted Content Marketing Campaign
Creating the right content to attract the right crowd had a major impact for On Time Air Conditioning & Heating's website.
Their unique articles started to command attention from clients searching for answers to AC and heating questions.
Their highly targeted articles are producing 38 to 531 views per article, which positions them as an expert in their industry and a trusted source of information.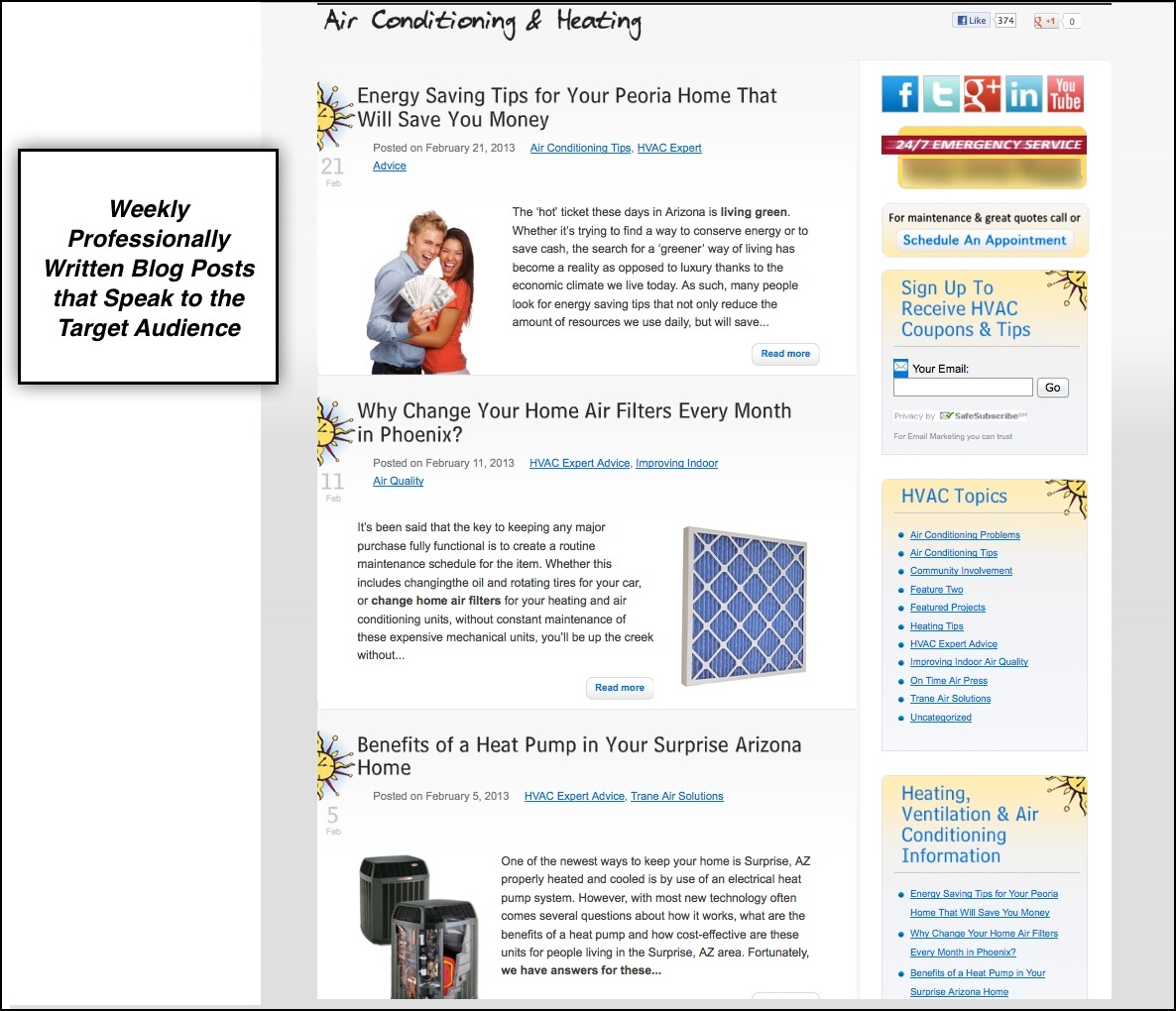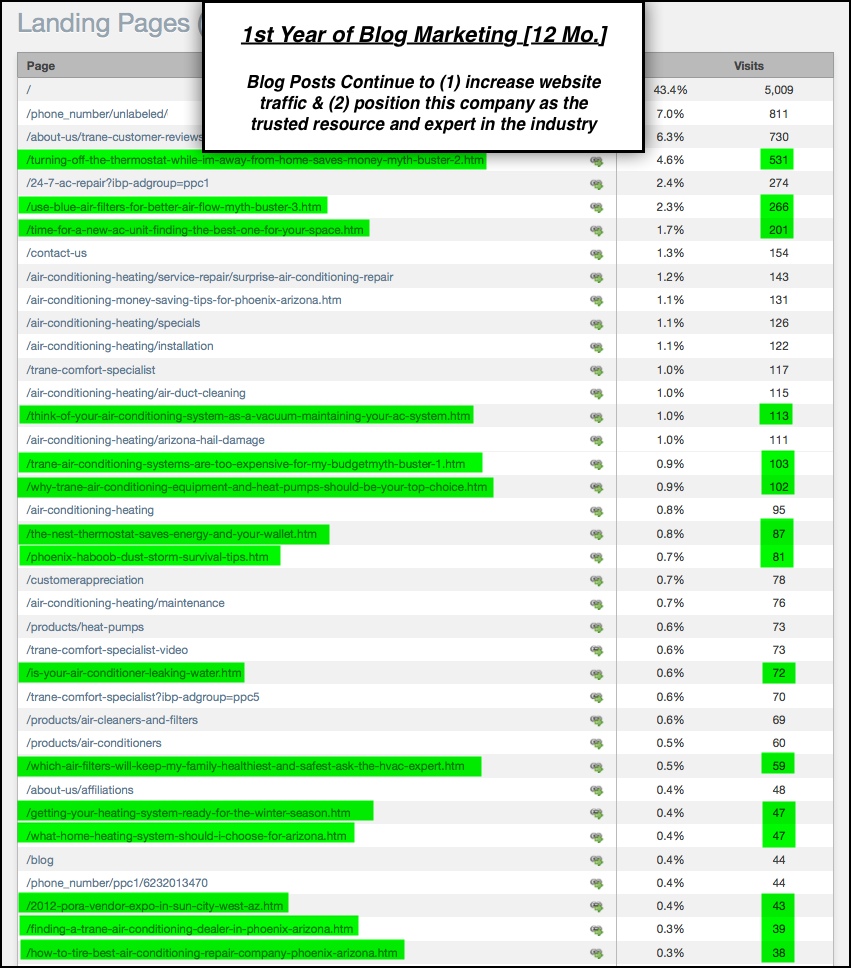 Boosting Video Visibility on to Google's 1st Page
People consume many information in many forms online.
Getting their YouTube video 1st page placement on Google goes a long way in showcasing their brand and highlighting their position as an authority in the HVAC industry.
The screenshots below show both placement and video position within this competitive field.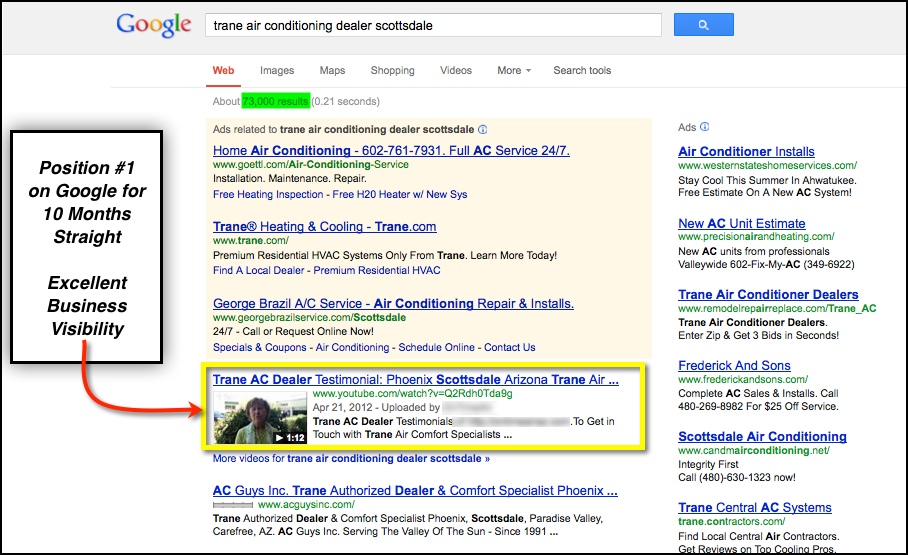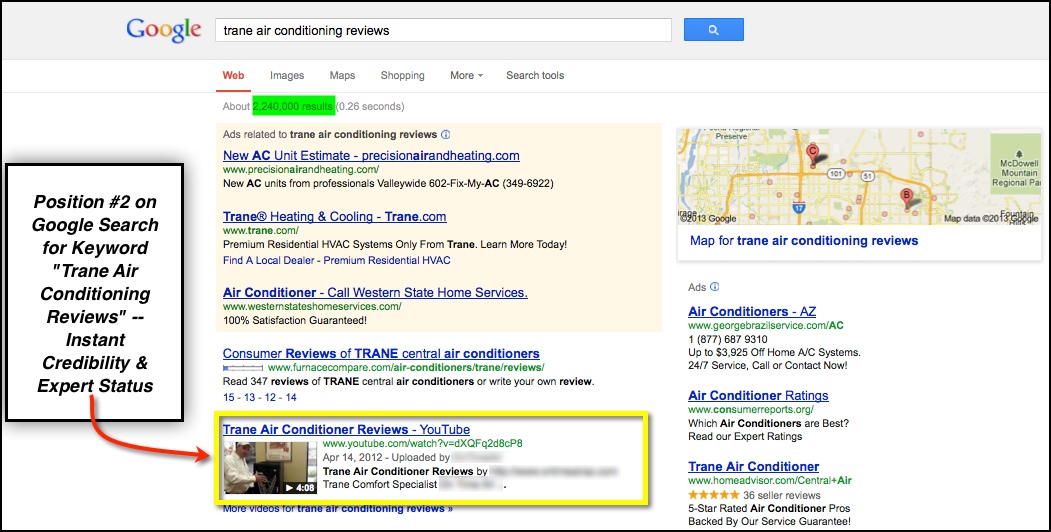 Engaging Business Customers on Facebook Page
Keeping a positive relationship with On Time Air Conditioning & Heating's Facebook followers showed that they truly cared about customer relations.
We took a non-existent social media profile and increased engagement while generating a post reach consistently of over 100.
Check out a snapshot of the results in the screenshots below.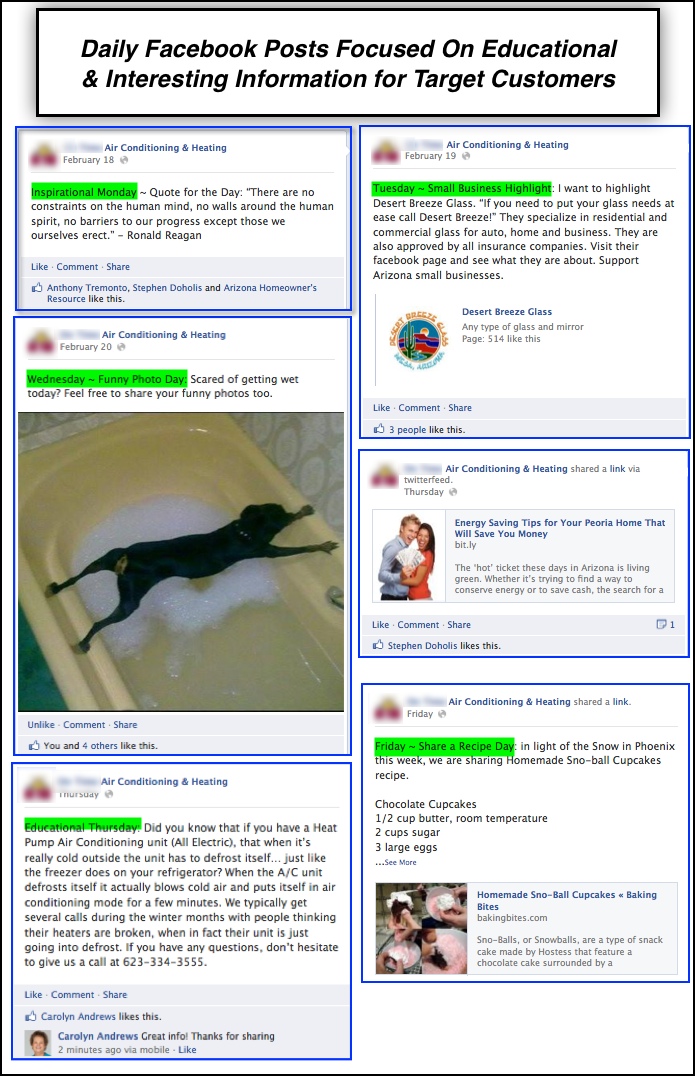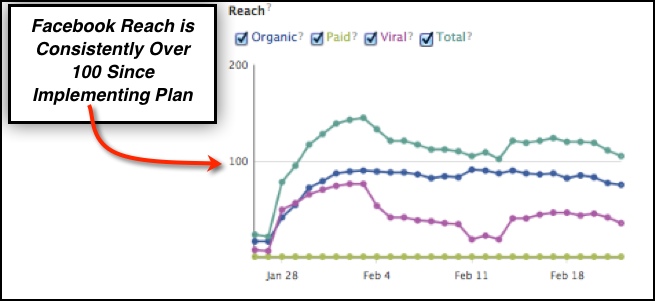 Cementing Brand Recognition with Successful Email Newsletters
Our most successful strategy for increasing On Time Air Conditioning & Heating's brand recognition and gaining repeat business was the implementation of a perfectly timed and relevant newsletter campaign.
Newsletter campaigns are some of the best ways to communicate to your target group.
Throughout the campaigns, we were able to produce an amazing 64% open rate and a click through rate as high as 13.8%: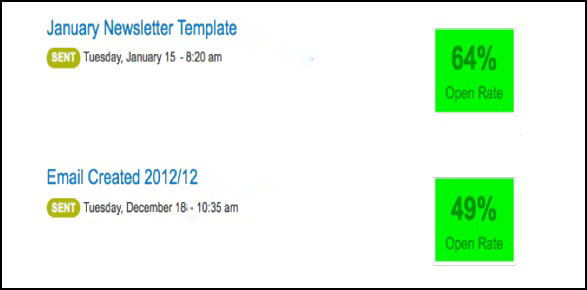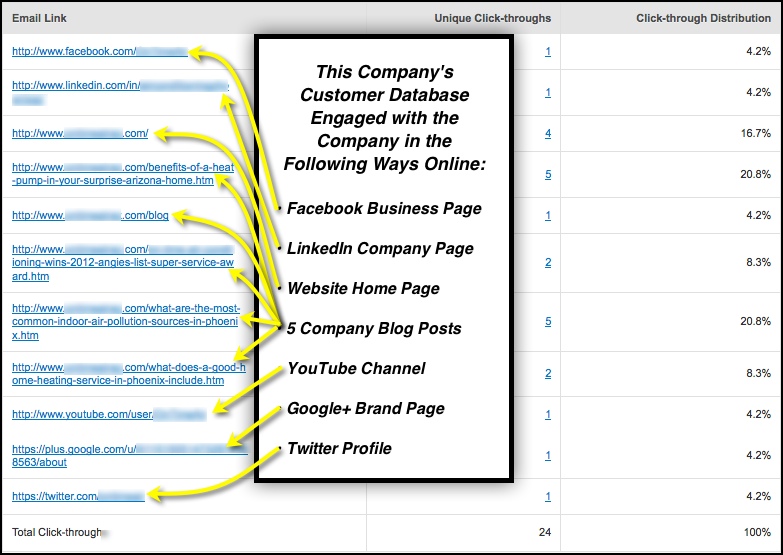 Tracking Phone Leads Produced By Online Marketing Efforts
We were able to successfully record the phone leads that came in by using a call tracking system.
Implementing this tracking system and our custom internet marketing strategy allowed us to generate a whopping 99 phone leads per month!
That's a significant improvement.
The screenshots below show how our complete custom marketing strategy helped propel On Time Air Conditioning & Heating to the next level.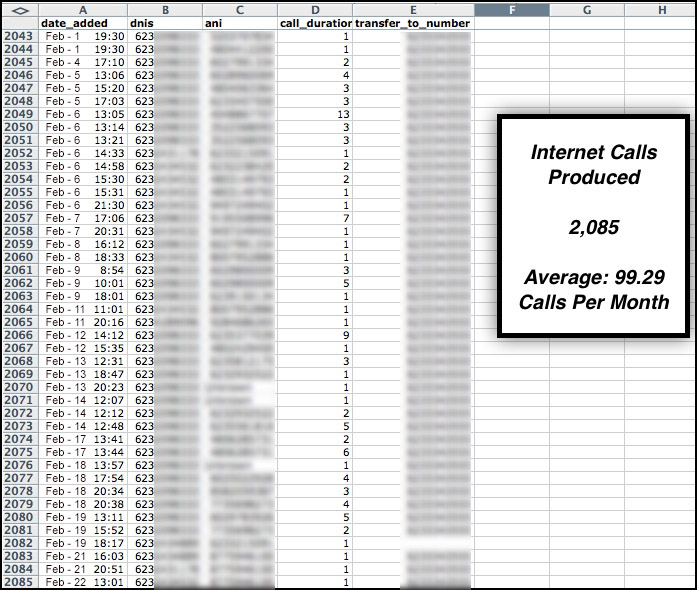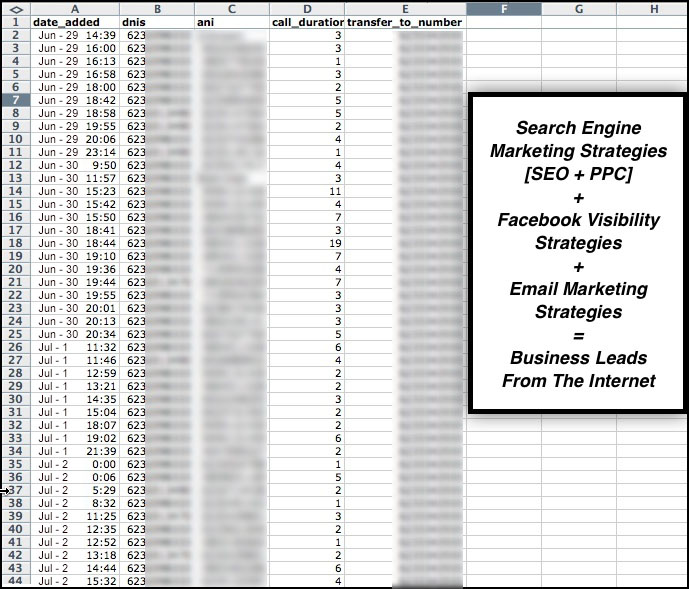 Let Us Take The Hard Work Out Of Internet Marketing
The partnership between our team and On Time Air Conditioning & Heating proved to be beneficial.
We produced a rock solid SEO marketing campaign to create an Unstoppable Online Lead Generation Machine for the AC and heating company.
These outstanding results show just how valuable the right SEO and online lead generation company can be for any business.
Here are the main highlights of the On Time Air Conditioning & Heating campaign:
Increased organic traffic by 138% by our search engine marketing campaigns from 4,831 website visitors in 2011 to 11,545 visitors in 2012.
Produced well-researched and highly targeted articles to produce 38 to 531 views per article.
Reached Google's 1st Page for YouTube videos in an extremely competitive field.
Increased social media engagement with Facebook.
Generated a Facebook post reach consistently over 100 people.
Very successful email marketing campaign that produced an amazing 64% open rate, and generated a click through rate up to 13.8%!
Generated 99 phone leads per month from online marketing efforts.
We also helped On Time Air Conditioning & Heating to:
Save Time
Partnering with Online Visibility Pros freed up a significant amount of marketing time that On Time Air Conditioning & Heating could be using to focus on answering those leads, going on sales calls, and closing deals.
The trial and error approach of designing a campaign themselves would have resulted in many business hours wasted on research and implementation. Our team's comprehensive and up-to-date marketing campaign reporting allows On Time Air Conditioning & Heating to stay ahead of their competition and expand on their rock solid digital footprint.
Save Money
On Time Air Conditioning & Heating realized that the impressive results of our marketing campaign would have taken months, and a great deal of money, to achieve themselves.
The costs of dedicated in-house employees, employee training, software, research and time spent would have added up too quickly.
Hiring our team freed up the company to do what they do best–serving their customers, while we saved them time and money by implementing time-tested strategies to grow their business.
The custom air conditioning & heating business internet marketing strategy put together by our team really hones in on each specific area that On Time Air Conditioning & Heating needed help with.
Then, using our team of highly qualified SEO experts, we implemented our unique system to produce the results that every business deserves.
These results certainly did grow their business in the right direction.
Let our team take care of your digital marketing by giving us a call.
Want More Traffic & Leads For Your Business Just Like These Guys?