Email Marketing Guide for Service Businesses
Sending a monthly email newsletter can seem like a daunting task for sure, but it's well worth the effort when done correctly.
In fact, a dollar spent on email marketing provides a return of $38 on average, which is a robust 3,800% ROI.
It doesn't much better than that when you're discussing business marketing return on investment.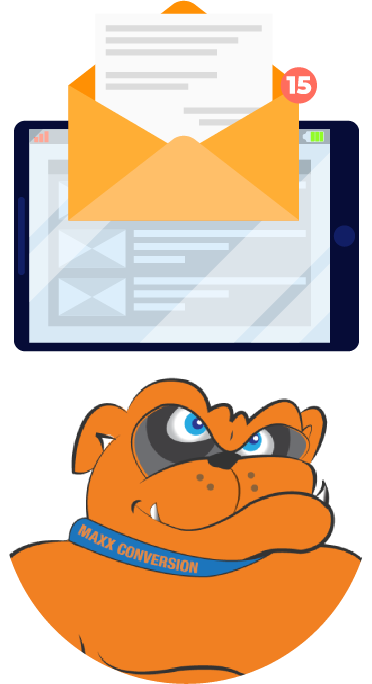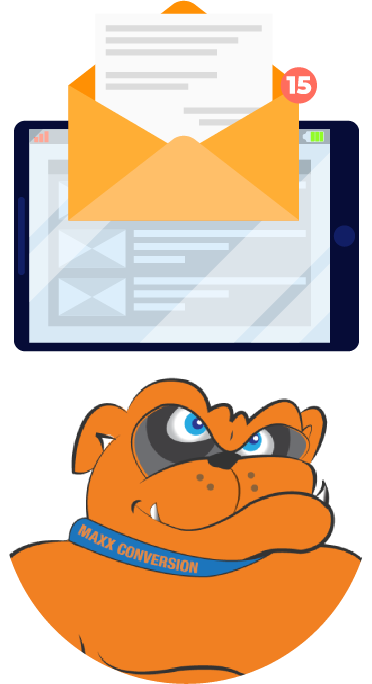 Email marketing can help drive more sales for your business including repeat and referral sales, increase traffic to your website and with the right tools, it's a lot easier than you think to implement a strong email marketing campaign.
So let's jump into my Simple Email Marketing Guide for Home Service Businesses to help you grow your business right now with email.
In my professional opinion, every single small business in the service industry should be running some sort of email newsletter (also called e-newsletter) on at least monthly basis.
They're very simple to put together.
It does take a little bit of time, energy and thought no doubt, especially when you're creating content specifically for your target audience, but email newsletters are highly effective when used properly.
Time and time again, email newsletters act like the "glue" that holds our client's marketing and communication campaigns together as their newsletters brings everything together for the people on their email lists very nicely.
E-newsletters can be very powerful when it comes to helping your customers and prospects get caught up to speed as far as what your brand is up to.
Whether it be important updates about your industry, or content that you've shared on your blog or YouTube channel, or maybe you have a new offer to announce, email newsletters can be that consistent form of communication that easily connects and nurtures your biggest business asset: your customers, prospects and your strategic partners.
Now pay close attention to this email marketing guide as it will help you in implement essential email marketing fundamentals and best practices into your company's newsletter program helping to ensure its ongoing success.
(The same marketing principles apply to your print newsletters that you drop in the mail as well).
Make Sure Your Company Looks Professional
Do what you can to make sure that your email newsletter template:
looks professional
is branded (looks like your website and/or other marketing material)
is formatted properly
is easy to read and scan
uses high quality images (stay away from any stock images, if possible)
With the branded template that you're going to create to help your business look good to whoever opens your email, you want to be able to add some key elements to your template.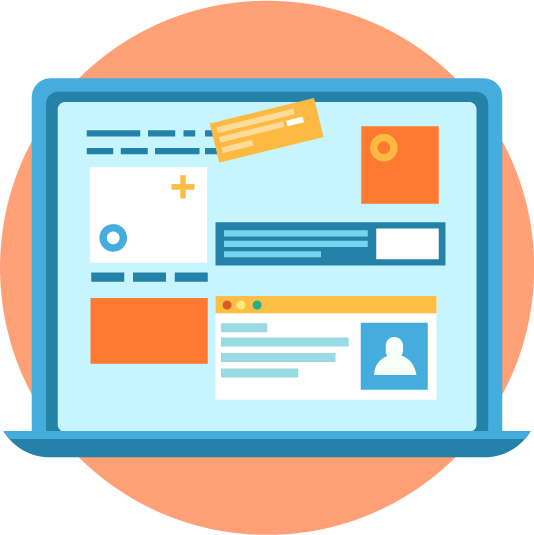 First, be sure to add your logo for easy recognition of who's business this is.
Next, you want to customize the colors in your template to match your company's brand in order to keep your brand as consistent as possible across all your marketing channels.
Be sure to keep the fonts consistent in your template and if you can match the font that is used on your company website, even better.
When it comes to adding personality to your images and avoiding royalty free stock images, you may insert want to insert different images of your team working on the job.
Authentic action shots can go a long way for your brand.
Alright so that's best practice number one… onto number two.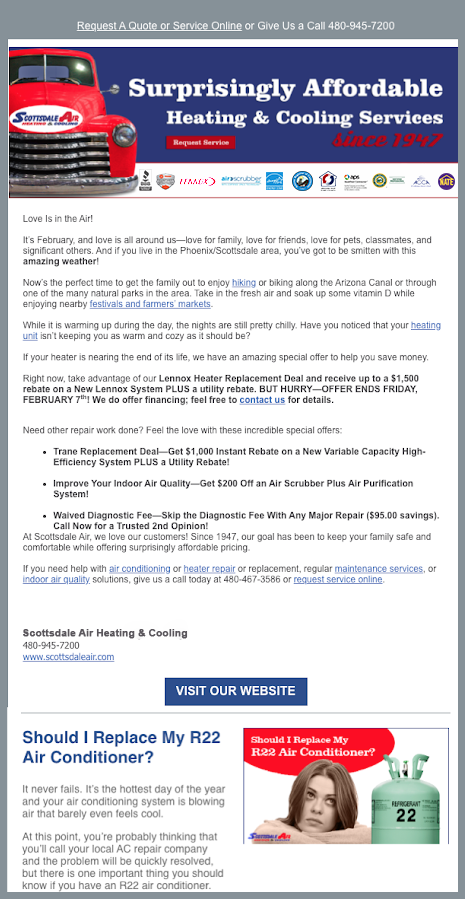 Create A Personal Connection
And how do we do that?
Well, we can create a personal connection right away by using a first name call out to start off your email copy.
(If you're using an email marketing software like Constant Contact® or MailChimp®, you can use the merge fields functionality within the software that allows you to easily grab each contacts' first name and add it wherever you place the merge field code).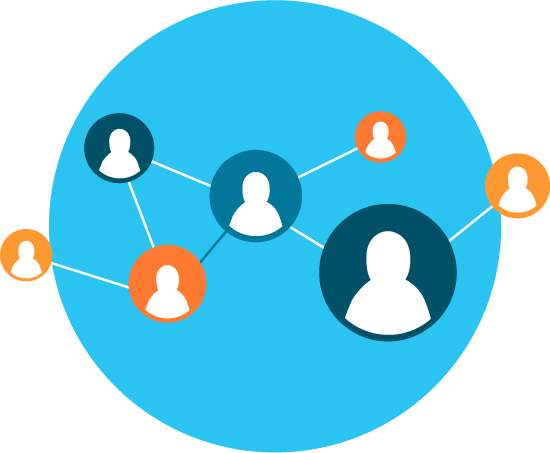 By simply using your email recipient's first name, you're calling out your prospect right there and they feel like the message is actually written specifically for them.
That right there is going to help each person that sees your email feel more involved in what's you're talking about giving you a better chance for that person to read the next line in your email and possibly the rest of your message, which is very important when it comes to effective email marketing.
Another great way to create a strong personal connection within your emails is to keep things conversational throughout your entire newsletter.
This is key.
I remember working with one of my clients who was in more of a scientific niche service where his company provided mold testing services as well as electromagnetic field and radiofrequency testing services, and I remember reading my client's emails and being completely confused.
They were speaking 100% science talk and it sounded like gobbley-gook to people that were the average person, like myself.
I was trying to understand what he was trying to say and I couldn't – it didn't sound conversational at all.
So be sure the language you use and the text that you add to your email newsletter is conversational in a way that people feel like they're in an conversation with you.
Here is a good example discussing indoor air quality (a somewhat boring topic) from a heating and air conditioning company:
"Hi John,

While drinking clean water is absolutely important, shouldn't breathing clean air be important to maintain a healthy lifestyle too?

The EPA ranks indoor air pollution as one of the leading health risks today.

The EPA estimated that pollution levels indoors could be two to five times higher than the pollution levels outdoors.

So speaking of outdoors, do you know what the air pollution index is in your area right now?

Here is a handy link you can use to check the daily pollution count in your area."
See, when you read this email, it sounds like I'm having a conversation with you, asking you questions and looking for you to take action in a non-invasive type of way.
More in a way that's actually helping you and providing you a valuable resource with a handy link to check the daily pollution count in your area.
That's awesome and this is exactly how an indoor air quality expert would look to provide great value to their email list by sharing something of value with no expectation in return.
It's important to understand who's actually on your email list.
When you understand who's on your list, you can then begin to profile your list in order to understand the different types of people and personalities that make up your email list.
This information allows you to create what's called a strong message-to-market-match with your email marketing efforts.
This is critically important because if you don't have a strong message-to-market-match in your emails, then the people on your list aren't going to be interested, they're not going to be engaged, and they'll probably not be too excited to open your emails again in the future.
So it's very important for you to understand who's actually on your email list and create content specifically for them that you know they will enjoy.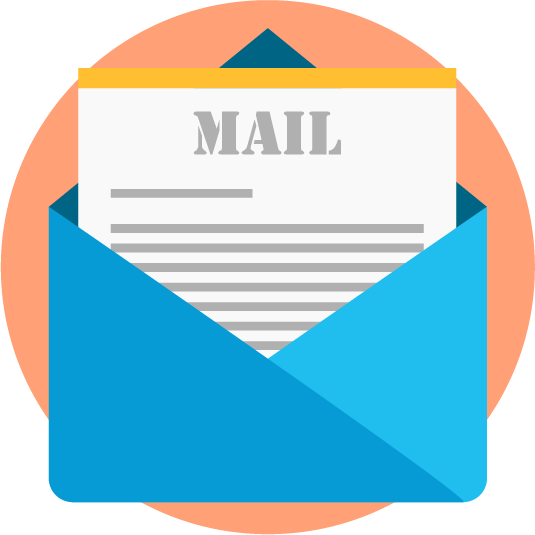 Always remember – if you're off on your message-to-market-match, your people will not engage with your content, they will not click on your links and they will not learn more about what you're trying to share with them.
This is a key component to getting more leads and appointments and increasing revenue for your business.
PRO TIP #1: Always be sure to add the right people to your email – customers, prospects, new referral partners, etc.
PRO TIP #2: Make it for people on your email list to easily to opt-out of receiving future email messages from you. This is 100% necessary as you do legally have to provide an unsubscribe link.
If you use Constant Contact® like many of our clients, they provide this tool called safe unsubscribe, which very easily automatically unsubscribes an uninterested contact from your email list.
It's no big deal if someone unsubscribes from your email list either.
It's actually better that they get off your list and not submit a spam complaint to your service provider because that can affect the performance of your emails that you send out.
Create Urgency With Your Offers
This secret alone can be a game-changer to your overall marketing efforts, but we're just talking about email newsletters here.
Creating urgency with your offers is crazy powerful when done right.
With that being said, here is a heating and air conditioning company client of ours that is promoting a Lennox® offer.
Lennox® is a brand of HVAC systems technology.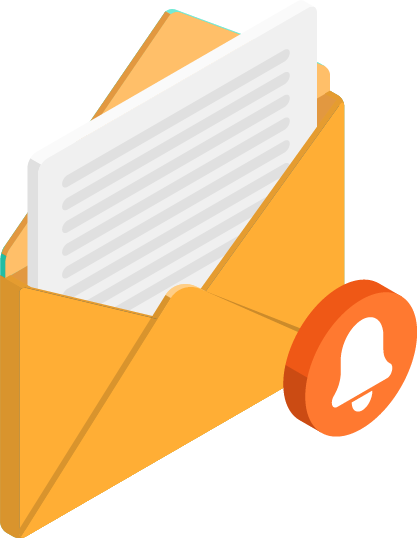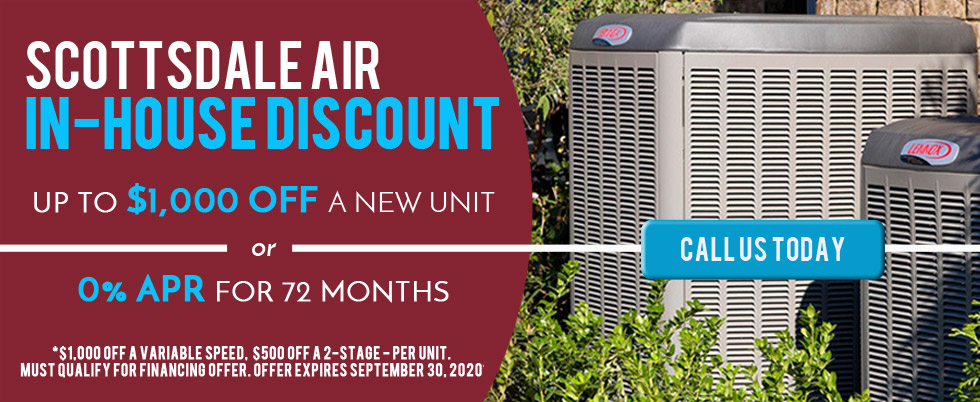 In this offer specifically, you can see down in the bottom of the screenshot that it actually says the Lennox offer expires expires September 30th.
By setting an expiration date of when to purchase a service or product from your company, you are creating urgency by showing the people on your email list there's a deadline to your offer and that they run risk of actually missing that deadline if they don't act in time, which creates a sense of fear of missing out (FOMO) on your great deal.
That is exactly what we're trying to do.
This is called direct response advertising.
In your email newsletter, you want to create a sense of urgency to entice your email list to take action now instead waiting until later and then ultimately forget about your offer.
So when your prospect sees your irresistible offer, they clearly see the deadline and then they're like:
"Ok. I gotta get in touch with [Your Company Name]."
Also, to make creating urgency even more effective, make sure it's easy for people to take action in any way the prospect desires – phone number, form on your website, email address, chat on your website, etc.
Make it really easy for people to take the next step with you business.
Do not create any road blocks for potential sales.
Here are a few tips:
Create a clear call-to-action so your people easily understand what to do next to take advantage
Make sure to clearly state the deadline

Make sure to clearly state the offer details

Make sure graphics are crystal-clear so people can actually read the text on the graphics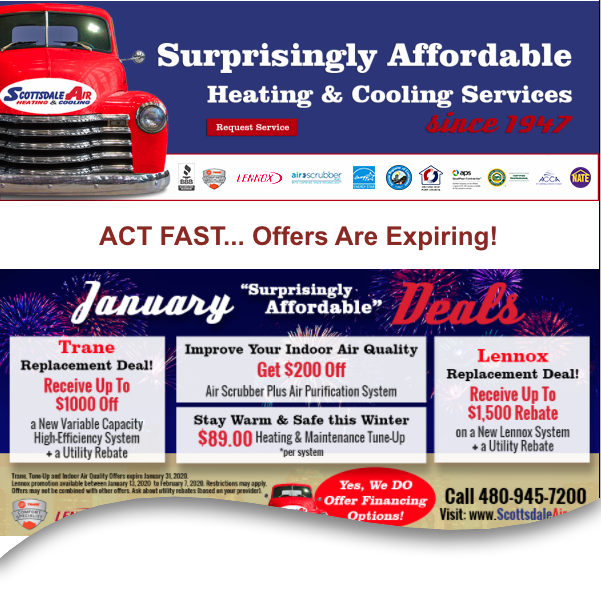 Use A Strong Subject Line To Get Your Email Opened
Effective subject lines that get your emails opened are essential to email marketing success.
Here's an example of one that performed well for a client:
"3 house plants that clean your air."
What?
Plants that clean your air, that's interesting.
That's the point.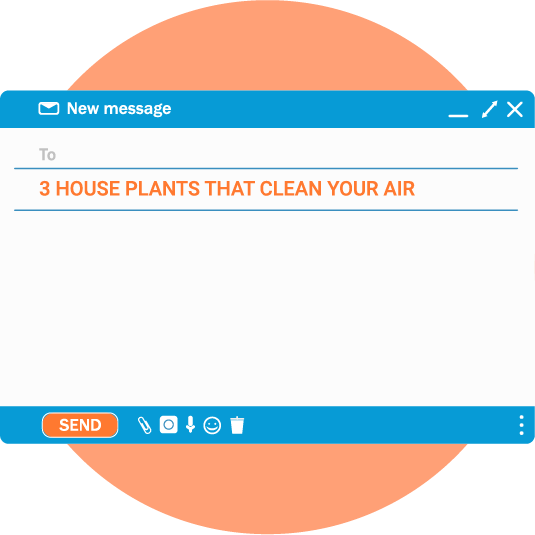 We're looking to create curiosity and intrigue that grabs your email recipients and gets them to open because they have to know more.
Email subject lines are basically your email's headline and it's a start to a slippery slope that you're looking to put into place to take those who open your email down when they start to consume the contents of your email.

Here are 8 tips to help you create strong email subject lines:
Aim for 5- 7 words – don't make your subject line too long.
Avoid sounding too salesy – you don't want to turn people off before they even open up your email, so be sure to focus on providing value in the email subject line.
Use action keywords so that you can get people to take action – people will take action more than you think simply by telling them what to do.
Use humor carefully – some people have a good sense of humor while others do not, so you do have to walk that line carefully and be sure not to go overboard with your sense of humor and potentially offending people on your email list.
Include a surprising stat – this can be super powerful as this strategy creates curiosity and people want to learn more so they go ahead and open to read more.
Be human – share something about what's going on in your own life, allowing you to be relatable to your email list in your subject line with something like, "I got scammed by this most recent thing online." Something that will be relatable to another human.
Don't yell – what that means is do not put your subject line text in all caps as it looks like you're yelling when you do that and we don't really want to act like we're yelling at our customers and prospects… we want to be friends with them.
Ask a question to engage curiosity – questions naturally engage curiosity so when you use a good question as your subject line, you'll be surprised at how many people open your email.
Emails with boring subject lines don't get opened, which means it's really important to make sure you have an enticing subject line.
Don't be boring – this is one of the main rules of thumb to effective marketing whether its online or offline… it doesn't matter.
Experiment to see which subject lines work best with your email list.
Which emails do your subscribers open and which ones do they not open?
This is all about testing and learning about your email list's personality, what excites them and what doesn't, what interests them and what doesn't.
Different subject lines will work differently with different audiences.
So definitely test different kinds of subject lines and different strategies to learn how to get your emails open.
Also, spammy subjects will get flagged or filtered.
So don't use words like free, sale, buy, click, deal, win, cheap, or dollar signs.
These are almost guaranteed that your email will be thrown into your contact's email spam filter.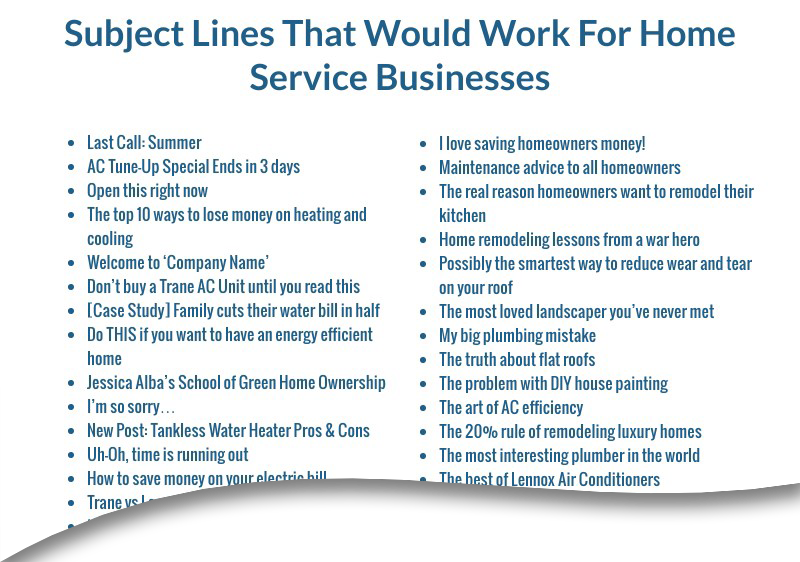 Share Your Newsletters On Social Media
When we publish our clients' Constant Contact® email newsletters to their email list, we also share it on social websites such as Facebook, LinkedIn, and Twitter.
What this means is that our clients are also posting their email newsletters to their social media followers helping to maximize their email marketing efforts and reach beyond just email.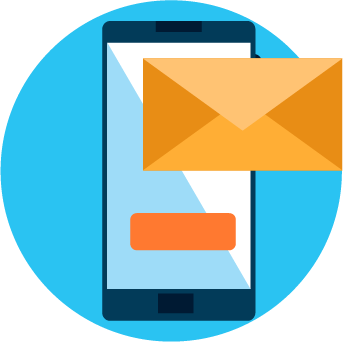 So if your company has a few hundred followers on your Facebook page, your LinkedIn company page and Twitter profile and you share your newsletter on these sites to your followers, you should get a small percentage of your followers that clicks and reads.
The other thing too is that with most email marketing tools like Constant Contact® or MailChimp®, you can embed social sharing buttons within the actual email itself.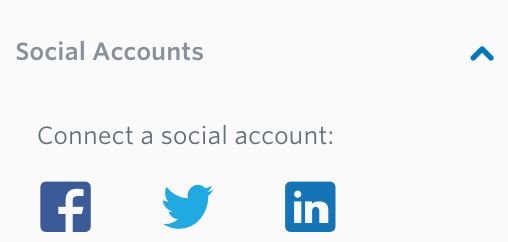 Make it easy for your email list to help you grow your business.
In this case, by simply allowing your list to share your email newsletter with their social networks, you are making it easy for you to grow your business with smart, simple automation.
Using Email Marketing Software
The top email marketing platforms for small service businesses to use are listed below.
I've bolded the ones we strongly recommend for your style business.
MailChimp®
Infusionsoft by Keep®
Aweber
iContact
Campaign Monitor
Convert Kit
ActiveCampaign
Drip
Hubspot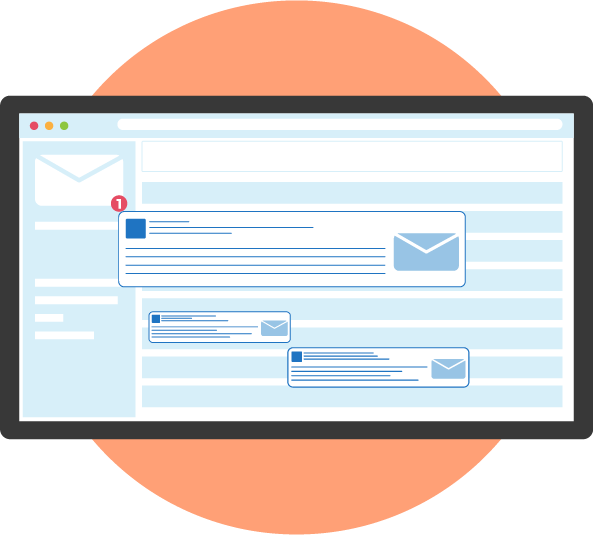 There are several more email marketing software programs out there that you can use for sure… some that are even tied directly into other software that you use for your business such as HouseCallPro, or Service Titan, or one the many others.
This is simply a short list of the best ones out there for small businesses.
As I've mentioned in this resource, we use Constant Contact® quite a bit for our small business clients.
It's a really simple platform to use with great customer support and good pricing (which mostly depends on your contact list size and how much power you want).

Here are a few of the top benefits to using Constant Contact® as your email marketing software.
You have the ability to build professional templates fairly easily
Their contact management center is simple to use
You can segment your list into different lists which is highly recommended
You can share your email newsletters on a handful of social media channels
They are top in their field in email deliverability which is essential for email marketing
There are many digital marketers fully qualified to help you run your newsletter for you (like Online Visibility Pros which has been a Constant Contact® All-Star Solution Provider for 6 years in a row)

Most important

– their customer service department is top-notch
Email marketing software allows you to send one email to several contacts all at once (a.k.a. e-blast), which is why email marketing software is very important for you to be able to reach your customers, prospects and strategic partners in the least amount of effort through email.
(You can start your Constant Contact® free trial here)
Everyone one of the mentioned email marketing software systems also have what we call email autoresponders.
An autoresponder is an automated drip email sequence that you can put together once and have it go out automatically for you after they fill out a form on your website.
Your autoresponder emails can automatically nurture your list for you, which can absolutely help you get more sales.
As an example to help you understand how autoresponders work:
Lets say someone signs up for a 10% discount off their first order with your business.
It would be a smart move for you to setup 3- 7 email autoresponders that go out automatically showing this person all the different ways to take advantage of the 10% off their first order.
This is a way that your sales team can work smarter, not harder by simply setting up email autoresponders to automatically nurture your new email list subscribers to help you get more sales.
With the recommended email marketing software platforms listed above, there's plenty of contact management capabilities where you can easily add new contacts to your list, and you see who's engaging with your emails.
All platforms are going to cover the same marketing metrics in their performance reports for the most part too.
Metrics like open rates so you'll know how many people open each email.
For example, if your newsletter gets sent out to 1,500 people and 600 of those people opened your email, this would give your newsletter an open rate of 40%.
In addition, we are able to see a metric called click through rate (CTR) so you're know how many people clicked a link that you provided inside your email.
What this means is If 600 people opened your email and 10% of them clicked a link, then that means 60 people who opened your email also clicked a link inside your actual email.
This is a really important metric to pay attention to as well.
You will also be able to see how many bounces your email produced, which means you'll know how many emails never hit the email inbox of the person that is on your email list.



This may be attributed to having either the wrong email address, a non- existing email address, an expired email address, or your email gets caught in a some email filter.
This is something that you will get used to as you start sending more and more emails.
Also, email marketing software makes it easy for you to identify who the unengaged people on your email list are, which makes it easy to delete those contacts from your list.
Why would you want to do that?
Because you want to keep your performance metrics good so your email marketing account stays in good standing with your email marketing software provider.
These companies do actually care about that stuff.
Lastly with email marketing software, you can track your unsubscribes.



Now don't get into a tizzy here if you see that you have unsubscribes on your email list.
It's ok…
It's normal.
It's part of email marketing.
If you don't see unsubscribes, you're probably not even getting people to open up your emails and reading through your content and determining whether or not this is something for them.
Again, its ok if people unsubscribe as they're not people who really want to receive emails from your company in the first place.
It's not that big a deal.
Now if you see a trend of a high number of unsubscribes, then you may want to check the content that you're sharing with people and find out whether or not it's totally appropriate for your list.
Simple Email Marketing Guide Recap
Hopefully this guide helps you better understand what local SEO marketing is and how you can boost your business's local online visibility with the techniques I covered.
First and foremost, focus on user experience when it comes to your website and online presence.
Be sure your target audience, your ideal customers or clients, are having the best user experience possible with your brand wherever they come in contact with it online.
Remember that your website should be responsive for easy viewing on all devices and should include all the essential pages I outlined above.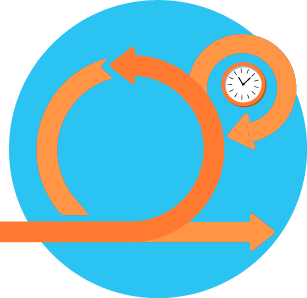 Make sure you have a personal conversation with your customer by using merge fields and pull in, for instance, the first name of the person on your contact list or your email list.
You can call that person out by their first name, which makes them feel special and like the email was made specifically for them.
Know who you're talking to as you want to know who your market is, who's on your email list and make sure that you are adding more people just like that to your email list.
When you know who's on your email list, it allows you to create a strong message-to-market-match, which will allow you to hit the nail on the head with your email.
By doing this, you're giving yourself a much better chance to have lifetime readers of your emails versus just one time viewers.
Next, be sure to have a clear and concise call-to-action.
Be as direct to your readers as you possibly can here.
In addition, give your email list subscribers the ability to take action in any way that they feel comfortable with whether that be through a phone call, or through clicking on a link and filing out a form.
Next, you want to make sure you craft a strong subject line that will get your emails opens.
There are a lot of different ideas when it comes to creating killer subject lines.
You can ask questions, you can have some randomness in your subject line, you can use a statistic.
Really the big thing is to grab the attention of your subscribers and making sure that they're enticed about what it is that you're sharing in your subject line.
Treat the subject line as your email headline, which is a promise to your subscribers on what they're gong to read inside your email.
The more enticing your subject line is, the more opens and views your email will get.
That's the first goal we're after here – getting your emails opened and as many eye balls on your content as possible.
Make sure you share your email newsletters on social media.
Whether that's through the email marketing software, or through a third party software or by manually posting on your social channels.
Make your email newsletter social friendly.
Lastly, make sure you take advantage of email marketing software like Constant Contact®, MailChimp®, or whatever's appropriate for your business.
Creating & Sending Your First Email Newsletter
Now that you know how valuable email newsletters can be for a small service business like yours, I bet you're excited to start sending profitable newsletters for your business.
Building Your Email Newsletter Template
Do you want guidance in helping you build the perfect email newsletter template for your business?

Do-It-Yourself Email Marketing Training Course
Do you want guidance on how to manage your email marketing efforts each and every day for an entire year?
eBlast 365™ is Online Visibility Pros' Do-It-Yourself email marketing training resource that takes you by the hand on how to run a profitable e-blast campaign for the entire year.
The training course includes your marketing calendar, professional email templates, and much much more for only $57.
Learn more about E-Blast 365™ here

Done-For-You Email Newsletter Marketing Services
Do you want your email newsletters built, scheduled, published and managed by an expert email marketing team FOR YOU?
If you're feeling overwhelmed when it comes to managing your company's email marketing efforts or just don't feel like you have the time to do it, our award-winning email marketing team can help you.
Click here to learn more about Maxx Email™, our award-winning done-for-you email newsletter services where our team does all of the heavy lifting for you.

Your only responsibilities would be to:
collaborate with your account manager about your offers
review and approve the email drafts that we send your way before scheduling and publishing
and field all email replies and sales queries you receive after each email send
Thanks so much for consuming my simple email marketing guide for home service businesses.
Now go cash in by sending your first profitable email newsletter.
Want to embed this infographic on your website?