CPA Email Newsletter Averages 53% Open Rate - Email Marketing Case Study
Online Visibility Pros helped Joselit CPA execute the perfect marketing strategy to help turn their stale database into an
Unstoppable Lead Generation Machine
for their accounting firm.
The Backstory
Joselit CPA wanted to figure out a new way to effectively communicate with their current clients and increase referral business and they wanted to do all of this without breaking the bank. The firm decided to hire the email marketing experts and start off with a fully customized email newsletter campaign run through Constant Contact and it was nothing short of remarkable.
Read on to learn how Online Visibility Pros helped Joselit CPA achieve an incredible 53% average open-rate on their email newsletter campaign!
Our initial strategy call with Joselit CPA allowed us to understand their goals, conduct research into their digital footprint, and design an in-depth plan for overcoming their weaknesses and harnessing their strengths to produce results. And, thus, an Unstoppable Lead Generation Machine< for Joselit CPA was born.
Online Visibility Pros and Joselit CPA identified one major objective to achieve their goals:
Establish Email Connection With Current, Future & Past Clients
Email Newsletter Marketing – Joselit CPA asked us to find the most direct method of communication with their current and potential clients. So, we helped them design easily accessible and digestible e-mail newsletter campaigns. This quick and cost-effective strategy allowed Joselit CPA to stay fresh in the minds of everyone on their e-mail list; so, when someone needs accounting services, they'll call Joselit CPA first.
One Extra Feature Was Added To Their Campaign…
Branding Social Media Profiles – Social media profiles were a great way for Joselit CPA to forge more direct and personal relationships with their clients. Expanding their social media footprint allowed Joselit CPA to showcase their services and establish their brand as a leader in their industry. Providing multiple channels for customers to stay in-the-know about services, specials, and interesting articles allowed Joselit to establish authority in their field and provide more ways for clients to reach out to them for help in a digital age.
Joselit CPA's new e-mail campaigns produced an average 53% open rate on email newsletters! on their e-mail newsletters! This high response is practically unheard of. This fantastic open rate led to generated up to 21.2% clicks for immediate website visitors – not a bad day's work to stay top of mind and generate repeat business.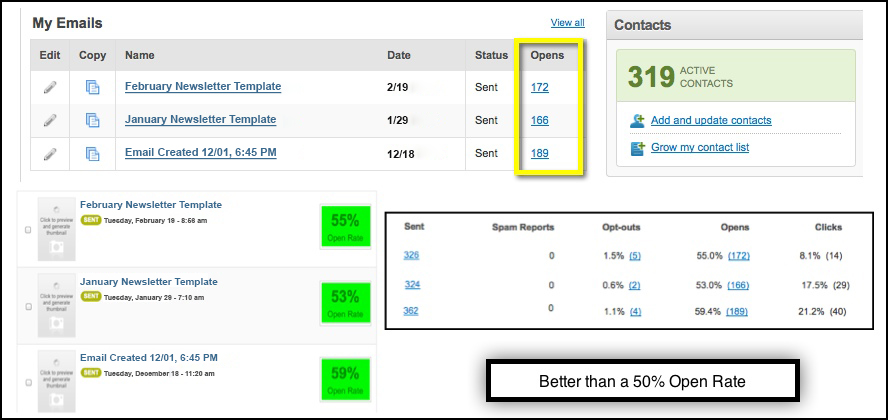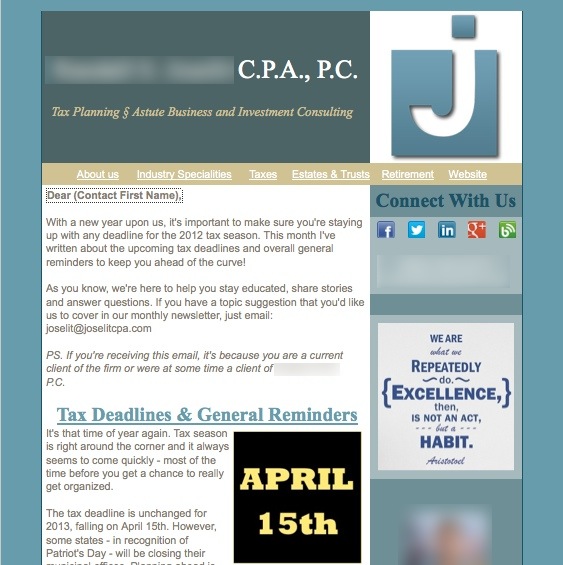 In addition, enhancing Joselit CPA's digital footprint produced impressive results as their newly optimized and branded social media accounts created an immediate increase in overall client trust.
Joselit CPA had one goal in mind when they came to us: They wanted to implement additional avenues of communication for potential and current clients. Their partnership with Online Visibility Pros proved to be more beneficial than they had hoped. Online Visibility Pros executed the perfect marketing strategy to help turn their stale database into an Unstoppable Lead Generation Machine for their accounting firm, which will position them in a place to thrive and grow in the years to come.
Campaign Highlights:
Produced an average 53% open rate for email newsletters.
Generated a 21.2% click rate from email newsletters.
Increased trust and authority through Facebook, Google+, LinkedIn, Twitter, and YouTube profiles.
In addition, Online Visibility Pros helped Joselit CPA:
(1) Save Time – Online Visibility Pros handled all of the implementation of new  communication tactics that helped produce results quickly and painlessly. Instead of wasting time researching and integrating strategies themselves, Joselit CPA was able to fully focus on serving their clients while Online Visibility Pros generated continuous online leads to build their business.
(2) Save Money – Implementing an online marketing campaign on their own would have cost Joselit CPA an immense amount of money between hiring staff, investing time, conducting research, and procuring software. Joselit CPA saved money and received an impressive return-on-investment by enlisting the expertise of Online Visibility Pros.
Enhancing Joselit CPA's online digital footprint and establishing a small business email marketing strategy that worked was no easy task, but the Online Visibility Pros team prides themselves on producing top quality work with amazing results. Generating online leads is our specialty, so partnering with Online Visibility Pros ensures every client knows that their time and money is well-spent and achieving real results.
Want to embed this infographic on your website?