Well Pump Contractor Invests in New Website & SEO to Build Lead Generation Machine in 90 Days
Well pump contractor generates an unstoppable flow of leads from Google and the other search engines after investing in a new website design and a strategic local search engine optimization campaign that included using company videos.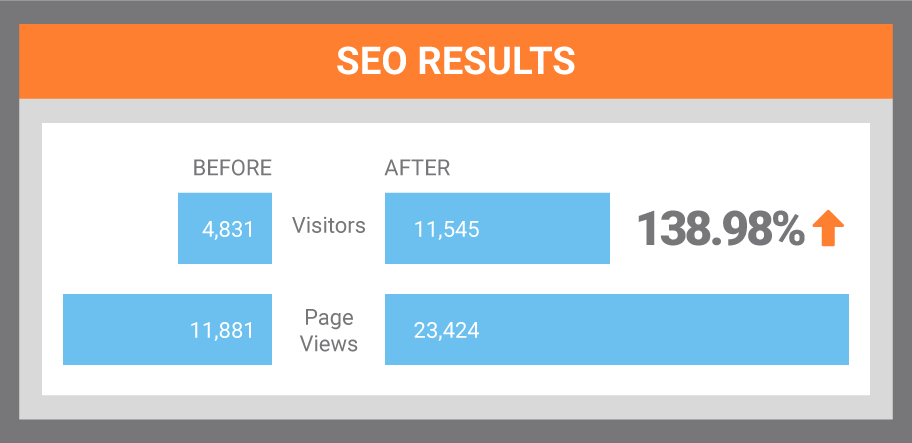 Client Backstory
Empire Pump Corporation approached Online Visibility Pros because they were concerned that their lack of an established online business presence was causing them to miss out on valuable leads from customers searching for commercial and residential well pump services in Arizona.
Empire Pump Corporation had recently expanded their business by absorbing Duncan Pump and operating a separate entity, Pump It Up Pump Service, Inc., for residential well pump customers. This left their potential customers confused and unable to find them online.
When they did find their website, it didn't inspire trust, instead, it showcased broken video players and inaccurate social profiles, making these useful tools more detrimental to their business than they were beneficial.
Empire Pump Corporation and Pump It Up Pump Service, Inc. desperately wanted to establish themselves as authorities in the Arizona well pump business. . They wanted their website to work for them by increasing online lead generation and consistently producing water well pump repair and installation jobs.
Read on to find out how Empire Pump Corporation and Pump It Up Pump Service, Inc. went from NOT generating any online leads, to generating over 20 phone calls within the first 90-days! This would put them on the path to becoming the preferred well water contractors in Arizona.
Our strategy call with Empire Pump Corporation and Pump It Up Pump Service, Inc., allowed us to conduct research into their online presence and form a strategic plan for a complete overhaul of their website. In short, we needed to drastically increase the functionality and user experience.
We would create a custom well pump contractor website lead generation strategy in order to achieve our desired results. Our plan included creating a new responsive website, installing working video players, and adding informative water well pump information. Additionally, we needed to strengthen their weak digital footprint by claiming social profiles and updating them with the most recent company information
Overall, we needed to establish an Unstoppable Lead Generation Machine, that would benefit them for years to come by drawing in high-targeted and profitable leads.
To achieve this goal, we established the following sub-goals and objectives:
Transform website into tool that converted traffic to leads and represented the company in the best light
Improve keyword rankings on Google Maps — not very visible at the start of campaign
Improve organic keyword rankings on Google.com — started on page 2 and 3 for most keywords
Claim, brand, and optimize social media pages on major social media websites
Claim and optimize profiles on most popular online review websites
Create a rock-solid digital footprint for both companies online
Rank videos on first page of YouTube and Google
Website Development – Our web design team created a new design and layout to drastically improve the user experience and convert visitors into qualified leads. We used time-tested conversion optimization methods, industry best practices, and cutting-edge techniques to maximize the performance of the new website. To achieve a more user-friendly website, our web development team created a responsive design and layout that incorporated embedded video players, created easy to navigate pages, and seamlessly integrated two companies into one website. These strategies created a higher visitor engagement rate and secured more leads.
Social Media Page Development – Next, we focused on their social media accounts (or lack thereof). Our marketing team secured social media accounts on websites like Facebook, Google+, LinkedIn, and YouTube. We then leveraged these sites to share consistent, informative posts that would establish Empire Pump Corporation and Pump It Up Pump Service, Inc. as authorities in the water well pump industry. These actions immediately elevated their creditability and helped establish a great social media foundation to build on going forward.
Google My Business – The most unique challenge we faced was with Google's name, address, and phone verification program, Google My Business. Because two businesses were listed on the same website, we had to make sure that Google matched each one correctly in its search results. We were able to successfully achieve verification from both companies by updating the addresses through Google, including the previously merged Duncan Pump.
The search engine marketing specialists at Online Visibility Pros to achieved immediate and impressive results with their contractor website lead generation strategy. In 90 days we generated 14 phone leads for Empire Pump Corporation and 10 phone leads for Pump It Up Pump Service, Inc. Additionally, we were able to improve their Google Map rankings considerably for both companies, and we took ownership of up to 90% of Google's first page for organic search results! This generated 1,497 Google search views for Pump It Up Pump Service, Inc. and 1,334 for Empire Pump Corporation. These organic search results include blog posts, website pages, social media profiles, and videos. The variety of content available helped to create a rock solid digital footprint for both companies.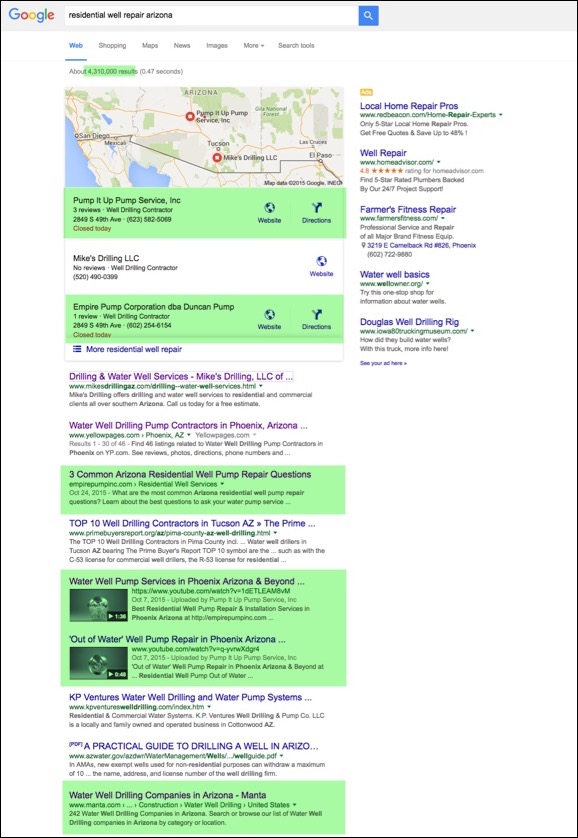 Highlights – Online Visibility Pros took Empire Pump Corporation and Pump It Up Pump Service, Inc., to the next level by generating an additional 20 phone calls. We also produced an astounding 90% ownership of organic search results on Google. We even ranked 8 videos on the first page of YouTube for related keywords.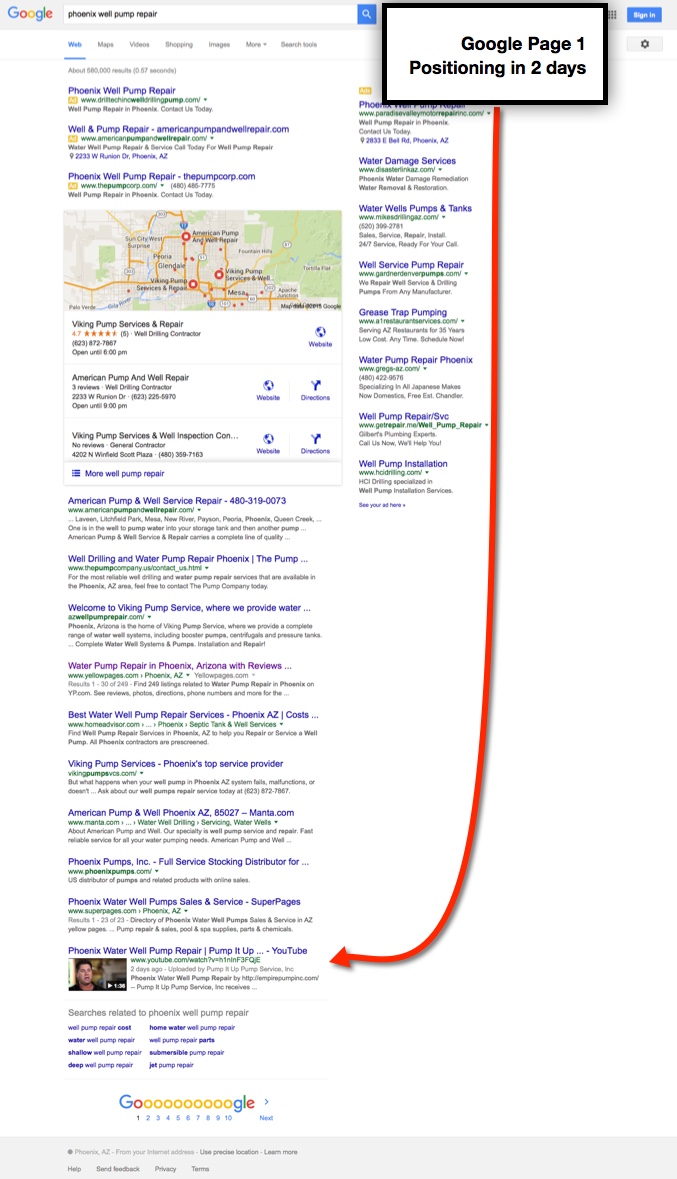 I can't say enough about Online Visibility Pros! They have gone above and beyond to help us grow our business. They also have a lot of creative ideas and tools! Thank you OVP.
We Built a Website Set Up to Convert Visitors into Customers – Creating a more user-friendly website that caters to Google's algorithms was key. Transforming their original site with a fresh, responsive design, working video players, unique information about their services, and a direct call to action helped immensely.
We also optimized their website for mobile devices because, in 2015, Google began ranking mobile-friendly websites higher than non-responsive ones. Check out the difference between their old, non-responsive website and their newly transformed responsive one below!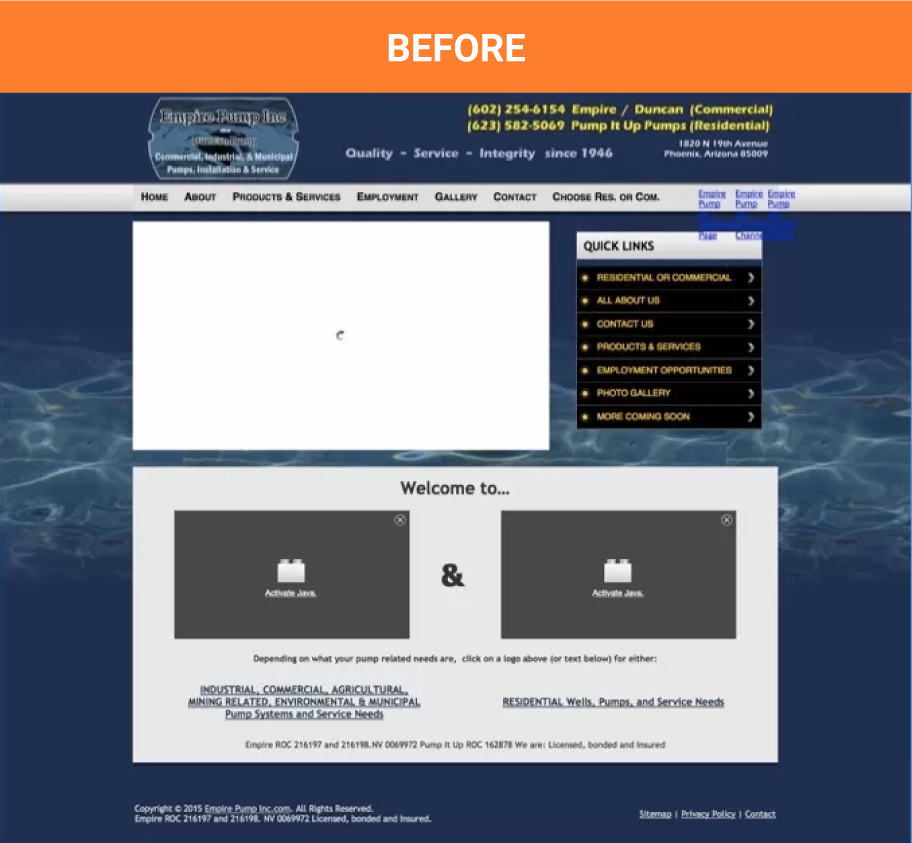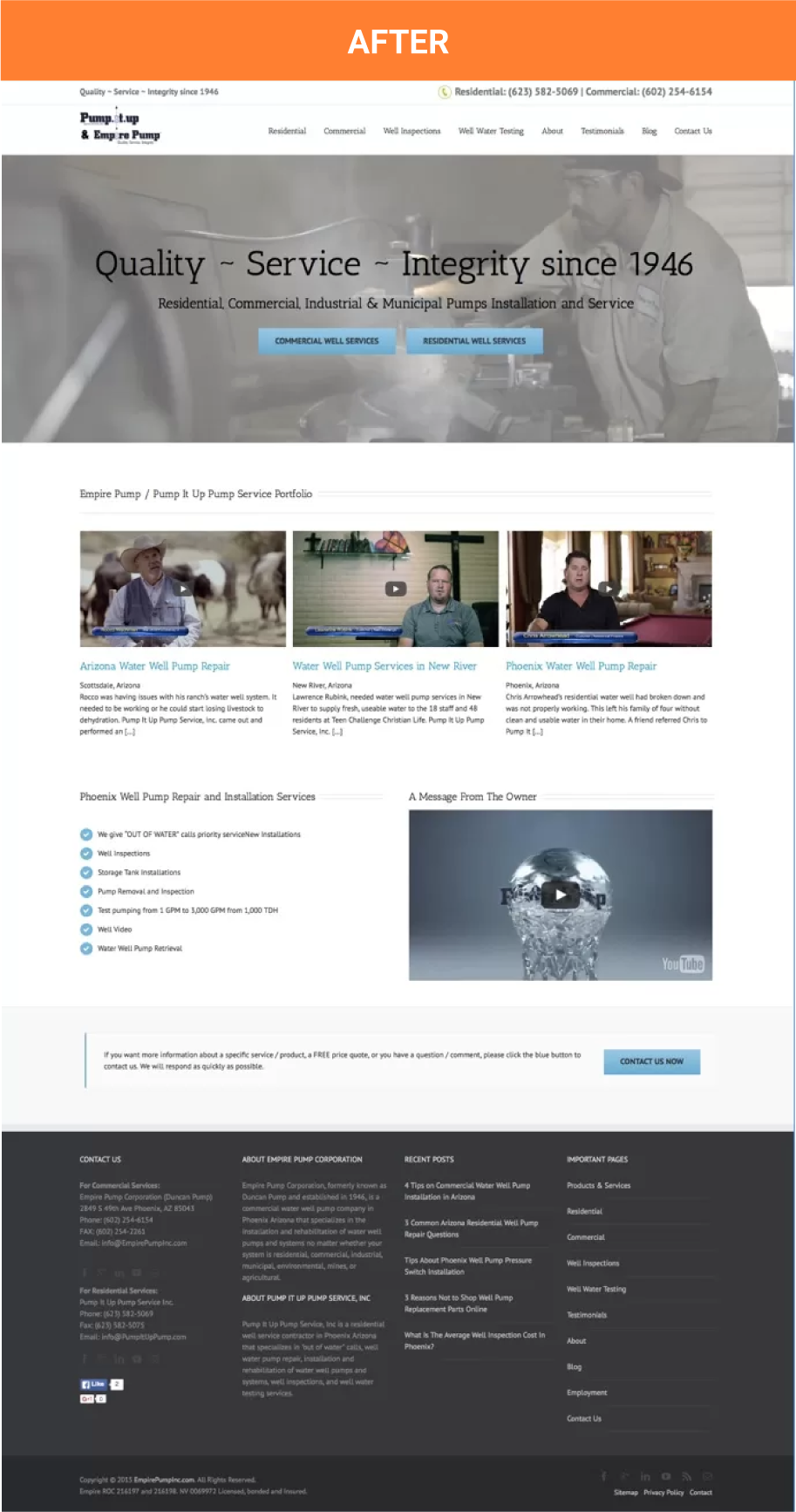 Ranking More than Just the Company Website – Our SEO team implemented a unique strategy to rank on the 1st page of Google for up to 90% ownership of organic search results. Using keywords like residential well services Phoenix and commercial well services Phoenix, the company was able to take ownership of 1st page positions for these 8 types of pages:
Their website homepage
Their website service pages
Their website about page
Their Yelp business page
Their Yellow Pages business page
Their Manta business page
Their YouTube videos
Their map listings
That's UP TO 90% ownership of organic results on Google Page 1!
Leveraging Social Media Profiles – By leveraging previously unused social media platforms and creating informative, unique, and sharable content, we are able to establish trust with both current and potential customers. Properly branding and optimizing the social media accounts for both companies added a professionalism to their image that was previously lacking. This further drove up their perceived authority for their customers.
Very Successfully Organic SEO Methods that Increase Traffic and Lead Generation – The screenshots below show Google Business Insights for Empire Pump Corporation and Pump It Up Pump Service, Inc. They showcase the increase in organic search impressions, Google+ page views, and phone call lead generation for both companies. Within the first 90 days of our campaign we were able to increase their Google search impressions to close to 1,500 per company. We also brought in a combined 20 phone calls about their water well pump services!
Now that the foundation is built, their website continues to harvest prospective leads using our time-tested and proven SEO techniques.
The partnership between Empire Pump Corporation, Pump It Up Pump Service, Inc., and Online Visibility Pros was formulated for one reason: To create an Unstoppable Lead Generation Machine, that would draw in high-targeted and profitable leads from the Internet. These two companies are well on their way to acquiring consistent leads based on the amazing results achieved in just 90 days.
Here are the main highlights of the Empire Pump Corporation and Pump It Up Pump Service, Inc. campaign:
The companies now own up to 90% of Google's 1st page for organic search.
Ranked 8 videos on the 1st page of YouTube for multiple keywords.
Improved Google search engine rankings for keywords below page 2 to Google's 1st
Integrated social media profiles and regularly post unique, sharable content.
Generated 20 phone leads from strategic SEO campaigns.
Transformed old website into a responsive, user-friendly lead generation machine.
Ranked 2 businesses for Google Maps on the same website.
Just as importantly, Online Visibility Pros was able to help Empire Pump Corporation and Pump It Up Pump Service, Inc. in two valuable areas:
(1) Save Time – They did not have to worry about trying to do the work themselves or hiring a multitude of in-house employees to build their web presence. They knew Online Visibility Pros would produce results and keep them informed on the progress with detailed marketing reports. This freed the companies up to do what they do best: water well installation and repair.
(2) Save Money – Hiring Online Visibility Pros produced unprecedented results in just 90 days and energized the businesses to further expand their prospects. Hiring in-house employees, providing training, and experimenting with marketing techniques would have proved both cost-prohibitive and time-consuming. Our unparalleled marketing team with time-tested expertise got the job done more quickly and cheaply than would be possible in-house.
Want to embed this infographic on your website?