VERY IMPORTANT…
Thank you for taking the time to complete the Online Visibility Score questionnaire. The Custom Results for your business will be sent directly to the email you provided on the previous page and should arrive shortly.
If you do not see an email from "Online Visibility Pros" in your email inbox, be sure to check your spam or junk folder.
Dedicated to helping small businesses do more business & save more time,





.
.
Step-By-Step Instructions To Retrieve The Online Visibility Score For Your Business
(1) Check your email inbox

..
(2) Download PDF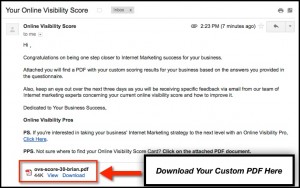 .
If you don't see the above email from Online Visibility Pros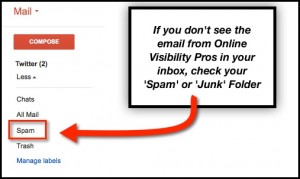 .