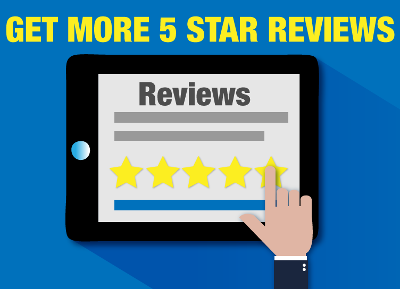 Get More 5-Star Customer Reviews On Autopilot For Your Home Service Business.
Introducing MAXX Reviews, a revolutionary software tool to manage your company's online reputation.
*Sign Up For MAXX REVIEWS This Month & Get A Special Discount On Your First 12 Months! Expires August 31st*
---
MAXX Reviews – Overview Video
---
Features
Easily Get More Reviews

Start collecting reviews anywhere… all you have to do is add your review code snippet in your email signatures, on your thank you pages, or sent it to your email list. When someone leaves you a 4 or 5-star rating they are prompted to share on the sites you care about the most! If someone leaves you a 1-3 star rating and is unhappy with the service, they are prompted to send you a message privately – giving you a chance to handle the issue directly.
---
Get Reviews on The Sites That Matter

There are a lot of different review sites out there that you may be looking to boost reviews on. With our review software, you can choose which site(s) you want your positive reviews on. We are connected to over 50 review sites including Google, Yelp, Facebook, Home Advisor, AngiesList, and more!
---
Prevent Negative Reviews

All it takes is one small misunderstanding, and that can trigger a bad review online. Most of the time, these misunderstandings can be resolved if you know about the issue and can do something about it. By pre-qualifying reviewers, we're able to direct people who have left a negative review on a form that allows them to handle the issue privately. This gives you a chance to solve the issue before they leave a public review.
---
Add Reviews To Your Website

Having the opportunity to showcase 5-star reviews across your website is a great tool to leverage. With so many people trusting and believing in the review systems that are on the internet, you can really showcase your company in a way where you're not boasting about how great you are, but your customers are! With a simple snippet of code, you can add your reviews anywhere on your website!
---
Review Reporting

Maxx Reviews comes with a monthly PDF Report that will be emailed directly to you so you can stay in touch with the following KPI's for your businesses online reviews:

Overall Average Rating
Business Ratings Distribution
Review Volume & Distribution
Aggregate Reviews & Ratings Over Time
Individual Review Details
---
Auto-Post To Social Media

When you get positive reviews it's important to share them with the world and you can do just that with the Maxx Reviews Auto-post system. Share your positive reviews on social media so people can hear from your happy customers and keep the positive vibes coming. We hook up your social accounts, and the software does the rest!
---
How It Works
Step 1 – Install the MAXX Reviews Widget
Once you sign up we will install your custom widget, we can place it anywhere you want – on your website, your thank you pages, your email footer, or send it to your email list.
Step 2 – Your Customers Rate You
Customers can rate you on a 1-5 star scale. Anything less than 4 stars will lead the reviewer to a private contact form that will notify you. This allows you to handle communication privately, preventing a public negative review. All 4 or 5-star raters are then asked to choose from multiple review websites to share their review on – maximizing that new review!
Step 3 – Your Review Scores Explode
With your new system for collecting and monitoring all of your review sites, you can sit back and watch your reviews grow on the sites that matter most to you. This helps your company build more trust, more online leads, and ultimately more business and revenue. You can also showcase the positive reviews you've collected on your website through a live stream that displays your top reviews.
---
Check Out The MAXX Reviews Packages
*Sign Up For MAXX REVIEWS This Month & Get A Special Discount On Your First 12 Months!
Expires August 31st*
MAXX Reviews Subscription
1 Location License

Review Acquisition System

Embeddable Widget

Email Signature Widget

Prevents Negative Reviews

Over 50+ Review Sites

Collect Unlimited Reviews

Automate Asking For Reviews

Outbound Email Campaigns

Review Alerts & Reporting

Monitor Major Review Sites

Get Review Alerts

Monthly PDF Reports

Review Alerts & Reporting

Monitor Major Review Sites

Get Review Alerts

Monthly PDF Reports

Review Promotion

Autopost Reviews To Social Media

Display Reviews On Your Website

$197

$97


Per Month
---
---
F.A.Q.
Can I see how the software works?
Absolutely, just click here
How long does it take to get set up?
About 3 to 5 business days. Once you sign up for MAXX Reviews we will ask you fill out a getting started form that allows us to collect a few details from you about your business. From there, our team will get to work on the set-up.
How do I know when bad reviews are generated?
You will be notified via email. All you have to do is let us know what emails you want to be notified about 1-3 star reviews. You will also see a detailed view of all reviews on the monthly PDF report.
Can I set up review alerts?
Yes! We can send you a notification with every new review you receive. Just let us know what emails you want to be notified.
Do I have to do anything after I sign up?
Not much… You'll be asked to fill out a form so we can set your review system up properly. Once your new review system is set up, our team will send you instructions on how to add the review widget to your website.
Finding a turn-key online review system for your home service business is a critical step in today's competitive and review-centric world. If you have more questions that were not answered in this F.A.Q. section please reach out by calling (888) 593-0505 or send us an email.