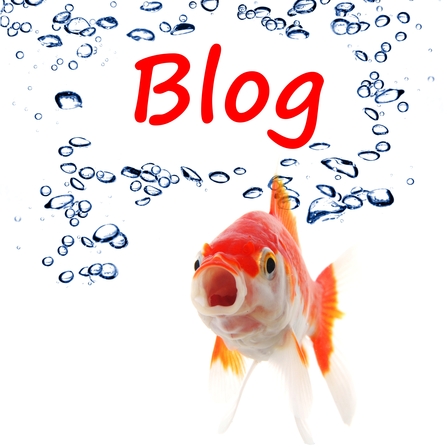 Today we are going to talk about how starting a business blog your blog can improve your social media marketing efforts but first; have you ever wondered about all those "human signs" you see on so many street corners? They're called "human directionals" in the advertising biz and they are usually dancing and twirling an arrow shaped sign that says "We Buy Gold" or "20% Off Today Only" or some other "short, compelling message." Their purpose is to attract attention and drive traffic to the advertiser's store.
In a sense, social media platforms are a lot like those human directionals.
While the content you use on social media platforms may not be as over the top as that used on an arrow sign, the idea behind social media marketing is to hang out on a busy corner, attract the attention of your targeted market and drive traffic to your store (website). Facebook for example, is a pretty busy corner with over a billion people going by and somewhere in that billion are your customers and prospective customers.
The "we buy gold" twirler isn't interested in the thousands of cars zipping by; he's only interested in the nine or ten that are thinking about selling their gold watch. The same goes for your social media posts. You want a specific community and if you're smart your "arrow sign" will point to informative, engaging and irresistible content from… your blog.
Make Your Blog the "Mother of all Social Media"
As important as the rest of your website is in the sales process, your blog is your principal tool for driving organic search traffic and more importantly, building your reputation among the market you are targeting. The blog content "rewards" those folks who followed your "arrow signs" on Twitter, Facebook etc. If that "reward" is satisfying enough, you'll have visitors not only coming back but telling their friends as well.
Here are a few reasons why the content on your blog can greatly enhance the performance of your social media marketing.
The blog belongs to you and you make the rules. There are no limitations on the number of characters or the type of media you use on your blog. Anything that your website can support, videos, podcasts, infographics, photos, charts, maps etc. can be included in your blog post making it a rich, unique experience for the visitor.
The blog is part of your site meaning you can have detailed analytics. You'll know what subjects resonate with an audience and which don't. You'll know how much time a visitor spends on a post and where they went next. Having this kind of data allows you to always post "popular" content that is more likely to draw the crowd you're looking for.
Regularly scheduled blog posts provide the search engines with the fresh content they love. Again because the blog is part of the website you can use Webmaster Tools and get those posts indexed quickly.
Your blog also serves as the content provider for all your other platforms. You can push the posts to Facebook and LinkedIn, use new posts as Tweet meat, populate a newsletter and submit to RSS feeds.
If you think starting a business blog is more time consuming than it's worth then think again. It is the heart of your social media marketing. And if you're not totally sure how well you're doing with your blogging plan then a great next step for you would be to get your online visibility score so you know where you stand and can make the proper adjustments to your campaign that will help you reach your business goals.