CASE STUDY:

Luxury Real Estate Auction Firm Sells High-End Properties with Help of Google & Facebook
Highlights:

Luxurious properties sold at auction from HIGH TARGETED LEADS obtained through an increased social media and Facebook marketing strategy for business, organic SEO techniques, YouTube video marketing and PPC campaigns.

THIS POST MAY CONTAIN AFFILIATE LINKS. PLEASE READ OUR DISCLOSURE FOR MORE INFO.
Want results like these clients? Click Here
The Backstory
Supreme Auctions, a luxury real estate auction firm that sells multi-million dollar properties in under 30 days, needed help developing a system to attract more qualified leads to their high-end real estate events. To achieve this, they knew they needed to partner with experts in the online lead generation field; So, Supreme Auctions set out to find a company that would match their integrity and drive for success.
That's how they found Online Visibility Pros. Right from the start, OVP was able to identify the target client for their niche market. They needed to be able to appeal to an affluent audience as effectively as possible. Their brand needed to convey their expertise in the luxury auction industry and their unique resources to connect sellers and buyers. In addition to reinforcing their sophisticated brand, the company needed to increase their search engine visibility to target their specific demographic through custom tailored blog marketing and YouTube video marketing strategies.
Read on to find out how Online Visibility Pros helped the luxury auction house drive dozens of highly-qualified leads (they could afford to pay for a $2+ Million dollar property) to their exclusive, no reserve, absolute real estate auction event
Initial Marketing Goals
Our strategy call with Supreme auctions allowed us to learn about the company's goals and, outline a clear online marketing and lead generation plan custom tailored to their needs.
First, we needed to start from the beginning to effectively identify with their target audience. We needed to transform their website and social media platforms into an Unstoppable Online Lead Generation Machine that turns traffic into potential buyers. To do this, we carefully outlined these strategies:
Gain Facebook Likes for the Purpose of Growing the Business' Facebook Reach
Update Website to Appeal to Wealthy Clientele
Gain More Search Engine Visibility with YouTube Video Search Engine Optimization Strategies
Gain More Search Engine Visibility with a Targeted Blog Marketing Campaign
Overall, we needed to generate a rock solid digital footprint that would appeal to Supreme Auctions' affluent target market and attract motivated real estate buyers.
Launching the Campaign
We identified four core strategies to help Supreme Auctions gain traction online and start generating better leads:
Increased Search Engine Visibility – Ranking on Google's 1st page with your primary website, blog articles, and social media profiles is part of any successful SEO campaign. The more exposure you get with organic searches, the more visible you become, and it's only a matter of time until you take over the positions held by your competitors. Hiring an experienced, expert team of organic search engine optimization specialists will ensure your website is positioned to perform effectively on major search engines.
Social Media Branding – Connecting with potential customers has never been more important than in this digital age. Using social media platforms like Facebook, Google+ and YouTube to showcase your business is a must! The different social media channels create an opportunity to connect with different types of audiences and allow for greater reach and engagement. Utilizing multiple channels to market Supreme Auctions' luxury real estate business helped generate interest and buzz that they wouldn't have gotten otherwise.
Pay-per-Click (PPC) Marketing – Google AdWords offers businesses an amazing direct marketing tool to help produce high-targeted leads. This strategy, called Pay-per-Click (PPC) advertising, allows immediate visibility on day one. These ads achieve fantastic results when you have someone who understands how to properly set up the campaigns within Google AdWords and who can structure the ads around high demand and low-cost search terms.
Google Remarketing Campaigns – Remarketing Campaigns create a second chance to reach website visitors. By using cookies to track those who visited and left Supreme Auctions' website, we could have visually persuasive ads "follow" them as they browsed elsewhere on the web. This is one of the most effective ways to increase brand awareness and encourage purchases with your potential customer base.
Results
An organic SEO strategy, PPC advertising, and an effective Facebook marketing strategy produced the far-reaching digital footprint Supreme Auctions wanted.
After revamping the website to appeal directly to their high-end clientele, Online Visibility Pros generated 372 new organic customers to their website using well researched and compelling blog articles.
Additionally, Supreme Auctions' YouTube videos reached Google's 1st page. This helped them to further broaden their digital footprint and start outgaining their competitors. These YouTube videos garnered 2,147 views in short periods of time, which helped generate additional notoriety for Supreme Auctions.
Highlights – One of the largest boosts came from their Facebook Business page. Targeted ads took their Facebook page likes increased from 96 to 1,216! This massive jump in viewership had a lasting impact on Supreme Auctions' ability to generate leads. Their new, SEO-friendly Facebook landing page generated over 33 leads were generated!
How We Do It
Appealing, Functional Website Design to Convert Leads from Organic Traffic – Our years of experience and a carefully crafted website development team allowed us to successfully revamp the Supreme Auctions website. To do this, we combined time-tested SEO practices with our own formulated techniques to create an Unstoppable Online Lead Generation Machine. Our web developers are experts on the ever-changing Google algorithms that determine which websites rank first in searchers' results. This knowledge lets us overcome any hurdle to develop a seamless web presence.
Successful Organic SEO Campaigns to Drive Website Traffic – Driving traffic to the Supreme Auctions website via organic searches was a top priority. Using specific hyper-local keyword rich articles, we attracted 372 new and unique website visitors to 13 different blog articles. These are incredible results in such a competitive niche.
Ranking on Google's 1st Page for YouTube Videos – A great way to attract potential customers is through visual media. YouTube is a fantastic platform to showcase your services and products. This was especially true for Supreme Auctions: Their visually stunning videos on multi-million dollar properties ranked on Google's 1st page. This helped them generate additional views and attract potential new customers. The video featured in the screenshot below helped them attract these new leads by accumulating 2,147 views in a short period of time.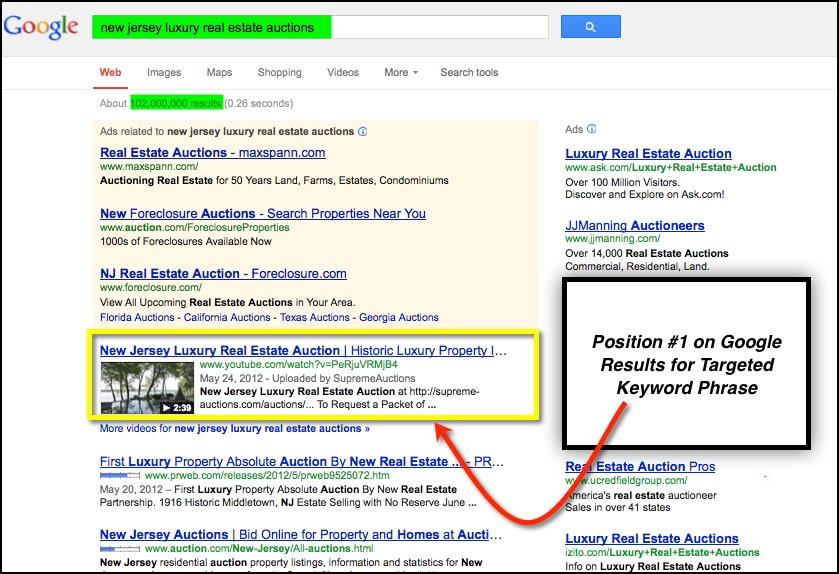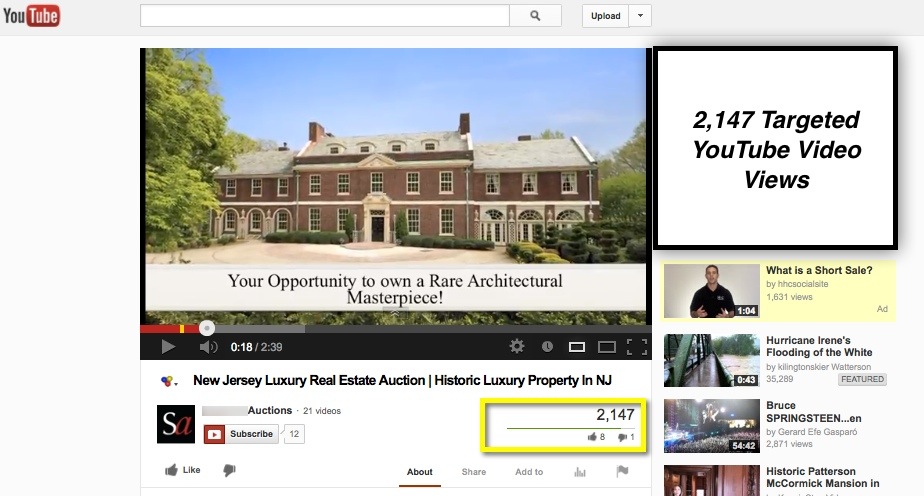 Effective Social Media Re-Branding – Your brand needs to be congruent across all of your websites and social profiles. Once the website had been updated to align Supreme Auctions with their more affluent target market, their social media sites needed the same attention. Not only did we conform these to exude the same messaging; we also created an additional landing page on Facebook to capture leads. Taking these actions allowed us to increase their Facebook Likes from 96 to 1,216! On top of those amazing and immediate results, their new custom landing page generated over 33 interested leads in their upcoming auction.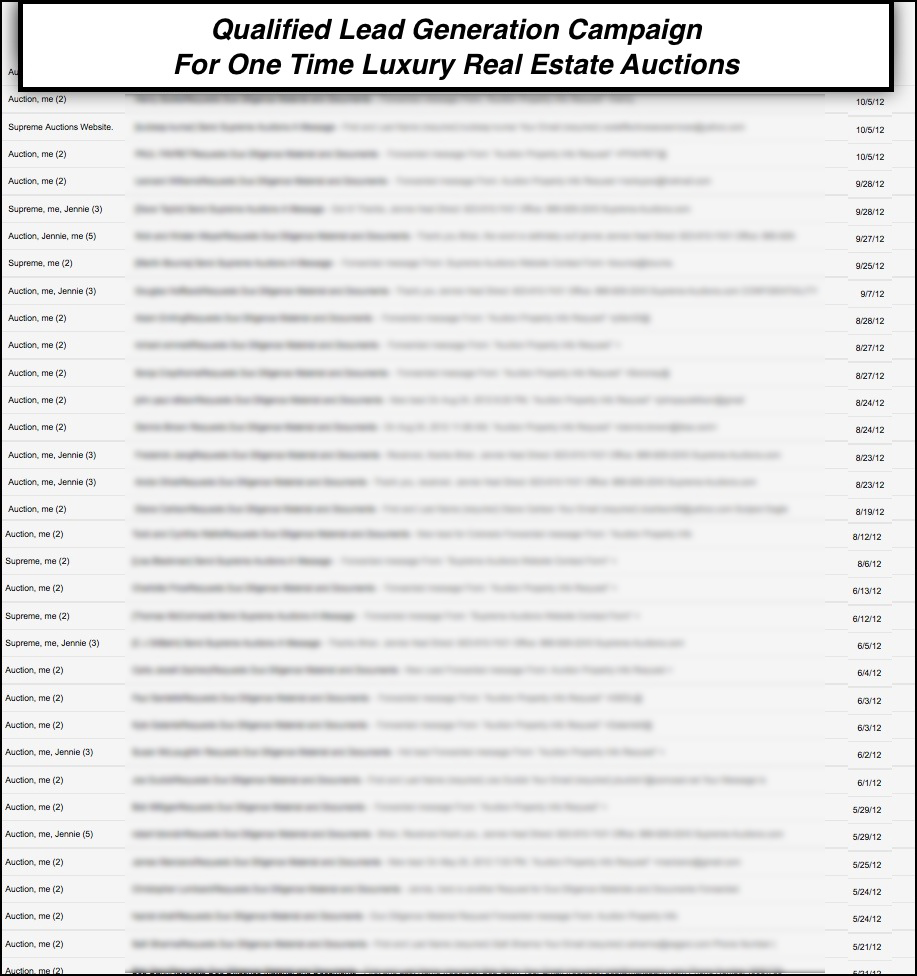 Hyper Targeted Google Remarketing Advertisements – These ads have been amazing help in keeping Supreme Auctions top of mind with their potential customers and really driving home their branding. These visually stunning ads offer great value, as they follow the website visitor around to reinforce the home up for auction. As the date of the auction draws closer, more prospective buyers return to the website because the ads remind them that their next dream home is going on the auction block.
Final Recap
When Supreme Auctions partnered with Online Visibility Pros, they wanted a new re-branded look that emulated their core values and expanded their organic digital footprint. With their goals in mind, we were able to achieve great results in such a competitive real estate niche.
We were able to help build their brand recognition through organic SEO techniques, re-branded social media profiles, a re-designed website and highly targeted PPC ads. You can see from our immediate results that Supreme Auctions is well on their way to cementing their brand in the real estate market and becoming a powerhouse for luxury property auctions in the long-term.
Here are the main highlights of the Supreme Auctions campaign:
Newly developed website to capture leads.
Blog marketing strategy that generated 372 new organic visitors to their website.
YouTube videos reach Google's 1st page.
YouTube video garnered 2,147 views in a short period of time.
Facebook page likes increased 1,216.
Captured over 33 leads from SEO friendly Facebook landing page.
Google remarketing campaigns keep brand cemented in customers' minds.
Just as importantly, Online Visibility Pros was able to help Supreme Auctions in two invaluable areas that truly matter to any business owner:
(1) Save Time – Because Supreme Auctions' time is valuable to them, they didn't hesitate to outsource their online marketing needs to a professional online lead generation specialist. Supreme Auctions no longer had to worry about how to attract leads.Online Visibility Pros put their minds at ease with comprehensive analytical reports detailing the ground they were gaining on competitors and the targeted leads they were generating. Hiring Online Visibility Pros allowed Supreme Auctions to focus on their customers and making sure their business was properly prepared for their upcoming auctions.
(2) Save Money – Supreme Auctions saw early on that they would receive a tremendous ROI from hiring Online Visibility Pros. This hire saved them huge amounts of money, as they wouldn't need to hire and pay additional staff or formulate their own strategic digital marketing plan. In-house employees aren't always a cost saving solution, and Supreme Auctions understood this. Bringing in a company with established, proven, and systematic approaches to digital marketing allowed them to keep costs down while producing new ways to attract high-end clientele.
Online Visibility Pros established Supreme Auctions as a dominant force in the luxury real estate auction industry by creating, implementing, and growing their digital footprint through a wide array of online formats. Online Visibility Pros prides themselves on doing quality work effectively from the start to produce undeniable results.
Producing online leads is our specialty. We love this work and we do it so our clients can focus on what they do best: running their business.
Want UNSTOPPABLE Leads Just Like These Guys?
Schedule Your Strategy Call Now
Work With The Same Exact Lead Strategist That Built Scottsdale Air's Unstoppable Lead Machine
Click Here or
Call (888) 593-0505 Today